2010 Yamaha FX Nytro MTX SOLD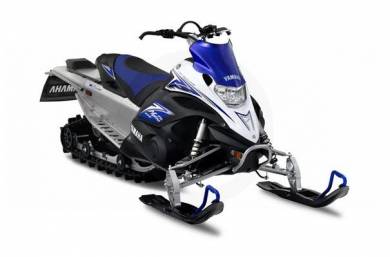 Year : 2010
Location : Maumee, OH, US
Price : $ 11,199
Product Description
Performance


Genesis® 130FI 4-stroke engine: The over-achieving Genesis 130FI engine is the heart of our lightweight, high performance and aggressive FX Nytro model family. It has dominated its class at the Old Forge Shoot-Out 2 years straight, claiming top speed twice and posting the best average ET over 4 runs down the -mile track. The advanced fuel injection keeps the 3-cylinder engine running at maximum 130 horsepower-class performance.


Advanced fuel injection: The Genesis 130FI uses Yamahas advanced fuel injection system to control fuel flow to the engine. Consumers will enjoy the engines spot-on performance and throttle response as a result of the advanced electronic fuel injection system.


Engine braking reduction system: The Genesis 130FI features the unique Engine Braking Reduction System. The system allows a small amount of air to pass through the fuel injection system when the throttle is released, giving riders a coast feeling.


Lightweight rear-exiting exhaust: The patented rear exit design serves many performance-enhancing functions on the FX Nytro MTX. First, it maximizes horsepower by using a straight exhaust pipe design. Second, it reduces the amount of under-hood heat produced. Third, the rear-exiting design distributes weight to contribute to the excellent balance of the sled.


Forced air radiator ducting: The FX Nytro MTXs airflow design pulls fresh air in from around the headlight and forces it through the radiator fins for high cooling capacity, resulting in consistent engine performance even in low-snow conditions.


15x153x2.25-inch Camoplast® Maverick™ track: Yamaha and Camoplast® collaborated in the design of the Maverick™ track. The 15x153x2.25-inch track features a 3-inch pitch to allow more snow to pack in between the lugs for a firmer grip on the snow. Also, the lugs are extremely varied in design and profile for even more traction in multiple snow conditions. Churning the track is a pair of factory-engineered extrovert drive sprockets. The engineering team purpose-built these sprockets to work with the Maverick™ track and reduce vibration.


Handling


FX™ chassis with sport rider-forward position: The compact design puts the engine down low and back in the chassis, leaving the top of the cab open for airflow. This gives the FX Nytro MTX a more centralized mass. The FX Nytro MTXs sport rider-forward ergonomic design puts the rider in an aggressive, yet comfortable, forward posture.


Over-the-engine steering: The snocross-proven over-the-engine steering configuration gives the rider excellent posture on the sled. It also allows the engine to be tucked deep into the chassis for optimum balance and mass centralization.


Tall, wide, hooked mountain handlebars: To match the tall and forward position, a single-piece, dual-hooked handlebar is standard fare on the FX Nytro MTX. The hooks have the same grip material as the main bar section, for consistent control, regardless of hand position on the grip. Mountain riders will appreciate the center grab strap when its time for sidehilling.


FXG1 front suspension: The tall shock tower design on the FX Nytro MTXs double wishbone front suspension allows the sled to have excellent ground clearance and long shock travel without compromising the sleds flat cornering stability. The FX Nytro MTX maintains its original front suspension geometry.


Composite upper skeleto: The headlight assembly and upper portion of the FX Nytro MTX is supported by a super-lightweight composite framework. By using a rugged, high tech composite material as the structure for the top portion of the sled, Yamaha engineers were able to keep the mass centered low and deep in the chassis, which aids handling.


Lightweight tunnel: The deep tunnel on the FX Nytro MTX locates riders feet, and thus their weight when standing, very low on the sled. This significantly aids in the sleds handling. The bevel at the top allows the sled to use a traditional 15-inch-wide track, for excellent traction, in conjunction with a plush narrow seat, for rider comfort.The new FX Nytro MTX features a lightweight tunnel design. With the runningboards tipped up at an aggressive 11-degree angle, the FX Nytro MTX delivers big ground clearance for deep snow capability. The new design also features large snow evacuation and boot gripper punch outs.


Comfort


ProMountain® CK 153 rear suspension: The lightweight ProMountain® CK 153 rear suspension is a conventional torsion spring design. It was engineered to help the sled get up on plane in the fresh snow. It does this through weight transfer and shallow track approach angle. The dual-angle rails also give the FX Nytro MTX excellent trail manners, while maintaining its deep snow flotation. The ProMountain 153 delivers 14 inches of vertical travel.


Aluminum HPG shocks: The FX Nytro MTX uses lightweight aluminum HPG shocks on the ProMountain® CK 153 rear suspension. The front arm uses a standard shock, while the rear arm has a compression adjustable clicker shock to allow owners a range of suspension adjustability.


Wide runningboards with traction: The FX Nytro MTX is all about fun and handling. As a result, the runningboards are nice and wide and loaded with traction. Riders will be able to put their feet anywhere on the runningboards and have confidence in their traction. This allows the rider to move around and really enjoy the full fun of a lightweight sled.


Wheels with removable bearings: The newly designed wheels make the ride smooth and make maintenance easy. Now when the bearings need to be replaced you dont have to purchase a whole new wheel, just remove the old bearings and insert the new ones. The wheels also include a new spoke design and a rubber rim that make for a comfortable riding experience. This new design will be implemented on the rear large wheels as well as the internal smaller wheels.


Sculpted narrow seat: The FX Nytro MTX has a narrow seat for comfort. In addition to putting the rider in a tall, forward, attack posture, the seats height makes it plush and comfortable for a full day of riding. The narrow seat sits atop the beveled tunnel, which allows the track to be a traditional 15 inches wide, to maximize traction.


Concentrated grip warmers: The FX Nytro MTX receives new, redesigned grip warmers for 2010. These new grip warmers deliver a more concentrated heat source rather than spreading the warmth out. The result is a much warmer grip for your hands most comfortable riding position. In addition, an insulator has been inserted between the heating element and handlebar to retain heat longer and more efficiently.


Digital gauge: The digital gauge displays key information at a glance. Vehicle speed is displayed on a large LCD readout. In addition, the rider can select tachometer, odometer or tripmeter data to appear on the secondary readout. The gauge also displays system warning lights, fuel level, and warmer intensity.


Quick-release, single-piece hood/console shroud: The FX Nytro MTX has a single-piece hood and console shroud. The design allows owners to open and close the top portion of the sled easily with Dzus® quick-connect fasteners.


New graphic packages: The FX Nytro MTX comes in white/blue. This awesome design produce one of the best looking sleds on the snow.
EngineType / Displacement / cc: 4-Stroke, 1049cc
Cylinders: Three
Horsepower Class: 130 HP
Cooling: Liquid
Bore & Stroke: 82.0 X 66.2 mm
Intake Design: 2 Valves
Fuel Delivery: 41 mm Mikuni® fuel injection
Ignition: Digital T.C.I. with throttle position sensor
Exhaust: 2 valves, rear exhaust
Clutch / Transmission: YVXC, variable ratio
Disc. Brake Type: 4-piston hydraulic w/ lightweight ventilated disc
ChassisFront Suspension: FXG1
Front Shocks: 40 mm aluminum HPG
Front Travel: 7.3 in.
Ski Type: Wide saddleless plastic mountain ski
Carbide Ski Runners: Standard
Stabilizer Bar: Standard
Rear Suspension: ProMountain® CK 153
Rear Shocks: C40 R12.5 aluminum HPG
Rear Travel: 14 in.
Track Type: Camoplast® Maverick™
DimensionsOverall Length: 127.5 in.
Overall Width: 45.6 in.
Overall Height: 47.0 in.
Track/Width x Length x Height: 15 in. X 153 in. X 2.25 in.
Ski Stance (ctr. to ctr.): 39.0 in.
Fuel Capacity: 7.4 gal.
Fuel Type: Regular Unleaded
Oil Capacity: 3 qts., Dry Sump
Engine Oil Type: Yamalube 4, 0w-30, Cold Weather Formula
FeaturesElectric Start: Standard
Reverse: Standard
Hand & Thumb Warmers: Standard
Windshield Height: Low
Mirrors: Optional
Seating Capacity: One
Tunnel Protectors: Standard
Headlight Watts, Type: 60/55W Halogen x 2
High Beam Indicator: Standard
Oil & Temp Light: Standard
Fuel Gauge Type: Electric (LCD), low fuel warning light
Speedometer: Standard (LCD, digital)
Odometer: Standard (large LCD display)
Tripmeter: Standard, backlit (LCD)
Tachometer: Standard, backlit (LCD)
DC Outlet: Optional
Warranty: 1 Year (Limited Factory Warranty)
PerformanceGenesis® 130FI 4-stroke engine
Advanced fuel injection
Engine braking reduction system
Lightweight rear-exiting exhaust
Forced air radiator ducting
15x153x2.25-inch Camoplast® Maverick™ track
HandlingFX™ chassis with sport rider-forward position
Over-the-engine steering
Tall, wide, hooked mountain handlebars
FXG1 front suspension
Composite upper skeleto
Lightweight tunnel
ComfortProMountain® CK 153 rear suspension
Aluminum HPG shocks
Wide runningboards with traction
Wheels with removable bearings
Sculpted narrow seat
Concentrated grip warmers
Image Gallery
Company Profile
Honda East Toledo
Contact Name Gabe Miller
Tel 419-891-1230
Fax 419-891-1218
Address 1230 Conant Street
City Maumee
State Ohio
Country United States
ZIP/Postal Code 43537
Company Description
As a family owned and operated business, our philosophy is to treat each customer like a family member, every visit. Our award-winning sales staff will strive to meet and exceed your expectations, whether you are purchasing a new vehicle, calling with a question, picking up a part, or just looking in our shop.

Since the inception of Honda East in 1986, we've developed an unbeatable local selection of 12 powersports vehicle manufacturers. If you take a look at our history, you can see that our dealership has gained some serious momentum over the years. We don't forget our history either. Our Honda franchise started it all, and Honda East has been the largest volume Honda dealership in the state of Ohio for 3 years running.

To complement our great vehicle selection, Honda East boasts a service department full of certified technicians. These techs have more than 160 years of collective experience among them, and each one has their own forte in the shop.

In addition to these 12 vehicle manufacturers, and knowledgeable staff in our parts shop, we supply riding gear and casual apparel from brands like Fox Racing, Shift, Joe Rocket, Arai, Scorpion, Teknic, Shoei, and many, many more. This dealership also recently became the number one distributor of Fox Racing gear and apparel in northern Ohio! Our selection is constantly growing. In addition to our catalog and in-store selection, we place custom orders daily - so if you aren't finding what you are looking for, just ask! Drop by our retail shop and browse, or visit one of our online marketplaces to get a taste of our stock and quality service.

What does all of this mean for you? It means that we want to help you get the right vehicle, part, or gear by making an informed decision. We want to make each experience at Honda East easy on our customers, and our skilled staff will be here to help every step of the way.