2015 Yamaha RS Venture GT SOLD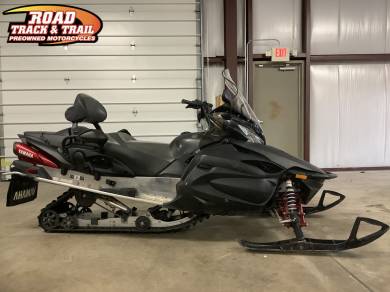 Year : 2015
Color : BLACK RED
Mileage : 11,302 Miles
Location : Big Bend, WI, US
Price : $ 4,999
Product Description
ON SITE IN STORAGE PLEASE CALL FOR APPOINTMENT. POWER STEERING, ELECTRIC START, REVERSE, MIRRORS, TALL SHIELD, REAR STORAGE, 4 STROKE 2-UP TOURING!!

2015 Yamaha RS Venture GT


Still the benchmark for 2-up touring, with EPS.
Standard Features May Include:
Performance
3-Cylin der Mid Performance engine
Our Genesis Mid Performance engine is the next generation of trail cruising powerplants. Designed from the start to be the ultimate trail engine package, this Mid Performance engine delivers simplicity, fuel economy and great performance. The advanced fuel injection system automatically keeps it running at maximum output and fuel efficiency for the conditions.
The Genesis Mid Performance engine uses Yamahas advanced fuel injection system to control fuel flow to the engine. Consumers enjoy the engines hassle-free, spot-on performance and throttle response as a result of the advanced electronic fuel injection system.
Engine Braking Reduction System
The Genesis Mid Performance engine features the unique Engine Braking Reduction System. The system allows a small amount of air to pass through the fuel injection system when the throttle is released, giving riders a smooth coast feeling.
Handling
Industry-first electric power steering system is velocity sensitive, delivering maximum assist up to trail speed, and gradually tapering off from there. Youll love the EPS system because it helps isolate the rider from uncomfortable trail feedback, eases the effort required to move the bars, and provides excellent handling and predictability.
The all-new Tuner dual-keel ski greatly contributes to the RS Venture GTs trail character. The dual keels keep the ski tracking straight and true down the trail, eliminating nosiness and darting. Each keel has its own wearbar, and Yamaha has four different bar configurations to choose from, which means you can tune your sled's cornering bite and steering effort to suit your personal preference.
Comfortable rider-forward position
The primary design objective of the RS Venture GTs chassis was to create a comfortable rider-forward posture. The ergonomic treatment is achieved by locating the handlebars and seated position high and forward on the chassis. With this positioning, the rider can go from sitting to standing and back again easily and comfortably. It also further centralizes the combined mass of sled and driver, for razor-sharp handling.
Comfort
ProComfort CK rear suspension
The ProComfort CK rear suspension is designed to deliver a very plush ride with great anti-bottoming performance. The skid carries a high-tech 40mm HPG clicker shock on the rear arm for simple adjustability from one rider to two.
Wheels with removable bearings
Replaceable bearing wheels make maintenance easy and cheap, while the 6 spoke design adds to the visual appeal of the already stylish RS Venture GT. This design is implemented on all rear wheels.
Fully adjustable backrest
The backrest on the RS Venture GT is fully adjustable. A simple lever release allows you to move the whole backrest forward or rearward for solo or two-up riding. It also has a rotational adjustment to set the cushion for personalized comfort. In addition to the backrests adjustability, the passengers heated grips offer two height options for a comfortable ride.
Image Gallery
Company Profile
Road Track and Trail
Contact Name Sales Department
Tel 262-662-1500
Fax 262-662-2009
Address W228 - S6932 Enterprise Drive
City Big Bend
State Wisconsin
Country United States
ZIP/Postal Code 53103