2017 Yamaha Sidewinder X-TX SE 141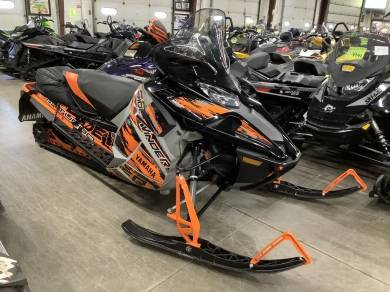 Year : 2017
Color : BLACK ORANGE
Mileage : 4,492 Miles
Location : Big Bend, WI, US
VIN : 4UF8ME108HT000379
Price : $ 11,499
Product Description
ELECTRIC START, REVERSE, STUDS, TURBO, REAR BAG, HAND GAURDS, TALL SHIELD, STAGE 2 CLUTCH KIT,

2017 Yamaha Sidewinder B-TX SE


40" front stance, 153" uncoupled rear end and a 1.75" track makes the Sidewinder B-TX SE the ultimate backwoods master with solid trail manners. Low elevation calibration makes it easy for you.
Features may include:
NEW 998cc Genesis Turbo Engine
The new Genesis 998 Turbo 3-cylinder engine delivers 800-class dominating performance in a compact package. The high tech engine system carries a full suite of features to ensure you have a great day on the snow and a fun night when you reach your destination. We use our advanced nine-sensor engine management system to control fuel flow for maximum performance, but it also incorporates a knock sensor to adjust ignition timing and even manifold pressure if the need should arise.
The Nickel alloy turbine body is extremely strong and precise, able to withstand highly elevated temperatures. Supported by premium, ceramic ball bearings, the Inconel turbine blade assembly is very light and strong. This yields a low moment of inertia for lightning quick response to exhaust gas input.
Yamaha has well over a decade of experience in harnessing the unique power delivery of a high performance four stroke engine. For the hyper performance Sidewinder B-TX SE, we have developed a new YSRC roller secondary system to deliver aggressive upshifting while also backshifting quickly to keep you in the power. In addition, we slightly upsized the new secondary to overshift and let the Sidewinder B-TX SE stretch its legs on a long lake run.
40-Inch SRV-M Front Suspension
The sleek SRV-M Front Suspension is ultra compact to reduce unwanted spindle and suspension component drag in deep snow; a narrowed stance for extreme maneuverability; and delivers aggressive lean angles for incredible side-hilling and powder turn capabilities. The forged aluminum spindle joins upper and lower control arms for reduced weight (2.4-pounds); while the large caster angle improves side-hilling and ease of steering.
1.75-Inch Backcountry Track
Representing the latest in track technology, the Camoplast 1.75-inch Backcountry blends the lines between on-trail performance and off-trail traction and flotation. The unique lug pattern and mid-sized lug-height delivers the perfect balance of deep snow traction and on-trail control.
The all-new Yamaha Mountain ski delivers everything you want in a deep snow ski. Its wide footprint enhances flotation and actively lifts the sleds nose up on plane in deep powder. Traction lugs on the top of the ski give you a sure foothold when the situation gets really gnarly. The wide and deep keel design deliver light steering effort yet confident and predictable handling on hard pack and in fresh fluff.
The latest generation air shock from FOX features an infinitely adjustable, no tool required, air spring. By changing the air pressure in the main chamber with the included pump, the FLOAT is the most progressive, adjustable, and lightweight air shock available. A convenient air valve location enhances access, and calibration changes further deliver exceptional bump compliance and control.
The next generation FOX FLOAT shock is now standard equipment and touts the limitless tuning capabilities of air-spring technology joined by improved calibrations, valving components and a new easier to access air valve. The FOX FLOAT is the most progressive, adjustable, and lightweight air shock available.
Image Gallery
Company Profile
Road Track and Trail
Contact Name Sales Department
Tel 262-662-1500
Fax 262-662-2009
Address W228 - S6932 Enterprise Drive
City Big Bend
State Wisconsin
Country United States
ZIP/Postal Code 53103