Looking at the Jackson Hole Snocross Race From Behind the Lens
The Amsoil Championship Snocross series finally made its way to the western half of the country, but not without some challenges along the way.
The Amsoil International Series of Champions (ISOC) faced two obstacles when proposing and scheduling an event in Jackson Hole, Wyo. The first obstacle was Jackson Hole's city council, and the second was the weather.
On September 3, after much deliberation and hearing the case from Amsoil-ISOC, the Jackson Hole City Council denied the Amsoil-ISOC race organization a permit to hold its event. City Council concerns were on noise and the late hour. To catch the most television and live-streaming viewers, Amsoil-ISOC schedules the main races to be run at night, starting early evening.
In a decision-reversal on September 25, the city council approved the permit when the race organizer agreed to some additional terms which were: 1) alcohol sales had to end early, at least 30 minutes before a race-day ended; 2) all fireworks had to be eliminated; 3) each event day – Friday and Saturday – was to begin earlier and end earlier than originally proposed, 8:30 a.m. to 8:30 p.m.; and 4) Amsoil-ISOC agreed to increase its donations to the Doug Coombs Foundation – 5% of all proceeds. This foundation raises money to help children from low-income families to learn and participate in summer and winter outdoor activities that Jackson Hole is famous for, such as skiing, youth soccer and hiking near the Grand Tetons.
The second obstacle was the weather. Jackson Hole is mostly a two-season vacationland: summer and winter. Jackson Hole is a western tourist town that thrives in a high mountain valley surrounded by tall mountain peaks. Though the town, nestled at 6,000 feet, sits in a "Hole," it receives a fair amount of snow; this city and adjacent Teton Village are famous for its ski and snowboard hills. Additionally, nearby Togwotee and Dubois pull in snowmobilers from across the snowbelt. But this year, Mother Nature and Old Man Winter took a break after giving their all last winter. As we ventured from Idaho Falls, Idaho to Jackson Hole, Wyo. the weekend of the race, the daily temps were the same between the two cities, 32 degrees F, though 110-miles separate the two towns.
So, what to do? Make snow from hoses, not receive it from Heaven. As the snow-making machines from Snow King Mountain and Lodge began piling snow on the snocross course, dump trucks hauled in snow from higher destinations; nearly 90 hauls were made.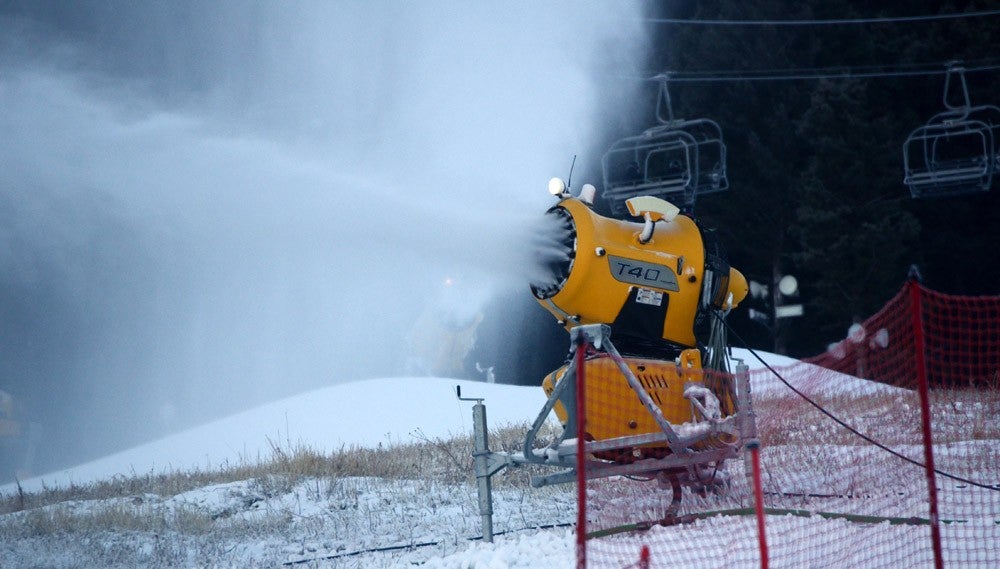 We first reported about this event, as it was being worked through, in a news brief you can read here. The race at Jackson Hole would not have occurred if it wasn't for two Jackson Hole natives, Paul Woodie and Brian Hasenack. This article covers this extraordinary accomplishment to bring this race series to the West.
The Jackson Hole Snocross National was held at the same location as the World Championship Snowmobile Hillclimb, which is at the aforementioned Snow King Mountain and Lodge. The owners for this ski hill and lodge are no strangers to competitive snowmobile racing, as they work hard to support the Jackson Hole Snow Devils for that club's hillclimb event. Thus when the city council gave the go ahead for the snocross, the Amsoil-ISOC leads looked toward Snow King and the Snow Devils for assistance, and assistance ISOC received.
To assure efficiency, the Amsoil-ISOC organization believes in having a standardized turn-key event. Yes, the Snow Devils and Snow King provided counsel, a location and a facility, but Amsoil-ISOC arrived with its own groomers, starting gate with lights, timing system, finishing gate, video and sound production, record keeping staff, jumbotrons (mega television monitors), track lights for nighttime racing, podium stage, track officials and everything in-between a professional race requires. Simply put, Amsoil-ISOC descends on a town and its race location, manages the event, and leaves without a trace, except for the happy race-fan grin they pasted on those who love two stroke motors, and two skis pushed by a track.
Was this first-ever Amsoil-ISOC event at Jackson Hole a success? Well, the financial numbers in the end will tell, but from our perspective, it was a smooth success, so well-organized and carried out, we hope for a next year return. Was it exciting to watch? Dang straight. Fan attendance was not as large as ISOC's events in the mid-West and East, but this was the first time Jackson Hole. If the series returns, and as word of its excitement spills onto the mountain snowmobile crowd, fan attendance will grow.
ISOC streamed live on its website the event with assistance from CBS sports network. To assure the race was fan-friendly, spectators were seated close to the race course. If a fan wanted to be closer still to the action, for an added gate fee, a fan could be admitted into the hot pit area. Not to end there, a meet-the-racer and autograph session was held on Saturday, December 9 at Snow King Lodge, this prior to the evening races. How cool is that?
Being this was the first time an Amsoil-ISOC event was in the deep west, not in the mid-west or east, team participation was down, by as much as 25%. The teams that did not make the long-distance haul were mostly the north-eastern teams.
The racers for this weekend's event had come from a series event, the first, in Duluth Minn., November 24-26. Duluth's elevation is between 600 and 700 feet above sea level. At this Duluth race, snowmobiles were breathing thick air. Jackson Hole's elevation at just over 6,000 feet posed a challenge for the race teams. A motor loses approximately 3-3.5% of its horsepower for every 1,000 feet gained in elevation. With modern electronic fuel-injection, mapping the motor's fuel system is much easier than dealing with a carburetor's pilot jet, main jet, needle and clip. The real challenge for the mechanics was getting the primary and secondary clutches to harness and manage the motor's reduced horsepower. This had to be done in a hurry, as the teams after finishing up in Duluth, trekked to Jackson Hole to test and test and test.
Another challenge was the racers themselves. Most had sea level lungs. Racing in thin air can be a physical challenge. Yet, young bodies like these racers are up to the challenge.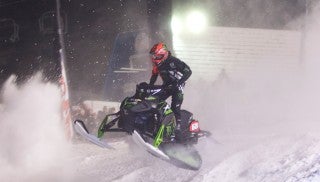 Jackson Hole Snocross National Report
Pro, pro-am, junior/youth, women and amateur teams lined Snow King Avenue. Such big-league teams included Amsoil (Ski-Doo), Judnick (Polaris), Boss (Ski-Doo), Monster Energy (Arctic Cat), Stud Boy (Arctic Cat), Team Lavallee (Polaris), Scheuring (Ski-Doo), Woodies (Arctic Cat), Warnert (Ski-Doo), Christian Brothers (Arctic Cat), and Southside Racing (Polaris) to name a few from many.
Tucker Hibbert, son to the famed Kirk Hibbert (Captain Kirk), who lived in nearby Driggs, Idaho until he was 12, made his presence; this race was his pseudo homecoming. The Monster Energy factory Arctic Cat racer, and multiple X-Games champion and Amsoil-ISOC pro points leader and series champion, did not disappoint aboard his ZR 6000 137, especially on Friday night when he drove the track off his ZR to come from ninth place at mid-race to first place for win in a 22-lap final that left the crowd breathless.
The pro racers were spectacular. But, as entertaining to watch as the pros, was the junior racers, both male and female and the pro-am women racers. The juniors and women racers were not afraid to fly and hit the bends and whoops.
Amsoil-ISOC, knowing there is a movement for competitive snowbike racing, had several races for the snowbike jockeys. Not to end there, the race body also let the little folk have some fun racing in the 200 class, which was new for this year. Speaking of 200s, Amsoil-ISOC also had a small course set up for little ones to try their skill at driving a 200 around a mini race course.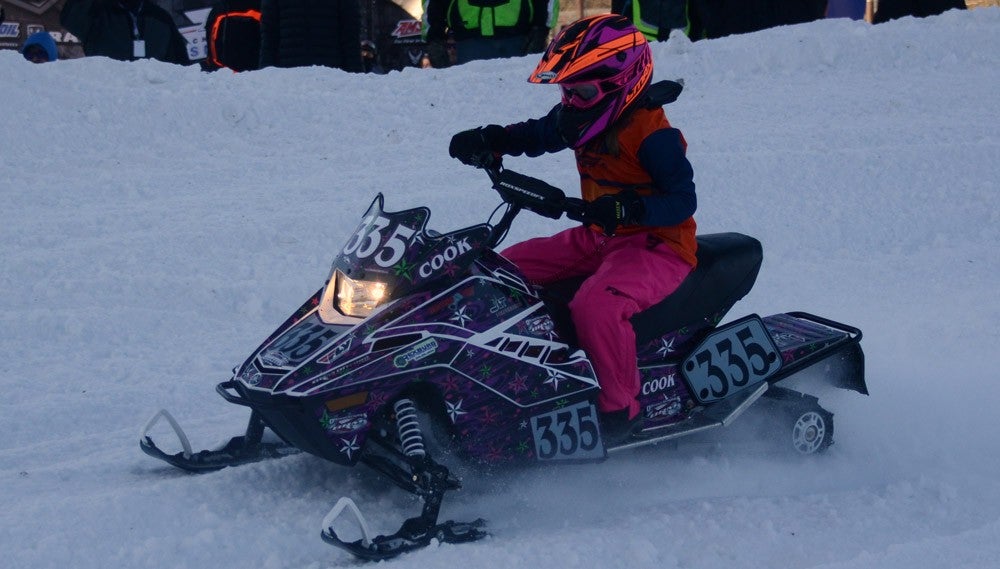 From racing, to fan and racer involvement, to supporting the local community, the Amsoil-ISOC organization, with help from Snow King, the Jackson Hole Snow Devils, Paul Woodie and Brian Hasenack, and the Jackson Hole Chamber of Commerce, a well-organized race was well-received race. We do hope it will return. And, it was not noisy.