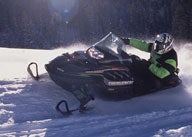 We've really come a long way since 1999
We don't know about you, but winter is teasing here in the Midwest. We watch the news and weather to see images of 'lake effect' snowfall in the Great Lakes areas of the US and Canada. But winter is teasing as we write this. We have a brand new test sled available to ride. We have moved our play clothes from summer ATVing and motorcycling to full-on winter ride-ready for snowmobiling. Still, winter teases.
So, in the meantime, we decided to do a little housekeeping at the office. Our efforts and good intentions came to naught when we came across a file of 'what's new' for snowmobiles circa 1999. Here we are, ready to ride the 2009s, the latest and greatest. As we poked into the old file of 1999 sleds, we were curious as to what was 'new' back then, a mere decade ago!
Arctic Cat 1999
Wow, what was new? Was it just 10 years ago that Arctic Cat unveiled its batteryless electronic fuel injection? In January 1998 Arctic Cat introduced an early issue, limited build of the ZL 600 EFI. It was said to be "…the latest development in comfortable, lightweight trail machines." It came with the lightweight AWS V chassis, which showcased the latest of Cat's wishbone front suspensions.
The engine was a big deal at 599cc. The 2-stroke Suzuki-built motor put out 105 horsepower from case-reed inducted twin cylinders. Cat claimed that adding batteryless EFI to the engine made it one of the most "consumer friendly snowmobiles on the market."
We have to agree that batteryless EFI helped set Arctic Cats apart from the competition. The system usually had the engine fired and idling smoothly within two yanks on the D-handle starter cord. As Cat noted, the first pull pressurized the fuel rail and the second pull fired the motor. The system worked well as it mixed the fuel to air ratio properly regardless of temperature or barometric pressure. Being batteryless, Cat eliminated customer objections of added weight from a battery and starter. Yes, indeed, Arctic Cat engineering did have the EFI thing figured out well in advance of the competition.
Back 10 years ago, inches of travel mattered a great deal and Arctic Cat claimed a full 10-inches from the AWS V front end. Ryde FX gas shocks were standard on a suspension that featured a wide 43-inch ski stance.
The rear suspension impressed riders back then, too. The ZL 600 utilized the Extended Travel Tunnel that had been designed to accommodate longer travel suspension design and allow better clearance for powder riding.
The ZL 600 EFI highlighted Arctic Cat's attempt to hit the middle of the market for 1999. Models sporting 600cc engines were popular and that segment of the market was the best selling one. Nonetheless, Cat's ZL 600 EFI had competition from other revised models.
The 1999 Thundercat featured a 999cc case-reed triple. It had a 'new' look as it sported a ZRT type hood and belly pan design along with a version of the same AWS V that was on the ZL 600 EFI. Keep in mind that while today's Arctic Cat fans get all worked up about the 170-plus horsepower of the Turbo Z 4-stroke, the 1999 Thundercat claimed 172 horses! It was a wild ride back then. Believe us when we suggest that the 2009 Turbo Z is far better handling with a far superior ride.
Yes, Arctic Cat has come a long way, but it is fun to recall that the ZL 600 EFI and batteryless EFI was a big deal 10 years ago. Now we take it for granted that Arctic Cats start easily within two pulls and run smoothly.
Ski-Doo 1999
We forget that pre-REVolutionary designs from Ski-Doo included a group of sleds that featured Direct Shock Action (DSA) trailing arm suspensions. The front suspension news in 1999 centered on the advanced DSA, which was designed to create "…the ideal balance of roll-center control, bump steer and scrub." Unequal length radius rods were said to better control lateral movement of the trailing arms and flatten the skis' travel arc to create precise ski camber and toe-in.
In 1999 Ski-Doo concentrated on handling as it introduced a racing-based ZX twin cylinder platform that was new from the snow up and an advance from the standard S-2000 chassis. Keep in mind that Ski-Doo had introduced its CK3 chassis to accommodate its line of three-cylinder Rotax motors.
Even in 1999 the MX Z led Ski-Doo's battle for sport sled dominance in the popular 600 market. The MX Z 600 was based on the ZX platform and came with what would become one of the most popular displacement Ski-Doo engines ever. The Rotax type 593 twin abandoned rotary valves, which Ski-Doo had pioneered in its early RV series of oval track racers, and went to reed valves. The company made the change to reap the benefits of reduced weight. Since reed induction system was already used in Rotax triples, the introduction of reed valve induction to a twin was not that unusual. Ski-Doo said that the reeds provided superior engine efficiency and performance at high revs. Hmm, seems we recall something like that being said when the rotary valve first appeared.
Oh well, it was 1999 and the REV was still to appear. Meaning simply, that Ski-Doo was fighting for market share in a conventional manner and its CK3 models were not as popular as had been hoped.  Lets face it, even the very muscular Mach Z came with simple changes like a new color to provide a 'distinctive image' and improved clutch cooling.
In 1999 Ski-Doo and its competition fought for differentiation that really wouldn't come for the Canadian-based sled maker until the REV was introduced. That changed everything.
Polaris 1999
Polaris, which had been the first to introduce a production electronic fuel injected snowmobile engine, fell behind in that category as model year 1999 got underway. The summer of 1998 saw the company lose a major court decision and millions of dollars in damages when the court determined that the company's fuel injection system bore too close a resemblance to one designed by Injection Research Specialists. With 'fuelies' out of the picture, 1999 Polaris models reverted to Mikuni or Keihin carbs.
The 'news' for 1999 centered on a pair of triples. The case-reed inducted three cylinder motors were dropped into the Indy 800 XCR and the Indy 700 XCR. The all-new 794cc triple featured a digital ignition and Polaris Variable Exhaust System, a concept similar to the Rotax RAVE exhaust system.
1999 continued Polaris' success with its Indy style of snowmobile and the popular trailing arm front suspension. Proven tough in cross-country racing, the Indy models carried the Minnesota company to market dominance for more than a decade. Among the most popular models was the Indy 500, which in 1999 came in a wide variety of 'flavors.'
The Indy 500 XC SP carried Polaris' own 500cc twin while other 500 models relied on a 488cc Fuji-built twin. The SP sported what Polaris called its 'Gen II' styling, which was an attempt to keep the sled fresh.
When Polaris Indys began to stale, the company picked up the line with additional suspension options like the XTRA 12, a smooth-riding long travel design with a foot of travel. That suspension tended to appear mostly in lower performance trail and family-oriented models while the true sport versions used the XTRA 10 with two inches less travel.
Let's not forget that Polaris had quite a line of engines as the 597cc three-cylinder XLT triple entered its final days. The fan-cooled niche got updated as the base 488cc fan-cooled twin grew to 540cc and the low-buck Lite models featured a 339cc air-cooled twin.
You should recall that in 1999 most deep powder sleds came with tracks measuring what seems like a mere 136 inches in overall length. To help make the 1999 RMK and SKS powder sleds better suited to the mountainous terrain they trod, Polaris engineering equipped the various models with Altitude Compensating Carburetor Systems. Move ahead 10 years and you'll see all that's changed for the better. But in 1999, the RMK and SKS set the standard.
Yamaha 1999
Look back 10 years and you can't recognize Yamaha snowmobiles of 1999. This company's 1999 sleds seem more like collector's items. Today the Yamaha line has virtually switched over to 4-stroke power. Trailing arm suspensions disappeared in favor of A-arms and a ride-forward design philosophy totally replaced the old platforms from 1999.
But in 1999 Yamaha touted premium engineering. Instead of 4-stroke advantages, Yamaha laid claim to "…performance, handling, comfort and durability." They do still have all of that, but in a very different format.
One big hit for the 1999 model year had to be the SRX 700, which aimed at high performance riders wanting "…high horsepower, razor-edged handling, smooth braking and all the latest high-tech Yamaha performance features."
Before the Apex and Nytro, Yamaha's 2-stroke powered SRX triple set quite a mark. In fact, the introduction of Yamaha's SRX pretty much sealed the fate of Ski-Doo's CK3 performance models. They were just too bulky and under-performing when set head-to-head with the top line SRX.
Model year 1999 saw the rebirth of the Phazer, this time as a 485cc fan-cool engined model using Yamaha's trail performance oriented ProAction chassis. The Phazer was really more or less a fan-cooled Vmax. That line served as Yamaha's broad appeal line that shared some styling from the SRX, but used lower powered motors.
The 1999 Phazer drew the attention of Yamaha engineers as they expanded its ski stance a full 4-inches to 42 inches. The trailing arm suspension was based on the Vmax series and the rear suspension used gasbag shocks to control 11.5 inches of travel.
Still, Yamaha had its problems convincing deep snow riders that it had a satisfactory challenge to the competition's powder specials. The Mountain Max 700 came with two-inch track lugs, but its 698cc triple didn't excite serious riders as it used a three-into-one simple exhaust when mountain riders desired SRX triple pipe power.
That's all changed now. Yamaha uniquely offers virtually all 4-strokes, including another version of its Phazer, this one with a 4-stroke twin and ride-forward design.
Looking Back
Looking back on 1999, we snowmobilers anxiously awaited a snow-filled winter just as now, but the sleds we rode then seem so antiquated when we look back at them. The good old days don't look nearly so good in comparison to what we enjoy today. Ride on!