Characters: Polaris' David Johnson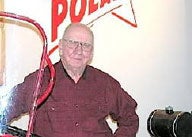 Polaris co-founder is a truly genuine character of historic substance
One of the joys of being a long time snowmobile writer comes from the characters in the sport. By and large the "characters" I've met over the years have character. One of my all-time favorite people exudes character.
David Johnson, and we mean THE David Johnson, as in co-founder of Polaris Industries, stands out as one of the greats in snowmobiling. His contributions to snowmobiling have been recognized to an extent, but seem to be oftentimes overshadowed by the exploits of fellow Polaris founder, Edgar Hetteen. As a quiet man, David never sought the lime light. But those who know him understand his contributions. He was the only one of the three Polaris founders to retire from the company that owes its existence to his desire to travel over the snow in the mid-1950s.
While Edgar worked to gain publicity — and funding — for the fledgling Polaris Industries and its Sno-Traveler snow vehicles, David worked hands-on developing the product with Edgar's kid brother and fellow co-founder Allan, who would become president and oversee the company's sale to Textron. David was on hand to watch the company that he co-founded evolve into a technological leader in snowmobiles and become a sales leader in all-terrain vehicles. To this day, David still rides Polaris products. And he still lives in his and Polaris' hometown of Roseau, Minn.
The legend is that David and Allan built up a snow vehicle while Edgar was off on a sales trip to the west coast. When Edgar returned he was furious at the waste of money spent building the snow vehicle and he made the lads sell off that first sled to raise money to meet payroll. Things were that tight in Polaris' earliest days.
Still, David managed to keep building sleds. As he and Edgar would admit years later, every sled was different from the one built before. Production was simply one at a time and if a new technique was developed, it and any upgrade in material would get incorporated to whatever sled was to be built next. It was that hand-to-mouth in those days.
David recalls how the drive track tended to be a weak link early on and that the standard chain they had been using needed to be upgraded for durability. That change was made and was so effective that it continued right to the end of Sno-Traveler production into the mid-1960s.
Sledmaster Salesman
In order to sell these vehicles, David traveled to various locations to sell the concpet of an "iron" dog that could reliably replace dog sleds. He became a master snowmobiler, winning snow vehicle races at far-flung places like the The Pas in Manitoba, where he demonstrated the Sno-Traveler's capability for reliable winter transportation.
By 1960 things had changed at Polaris. Edgar had left the company and Allan took over as president. David stayed on and looked to the future, which he recognized was changing. He knew Polaris needed to change its product as soon as he saw the first Bombardier Ski-Dog at The Pas. It was light with a front-mounted motor. Still, it didn't have the towing capability of the Polaris.
"I was aware of the Ski-Dog at The Pas Trapper Festival because I went every year," he recalls. "Seeing the Ski-Dog made us think of putting the engine in the front."
From Cargo to Play
At the time snow vehicles tended to be cargo hauling vehicles, not play things. Indeed, Polaris built heavy duty over snow vehicles. David recalls the types of sleds Polaris built back then.
"The Ranger was our bread-and-butter machine, it was the best for the market at the time," he remembers. "The Trailmaster had a bigger engine and forced us to make a longer machine… but that meant is was harder to turn. The Trailblazer was a smaller and lighter version of the Ranger."
As is the norm for any company, Polaris promoted what it built, but Polaris executives recognized that "…people would rather ride a hot little one than a slow big one." And with that peek into the future, David Johnson and Polaris began to work on a lighter weight, front-engined model of its own.
As David recalled the mid-1960s, he can focus on the failure of the Comet, Polaris' first serious front-engined sled and the sled that nearly bankrupt the company. But he also can relish the memory of the sled that followed it, the legendary Polaris Mustang.
He can laugh now as he states the three things that went wrong with the Comet. David says simply, "There only three things wrong with it: the engine wouldn't run, the clutch wouldn't stand up and the thing didn't go in the snow."
The Mustang was the complete opposite. It was a winner, sporting new bodywork and aimed directly at the emerging "fun" market, which was quickly replacing the utility/work sled market. The heavy-duty Sno-Travelers faded away. And David Johnson's role as co-founder and co-owner faded as he settled into the new Textron way of business, which meant moving sales, marketing and business function to Minneapolis and leaving day-to-day production in Roseau, where it remains to this day.
David's total hands-on job changed, but he still held a prominent position with longtime Polaris engineers who sought his advice on evolving Polaris models. He stayed quietly. When Polaris ran into trouble in the late 1970s and Textron sold the company to a team of key executives, David and Edgar Hetteen's personna were reinvigorated as they became key components of a new marketing program, showcasing Polaris' long history in snowmobiling. While Polaris insiders recognized David Johnson's many contributions, few outside Polaris knew of him as other than the third co-founder. With the change of ownership David Johnson's many contributions finally began to be recognized. He remained low-key and incredibly modest, but more people began to understand the important contributions he had made in those early years and over his entire 40-plus years of work at Polaris.
Today David Johnson is totally retired, though occasionally he can be found at the Polaris "Experience," a museum of Polaris history, or at the factory itself where he figured prominently.
We met with him numerous times as we wrote a book outlining the history of Polaris. But outside of our "official" sit downs, we have always enjoyed chatting with him and catching up, not just about snowmobiling but life in general. David Johnson is one of the nicest and most congenial people you could hope to meet. He is of genuine character — honest, sincere. Someone you would hope to have as a friend — for real, not Facebook-wise. He will always be important to snowmobiling for his historic contributions, but he will always be my most genuine and prized character as a truly real person.