David Johnson, Polaris Pioneer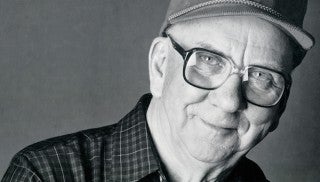 A snowmobile pioneer remembered
David Johnson died on Saturday, October 8 in Roseau, Minn. He was 93 years old. His passing marks the end of the true snowmobile pioneers; the founders, the builders, the creators of a snowmobile economy and industry. He and his partners, Edgar Hetteen and younger brother Allan Hetteen, could never have imagined that their company's first-ever snowmobile would lead to a Polaris Industries that generated more than US$4 billion in annual sales in 2015.
Tiring of battling his board of directors, Edgar Hetteen left Polaris and a few years later founded Arctic Cat in nearby Thief River Falls. Allan Hetteen died in a 1973 farm accident. In 1968 as Polaris president Allan had helped transition Polaris from a small Roseau company to a subsidiary of Textron, a worldwide conglomerate. David stayed on, finally retiring in 1987 from the company that he helped start. While his retirement may have been "official," his presence at Polaris in Roseau was ongoing. Along with his wife of nearly seven decades, this was his "family."
In an article that I wrote in 2010, it was noted: "One of my all-time favorite people exudes character… As a quiet man, David never sought the lime light. But those who know him understand his contributions. He was the only one of the three Polaris founders to retire from the company that owes its existence to his desire to travel over the snow in the mid-1950s."
He always rode Polaris products and remained in his and Polaris' hometown of Roseau, Minn.
While authoring two different books about Polaris' history, I would meet with David, seeking his recollections of the early Polaris snowmobiles and his knowledge of those pioneering seasons.  Those were enjoyable "chats," because we could catch up about life in general. Early on when interviewing him for "Polaris Pioneers," I found him to be one my toughest ever interviewees. He was friendly and courteous, but unlike most people who have created a company and taken it to unimagined success, David Johnson was totally and genuinely unimpressed. His interests were in how the Polaris employees were doing, how his church community was faring, how his family was. It was difficult to get him to talk about himself and his contributions at Polaris. That just was not who he was. But after a bit we became comfortable with each other and he proved capable of regaling a visitor with some truly enjoyable stories of those early days.
David Johnson was one of the first Polaris racers. Along with Allan Hetteen, these two enjoyed winning. He told of how he traveled to La Pas, hours north of Roseau in Manitoba, to demonstrate the Polaris Sno-Traveler. Of course, there happened to be an "iron dog" race there and he intended to show off his company's invention. He did, winning the event and a brand new fur coat that kept him warm on the way back home.
He would travel around the snow states to show off the Sno-Traveler, using it to break snow trails in Maine's Allagash wilderness. But he was a key to Polaris manufacturing. After all, it was David and Allan that built up the first snowmobile. They did it while Edgar was off trying to raise funds and sales to keep the company afloat. That first snow vehicle was a success and its sale led to future versions, but it had been a gamble.
Things were simpler then. That first sled utilized parts from an old car bumper and an off-the-shelf motor. Improvements to future models came as the vehicles were being built. Few of those early models were exactly alike when they came off the assembly line.
But those sleds were heavy and cumbersome. The early 1960s saw the arrival of the Ski-Doo, a lighter sled built for recreation instead of utility. David recalls that Polaris countered with its own lighter sled, the Comet. It was a disaster and nearly bankrupt the company. Still, Polaris' David Johnson and Allan Hetteen stood with their product, making good with customers and vendors alike. He once told us: "Of the 300 machines built, 800 came back!"
Years later he could joke about the Comet, pointing out… "There were only three things wrong with it: the engine wouldn't run, the clutch wouldn't stand up and the thing didn't go in the snow."
He once told a local reporter that the real reason for creation of the snowmobile was that they were lazy. As serious outdoorsmen, they wanted an easier, mechanized way to get to their hunting cabin. It was tiring skiing to it in the winter. They figured a snow vehicle would be quicker and could carry their gear. The real problem they had was the vehicle's success. Once others saw that it worked and could make life easier, well, they wanted one, too.
He treasured the people of Polaris. Even after Textron took over and moved corporate headquarters to Minneapolis, he remained in Roseau and was sought out by engineers who looked for his thoughts on new, evolving models. Then, after Polaris split from Textron and was taken over by a team of key Polaris executives, he again, along with former partner Edgar Hetteen, became the "face" of this new Polaris. It was their heritage that helped the company evolve.
To celebrate his and Polaris' first 35 years, there was a huge celebration in Roseau, which included a life-size "Indy" anniversary cake. Finally, in 1987, David did retire, officially.
As noted years ago in that article I wrote about him: "David Johnson is one of the nicest and most congenial people you could hope to meet. He is of genuine character – honest, sincere. Someone you would hope to have as a friend – for real, not Facebook-wise. He will always be important to snowmobiling for his historic contributions, but he will always be my most genuine and prized character as a truly real person."
Inducted into the International Snowmobile Hall of Fame in 1999, he received numerous honors from snowmobile clubs and associations worldwide.
Now he has passed away, the last of the original pioneers. For many Polaris enthusiasts, David Johnson was Polaris. He created the brand with his own hands. From a few spare parts, a mechanical imagination and the desire to make the trek to a northern hunting cabin easier, he pioneered an industry and a sport.