Go Ride Ontario – There's No Place Like This!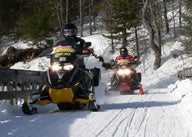 You'll never have to ride the same trail twice
Welcome to Ontario, the Go Snowmobiling capital of Canada! Riding in this snowy province is a dream come true…Ontario offers all of the best and most sought after elements that make memorable snowmobiling so special! Oodles of snow, great trails, spectacular scenery, unlimited choice, friendly hospitality, premier resorts, excellent restaurants and lots of attractions – plus something for every riding style, size of group, or level of experience.
And when you go ride Ontario, it is all about the experience! Every day of snowmobiling in Ontario is a new adventure, from sledding the rugged terrain of the Canadian Shield to cruising the picturesque lake lands of cottage country, and from hill and dale riding through rural landscapes to exploring seemingly unlimited backcountry wilderness. Yes, there's no place like this…Ontario snowmobiling will have you grinning from ear to ear with sheer delight, because you've never had it this good before!
What's so special about Ontario? It's bigger than Texas and offers more groomed trails to ride than there are provincial highways to drive. In fact, the 40,000 kilometers (25,000 miles) of snowmobile trails are the largest integrated network of recreational trails in the world. That's why they're called "TOP" (Trans Ontario Provincial) trails. And you know what? You can snowmobile in Ontario again and again, and never ride the same trail twice!
But size isn't all that matters. Ontario's world-class snowmobile trails are very user-friendly. Ontario tourism partners with the Ontario Federation of Snowmobile Clubs (OFSC) to provide a 2010 Provincial Snowmobile Trail guide that overviews every trail and shows each of the 17 OFSC districts. Also offered is a separate, more detailed guide for each district with all their trails plus all the information needed to navigate and tour hassle-free. But that's not all…
OFSC trails are well marked with the same trail numbers that appear on the various guides. Most major intersections offer "You Are Here" map boards and numerous signs along the trails also point the way to destinations, services and amenities. Ontario snowmobilers developed the entire system as an integrated network so that snowmobilers can travel with ease all winter long from community to community anywhere in the Ontario snowbelt.
And speaking of winter, boy does Ontario have it! A typical grooming season runs from eight weeks in the south, to 14 weeks or more further north. Thanks to the cold, this is snow that really lasts, and when the groomers are done, the trails are packed smooth and hard as far as the eye can see. So no matter when you go ride Ontario this winter, you will always find plenty of snow laid out in a white carpet just for you!
Ontario has a vibrant and active winter hospitality industry, so wherever the trails lead, you can always find trail accessible and snowmobile-friendly accommodations, restaurants and fuel. The 2010 Ontario Snowmobiling Tour Planner is a handy pocket booklet that contains contact information for winter lodgings, listed by colour code so you can find them easily. Assembled by snowmobilers for snowmobilers, the Ontario Snowmobile Tour Planner also provides everything you need to go snowmobiling in Ontario, including contacts for signature tour loops, sledding packages, rentals, and much, much more!
A great deal of time and money is spent to keep the trails functioning as smoothly as possible. In fact, last winter the 230 OFSC clubs spent $22.5 million for trail operations. Typically, this includes over 120,000 hours of grooming that expends 1.4 million litres (364,000 gal.) of fuel. Since 1994, Ontario clubs have invested an additional almost $50 million in partnership with the Government of Ontario for trail upgrades and improvements, including $3 million last winter alone. And guess what? This season, the Government of Canada has also come on board with a $25 million investment for recreational trails, part of which is going on Ontario's snow to enhance more than 6,000 kilometers of OFSC trails, plus install or repair 60 major bridges and numerous culverts, and as always, many more signs! These are BIG numbers – as you can see, Ontario is very serious about delivering the very best snowmobile experience anywhere. That's why riders racked up more than 150 million kilometers (93.2 million miles) on OFSC trails last winter!
What's more, Ontario snowmobiling is closer than you may think. If you happen to live in Ontario, are you ever lucky! The nearest snowmobile trails may be as close as your own backyard or only a short drive away. If you are coming via Manitoba or Quebec, trails start at both boundaries and even connect with trails in these provinces so you can go ride Ontario by sled! Or if you are visiting from the U.S., Ontario has snowmobile trails within about an hour's drive of most border crossings. And you can trailer to the most popular snowmobiling destinations in no time on Ontario's premier expressways!
As one of the world's most popular sledding destinations, Ontario is home to some of the most legendary names in snowmobiling: Cochrane, the RAP Tour, Muskoka, the Gold Rush Tour, Grey Bruce, and the Superior Challenge Loops, to name but a few. So no matter what your sledding dream may be, Ontario guarantees to fulfil it, big time. After all, there's no place like this!
Craig Nicholson is the author of "Canada's Best Snowmobiling — Your Ultimate Ride Guide". His syndicated column "The Intrepid Snowmobiler" appears in newspapers throughout North America. He also hosts "The Intrepid Snowmobiler on Radio" and appears regularly on Snowmobiler Television. For more info, visit IntrepidSnowmobiler.com.