Ontario: Canada's Premier Trail Riding Destination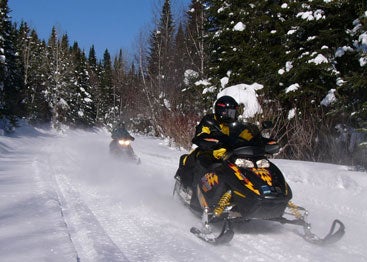 The world's largest snowmobiling system
For most riders, it's hard to get your head around how big snowmobiling is in Ontario. That's because this English-speaking Canadian province is almost twice as large as Texas and criss-crossed with almost 40,000 kilometres (26,000 miles) of topnotch snowmobile trails. In fact, Ontario's snowmobile trails rank as the world's longest recreational trail system, with more total distance than its miles of highways!
I'm a distance rider. It's easy to put on 250 to 400 kilometres (175 to 260 miles) day after day in Ontario, without feeling beat or riding after dark. So if you share my passion for racking up the miles, head for Ontario. Here you'll discover an endless trail network including old logging roads, abandoned rail lines and utility corridors that will surpass anything in your previous experience…and eye-candy scenery too.
Regardless of how often I ride Ontario, the thrill never seems to end. During a normal riding day elsewhere, I may have a couple of memorable moments that make me wish I could ride like that forever. This is the feeling I get continuously in Ontario.
One reason is that Ontario's trails are under used. Anyone who rides regularly in stateside snowmobile havens knows they can be way too crowded. So it's hard to imagine riding trails that can be virtually empty — and that means less traffic, fewer gas line-ups, less waiting at pit stops, and much more fun.
Season length and snowfall also make Ontario a standout. Throughout Southern Ontario, a 10 to 12-week season is normal, fed by lake effect snow coming off the Great Lakes, especially in areas like Grey Bruce, the Georgian Triangle, Muskoka and Parry Sound.
In many parts of Northern Ontario, season length can exceed 16 weeks, with snow that comes early and stays late. My choice for the best time to ride north is during March, when daylight hours are longer, temperatures moderate and trails incredibly well set up. Besides, March riding is a great way to extend my season, long after many others are putting their sleds away because the ground is bare at home.
Trail riding is what Ontario's all about. The Ontario Federation of Snowmobile Clubs (OFSC) and its 235 local clubs have operated this trail system for over 40 years, investing more than $426 million into trail development. This season alone, the OFSC invested $3 to further improve trails for tourism.
The benefit to visiting riders is that OFSC trails are connected and consistent. They are also mapped and marked for touring, and maintained by a fleet of 312 heavy industrial groomers. The OFSC trail system is well planned to connect hundreds of friendly snowbelt communities, so that fuel, food, service and lodging are frequent, findable, accessible and affordable.
The OFSC system consists of two interconnected networks, with trails equal in quality and rideability: Trans Ontario Provincial (TOP) Trails and regional trails. Almost 18,000 kilometres (12,000 miles) of TOP Trails are the main thru routes that link each of Ontario's nine major snowmobiling tourism regions. Within these regions, OFSC clubs operate an additional 22,000 kilometres (14,500 miles) of connecting trails. Together, these two fully integrated networks deliver an unrivalled opportunity for visitors in search of extraordinary riding.
Ontario also welcomes touring riders with state of the art information and planning tools. The OFSC produces a TOP Trail Guide that provides a provincial trail system overview.  Each of 17 OFSC districts also produces a snowmobile trail guide that shows more comprehensive detail. Trail status reports are updated regularly at http://www.ofsc.on.ca/. Meanwhile, Ontario tourism produces a booklet called 'The Ultimate Snowmobiling Tour Planner' (also available on line), written by snowmobilers for snowmobilers, that answers all your questions.
Like any product, you get what you pay for. As a snowmobiler, I'm more than willing to pay for the exceptional quality and quantity that Ontario offers touring riders. So I buy a Full Season Snowmobile Trail Permit for $230 CDN ($180 if purchased on or before December 1). This mandatory permit is good for unlimited use anywhere in Ontario at any time during the winter, so the more you ride, the better value you get. Seven-day permits are also available.
Ontario offers easy highway access from Minnesota, Michigan and New York. From there, American riders can be on the snow in only a couple of hours at Grey Bruce (near Detroit/Port Huron, Mich.), Muskoka or Haliburton (near Buffalo/Fort Erie, NY), Eastern Ontario (near Ogdensburg, NY), Algoma Country (near Sault Ste. Marie), or Sunset Country (north of Duluth). For other great opportunities, you can trailer on four lane highways to popular destinations farther north in Ontario such as Rainbow Country or Ontario's Near North. These regions are gateways to the spectacular riding offered in Northern Ontario.
If the main objective of going snowmobiling is to experience the best trail riding possible, Ontario is THE place to go — just don't expect to ride it all in one trip! The only downside is that Ontario has raised my snowmobiling bar so high that I'm no longer satisfied riding anywhere else!
Craig Nicholson is the author of "Canada's Best Snowmobiling — Your Ultimate Ride Guide". His syndicated column "The Intrepid Snowmobiler" appears in newspapers throughout North America. He also hosts "The Intrepid Snowmobiler on Radio" and appears regularly on Snowmobiler Television. For more info, click www.intrepidsnowmobiler.com.