Hibbert, Arctic Cat win double gold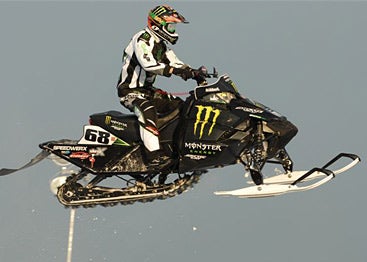 Rider on top at West Yellowstone, looking strong as X Games approach
Tucker Hibbert continues to be the hottest racer on the World PowerSports Association (WPSA) national tour.
Hibbert rode his Arctic Cat sled to a sweep of the Pro classes in West Yellowstone, Mont., in the final tune-up for the 2008 Winter X Games is Aspen, Colo.
In the Pro Super Stock final, Hibbert dominated from start to finish. He led all 12 laps and crossed the finish line 10 seconds clear of second place, Arctic Cat teammate Ryan Simons. Polaris rider Dennis Eckstrom earned the final podium spot, while Mike Schultz, Polaris, was fourth. Ski-Doo's Zach Pattyn finished fifth.
Heavy snowfall and poor visibility on Sunday, Jan. 20 forced organizers to shut down early, which meant the Pro Open final was moved to Monday, Jan. 21.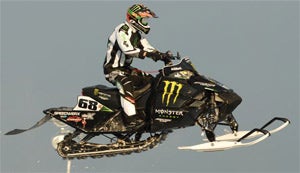 Mother Nature was much more cooperative on Monday as racers were treated to sunshine and cold temperatures. A total of 15 riders lined up for the 14-lap Pro Open final. Despite getting off to a nearly last-place start, Hibbert made a charge and took over the lead on lap 10, and he would not relinquish.
"It was awesome to get my first stock/open sweep of the season and was great to be back in West Yellowstone," says Hibbert, who began his racing career at that location. "These wins give the team and myself so much confidence and extra motivation heading into the Winter X Games this week.
"Being able to come from behind in the Pro Open final and to win by a good margin really helps me mentally because now I know I can run down the field if I need to. With a 20 lap final event in Aspen, I know no matter where I am off the start I can fight my way to the front."
TJ Gulla of Polaris finished second to Hibbert and took over the lead in Pro Open points standings from teammate Ross Martin. Mathiew Morin, Ski-Doo, completed the podium in third. Yamaha earned its best finish of the season on the national tour when Steven Taylor crossed the finish line in fourth.
"He really ran well," says Yamaha racing manager Greg Marier. "The crew has been working really well together and making the sled better and better each race weekend. Our testing and development is starting to pay off."
Polaris' Martin did not compete in the Pro Open final. He broke a crank shaft in the final qualifying round and teams are not allowed to change crank shafts.
The track at West Yellowstone was the first of the season with 100% natural snow.
"They probably got 18 to 20 inches of snow out there and it was all that real fine powder," Polaris racing manager Tom Rager Sr. told Snowmobile.com. "There was no consistency and no body to the snow. We had trouble getting out of the hole with it.
"It was not a technical track, it was a high-speed track. There was hardly anything technical to it on Monday. He (Hibbert) had an extremely fast line down one side of the race track and he made up a lot of time."
Related Reading: Profile: Tucker Hibbert Hibbert sweeps Pro Super Stock