Ontario: Primo Sledding on the Northern Corridor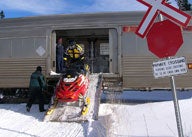 These Extraordinary Trails Will Blow Your Mind!
Stand beside Toronto's busy Highway 400 on any winter day and you'll see countless snowmobile trailers heading north. Ask many of these sledders where they're bound and their answer may well be Cochrane. This small Northern Ontario community is the Polar Bear capital of the province. It's located in the tourism area now known as Ontario's Wilderness Region.
Cochrane is also the eastern gateway to the renowned 'Northern Corridor', a primo trail network roughly paralleling Highway 11 for about 312 kilometers (195 miles) along TOP (Trans Ontario Provincial) Trail A west to Hearst. If that distance was the end of the Northern Corridor story, you might wonder why it's worth my attention and your journey there. Here's why…
The Northern Corridor is famous for its impeccably smooth, super wide and exhilarating trails. Mile for mile, the Northern Corridor's TOP A trail sets an exceedingly high benchmark that is rarely surpassed. This is the kind of trail that takes a snowmobiler's breath away and elicits frequent exclamations of "Oh WOW!" at every pit stop. A multitude of seemingly endless utility corridors, forest access roads and unopened road allowances…it simply doesn't get any better than this!
But TOP A is only part of the Northern Corridor story. The clubs of what is officially OFSC District 15 also operate many kilometers of other TOP and secondary trails of equal quality. So there's plenty of opportunity to really rack on the miles if that's your pleasure. Cochrane boasts several loops, including a memorable one to Timmins and Smooth Rock Falls. Midway along the Northern Corridor, a series of local trails run between Moonbeam to Opasatika, centered on the town of Kapuskasing. And west at Hearst, you'll find a host of superb secondary trails…but watch out for the moose!
Cochrane is also the jumping off point for two remarkable rides. One is the guided tour to Moosonee with Extreme Snowmobile Tours. This 2 or 3-day jaunt can be challenging, but expert guides and a well-planned route make it a must-do adventure. The second is a new, day-ride, wilderness loop to Abitibi Canyon, a gem of deep powder playing located amid a geographic anomaly of hills 150 klicks north of town. If you've never powered through in the deep stuff, be prepared for some of the best climbing east of the Rockies!
Riding west from Cochrane along the Northern Corridor, you'll quickly discover another unique feature: the region is home to one of Ontario's thriving Francophone communities. It's as if someone had dropped a small piece of Quebec into the heart of Ontario. This makes for many lively and fun-filled club events and winter carnivals for visitors to enjoy. The French flavor adds an irrepressible charm to your tour and heightens your sense of visiting a different time, place and culture. But no worry: the Corridor du Nord is very bilingual, so communicating in English is never a problem. And this distinctive Francophone factor makes snowmobiling so integral to the local lifestyle that every community welcomes touring riders with open arms and warm hospitality!
The Northern Corridor has one more prime asset that's unbeatable: it's Ontario's most northerly OFSC trail network, and that means a very long sledding season. Typically, the Northern Corridor is the first to open and the last to close each winter. Often, this means a snowmobiling season stretching to 16 weeks or more…so if you're looking for that pre-season test of a new sled or your last ride of the winter, this is the place to do it!
Accessing the Northern Corridor is easy. From the south, Highway 400 splits at Barrie for Highway 11, which is a straight day's drive on the main trucking route to Cochrane. Here, all the motels in town welcome riders and have lots of parking for trucks and trailers. Alternatively, there's the Snow Train…
That's right, your group and sleds can board the Algoma Central Railway at Sault Ste. Marie, Ontario (reservations: 1-800-242-9287) and ride in style north to Hearst, the western gateway of the Northern Corridor. Unload right at your hotel and do your Northern Corridor tour for as long as you want, then re-board the train back to the Sault, swapping riding yarns the entire way with a train full of snowmobilers!
Whatever your choice to get there, you can be sure that the Northern Corridor will meet and exceed your sledding expectations. That's why so many avid riders always include a trip north in their tour plans each winter. Be it for a weeklong sled holiday or a quick long weekend getaway, the Northern Corridor always delivers the goods. So for the closet thing you can get to a guarantee of exceptional snowmobiling, head to the Northern Corridor this winter!
Craig Nicholson is the author of "Canada's Best Snowmobiling — Your Ultimate Ride Guide". His syndicated column "The Intrepid Snowmobiler" appears in newspapers throughout North America. He also hosts "The Intrepid Snowmobiler on Radio" and appears regularly on Snowmobiler Television. For more info, click http://www.intrepidsnowmobiler.com/