Ontario's Interactive Trail Guide Makes Finding Snow Easy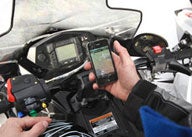 The latest info on snowmobile trails is just a click away
For most snowmobilers, Mother Nature has been far from generous this winter. But just because you look out your window and see bare roads and brown grass doesn't mean there's no place to ride – you just have to know where to look. Nobody makes that easier than the province of Ontario and the Ontario Federation of Snowmobile Clubs (OFSC).
With the ultimate goal of improving the way trail information is made available to snowmobilers, the OFSC put the might of its 217 snowmobile clubs behind the idea of an Interactive Trail Guide. The results are astonishing – a real-time look at the status of more than 30,000 kilometers of snowmobile trails in Ontario. But how did the OFSC get here?
"Historically, prior to the Interactive Trail Guide, [trail status reports were] all written. So if you wanted to find out what the trails were like in Bancroft, you'd go into the website, you'd look under District 2, you'd find Bancroft, then you'd try and find the trail numbers that you're interested in," says Mike Farr, OFSC manager of club services. "Very time consuming to try and sort through the tons of written trail status reports. With this Interactive Trail Guide, basically at a glance you just looked at the entire province."
If you're a snowmobiler looking to find open trails, that's music to your ears. Once you click on the Interactive Trail Guide, you really do get a look at every trail in Ontario. Once you see some green (available) or yellow (limited availability) on the map, you can zoom in and see each and every trail. As well, you can click on the trail and see when the information was last updated. While each trail is updated at least twice per week, many are updated much more regularly than that. So how does it all work?
According to Farr, all the clubs in an individual district would send an updated trail status report to their district office and that person would update the guide.
"They can update them any time – 24 hours a day, seven days a week. If a club opens up a trail on Saturday afternoon, they can get a hold of their district office, their office can actually post it on the guide and everybody will know Saturday afternoon that trail is open."
If you are planning a trip up to District 15 and want to see if you can go from Cochrane to Hearst, you can open up the Interactive Trail Guide and see if those trails are green and the last time they were updated.
That's the beauty of the Interactive Trail Guide – its immediacy. And it's very much in the best interest of the clubs to keep the trail status up to date. These clubs want you to ride their trails, because that means you are supporting area businesses and the local economy, which in turn helps out the clubs and its members who work for or own these businesses. That's why no matter where we've ridden in Ontario, we've always been greeted with open arms by the local hotels, motels, gas stations, and restaurants – many of whom cater specifically to snowmobilers.
Beyond accessing the Interactive Trail Guide from your computer at home, the OFSC has also made it easy to check on things from the road as mobile apps are available for your iPhone, Android, or Blackberry. That means you can be in the middle of a great ride day and decide you want to continue on further than you expected. Just open the app on your phone and you'll know exactly where to go to find more open trails.
Another benefit of the mobile apps is that the Interactive Trail Guide contains a lot more than just trail information. If you've got a problem with your sled, it will show you where the nearest dealer is. As well, the guide provides points of interest and lets you know where to find club houses, snowmobile-friendly restaurants, and places to fuel up. Farr says the Interactive Trail Guide is constantly evolving and improving, so you can expect it to get better and better in the coming years.
So if you're sitting around itching to go ride in Ontario and the snow won't come to you, open up the Interactive Trail Guide and see where the snow is falling and the trails are open. Even in the middle of what seems like a bad snow winter, we're seeing a lot of green and yellow on that map. Time to take action and start planning your snowmobile ride!
Related Reading High Tech Sledding in Ontario Lack of Snow Got You Down? Ontario is the Answer – Video Snow-Starved Snowmobilers Turned to Ontario This Winter – Video Late-Season Snowmobiling in Northeastern Ontario – Video Ontario Adventure to Moosonee Ontario's Northern Corridor: Incredible Spring Trail Riding