Smart Phone Apps for the Trail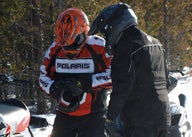 How apps can help you navigate through winter
Your smart phone is not only a valuable information source; it can also serve as an effective navigation device when you're out riding the trails. In fact, your smart phone probably has all the snowmobile trail and navigation abilities you need — and it's all in one simple device.
Most apps are free or nearly free. But, as with anything, it is not perfect. Here's what to look for and what to beware of when using smart phone apps for snowmobile navigation.
Polaris Snow Trails
Polaris Snow Trails app for iPhone and Android is probably the best snowmobile navigation app on the market. And it's free! With this app you can save and share routes on Twitter and Facebook, export and e-mail saved route data in GPX or CSV format and it's got a neat automatic map caching feature for when you're riding where there is no phone service.
While that's nice and all, the accuracy of navigation is the important thing. Testing the app sometimes placed us nowhere near our actual spot, which is worrisome, but re-booting it usually dialed in the location. The map overlay is probably 85-90-percent accurate which is acceptable seeing as how many snowmobile trail routes change year-to-year depending on land access and whatnot. Its fuel and food listing are incomplete at best and not recommended. For instance, it lists a Conoco Super Stop in a residential neighborhood of my hometown. There's no such place. Bottom line, the Polaris Snow Trails app is loaded with features and can be a valuable tool if used right, but should not be your sole navigation tool.
Google Maps, MapQuest, etc.
Pretty much every smart phone comes with a navigation app already installed, but if yours doesn't you can get MapQuest 4 Mobile for free. Mapquest 4 Mobile and Google Maps are far more accurate than the Polaris Snow Trails app plus they allow you to find gas, hotels and restaurants. But the Polaris snow trails app has snowmobile trails on it, so use the Polaris app to track your progress on the snowmobile map overlay but with the random inaccuracy of the Polaris app its best to double check locations and services with another app.
Paper Maps
Despite technology, we're not ready to abandon paper maps yet. A map can save your butt should your smart phone battery die or when you're riding in places where you can't get service. But even the lowly, centuries-old paper map can interface with today's electronic devices and become "smart." Snowmobile clubs are beginning to print GPS coordinates on their maps so snowmobilers can load waypoints into a GPS (or smart phone) and help navigate the trails more precisely. Some maps, like those in the Western UP of Michigan have GPS waypoint links online you can download.
Always Cross-Reference
The key to success is to not rely on any one source of information, but to utilize them all. Apps are dependent on service signal and can suck battery life pretty fast while in use. Maps aren't always 100-percent accurate because each year trails get re-routed and generally the trails are marked rather crudely on the map. But when you combine the two the margin of error becomes less. Get all the information and tools you can, learn how to use them and know that you have the advantage when you hit the trails.
Snowmobile Apps To Consider
Polaris Snow Trails From: Polaris Industries Cost: Free Features: Display current location, view maps of U.S. snowmobile trails, view snow cover, weather and advisories for any U.S. location, save waypoints, save and share routes, automatic map caching. Requirements: iPhone, iPod touch, and iPad. Requires iOS 4.0 or later; Android version 2.1 and higher.
Free GPS From: Codeburners Cost: Free Features: No bells or whistles, just a straight-up GPS locator. It does allow you to tag waypoints. Requirements: iPhone, iPod Touch and iPad. Requires iOS 3.1 or later.
MapQuest 4 Mobile From: MapQuest Cost: Free Features: Voice-activated turn-by-turn navigation, toolbar for finding restaurants, coffee shops and more. Requirements: Android 1.6 and up; iPhone, iPod Touch, and iPad. Requires iOS 3.1.3 or later.
iSledMN/iSledWI From: Mica Limited Cost: $4.99 each Features: Access thousands of miles of groomed snowmobile trails in either Minnesota or Wisconsin. Requirements: iPhone, iPod Touch and iPad. Requires iOS 4.0 or later.
iSnowmobile From: Ontario Federation of Snowmobile Clubs Cost: $2.99 Features: Complete maps of over 34,000 Km of Ontario snowmobile trails. Requirements: iPhone, iPod Touch and iPad. Requires iOS 3.1 or later; Android and Blackberry app coming soon.
MakkaMappa Lite From: The Appstillery, Ltd. Cost: Free Features: Make, use and share maps with location awareness, pop-up information capability, off-line capability, social networking and more. Requirements: iPhone, iPod Touch and iPad. Requires iOS 4.0 or later; Android 2.2 and up.
Related Reading Polaris Launches Snow Trails App OFSC launches new website