High Tech Sledding in Ontario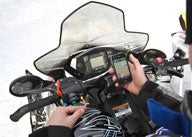 New technologies take Ontario trail riding to the next level
Snowmobiling in Ontario, Canada has become as high tech as today's Best Available Technology sleds. That's because the Ontario Federation of Snowmobile Clubs (OFSC) has launched its Interactive Trail Guide and advanced Groomer Fleet Management Technology. For snowmobilers visiting Ontario, these innovations mean quicker, better info, easier tour planning and navigation, and smoother, more consistent trails thanks to more efficient and effective grooming operations. Let's look at what's new…
Interactive Trail Guide
Until now, the OFSC has only been able to depict its trails as a moment-in-time snapshot on a paper trail guide or as static text display on a computer screen. No more. Based on the most recent GPS digital data, the OFSC Interactive Trail Guide features the most accurate and up to date display of the entire 34,000-kilometre OFSC trail network available anywhere. It's a living site that conveys the maximum viewable information to snowmobilers as changes occur daily and throughout the season. Riders can now view the latest trail status updates, plan their rides, compute distances, find services or check for in-season re-routes and detours.
Viewing the Trails
There are four new ways to view OFSC trails:
1. On your computer screen. 2. Check trails any time, anywhere, by downloading the entire OFSC trail network directly to your smart phone via new Apps for iphones, BlackBerries and Android devices. Essentially, these downloads allow your phone to mirror whatever is available on the Interactive Trail Guide site at any given time. 3. Order customized and high definition print copies from the Interactive Trail Guide site for a small fee with a choice of size, layout and base map. View what you want to print on screen, and then click the MapSherpa button to order. 4. Buy a routable Interactive Trail Guide for your Magellan, Garmin or Lowrance unit. Of course, this gives the rider the usual GPS ability to plot waypoints, track routes, locate destinations, store info, and always know exactly where you are on the trail.
With its many desirable features and benefits, this Interactive Trail Guide is rapidly becoming indispensable to tech-savvy OFSC snowmobilers, especially as its functionality becomes fully realized. For example, Service icons indicating fuel, lodging and restaurant availability are being added as quickly as possible.
Meanwhile, the Interactive Trail Guide's backend (what the public doesn't see) is becoming essential to the OFSC, its districts and clubs. Starting with the new found ability to manage trails and their status much more expeditiously, the backend can also be used as a common environment for managing, comparing and coordinating geospatial assets such as trail locations, distances, landmarks, bridges and linkages. In addition, the back end will assist in producing more consistent and accurate (paper) trail guides, while providing many new avenues of front end communication and assistance to OFSC snowmobilers.
Groomer Fleet Technology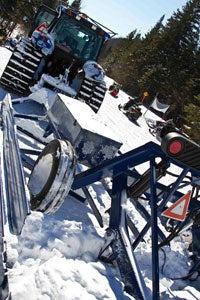 The OFSC's 34,000 kilometres of trails are re-surfaced with a fleet of 334 purpose-built and high tech industrial grooming tractors and drags that can easily cost $250,000 each. With recent advances in grooming technology, expertise and know-how, it stands to reason that these valuable equipment resources should be used with optimum efficiency and effectiveness. Enter groomer fleet technology, now installed in every grooming tractor being operated by OFSC clubs, associations or districts.
Groomer fleet technology is a management tool similar to that already proven in the trucking, bus and transportation industries. With the technology installed, OFSC clubs, associations or districts can view the location, direction and speed of their groomers at any given time, in near real time, on a detailed map. The fleet technology also increases safety and peace of mind for both groomer operators and groomer coordinators through provision of a tracking and emergency locator function.
So how will this new fleet technology improve your rider experience? Collected and analysed grooming information will improve grooming operations. For instance, clubs will be able to optimize fuel usage, plan better grooming runs, improve maintenance to help avoid breakdowns and save repair costs, and put groomers out when and where they are needed. So instead of 334 grooming units operating autonomously, they are now able to act in concert, supporting one another through more integrated fleet management and operations.
As with most high technology, everything listed above is a work in progress. The backend systems are constantly being monitored, serviced, assessed, improved, tweaked and updated. But as the bugs get worked out and everyone becomes more familiar with what the various technologies do and more expert at how to best use them, it's going to be an even more exciting and connected time to go snowmobiling in Ontario!
Related Reading Choosing an Ontario Snowmobiling Destination Rainbow Country Snowmobile Adventure [Video] Ontario Snowmobiling Offers Many Unique People & Places