SNOWfest 3 is Uniquely Snowmobiling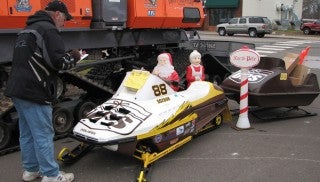 The unique flavor of snowmobiling past and present
SNOWfest 3 organizer Steve Dubbs notes that the third annual SNOWfest held in downtown Wahkon, Minn., this December 12th provided the opportunity for him to take part in two of his favorite hobbies: snowmobiling and talking about snowmobiling. With the dire lack of snow in central Minnesota to date, talking was the primary activity as temperatures in the 40s and a threat of rain made riding a no-go.
But, like any annual swap meet, vintage sled show or snowmobile get-together, events like SNOWfest serve to bring snowmobilers together. The downtown Wahkon event, billed as a "celebration of snowmobiling wrapped around a snowmobile film festival," showcased the "Wahkon World Premier" of this season's top snowmobile action videos. Previewed on three large screens were:
As well as previous top hits along with vintage videos that included footage from old television and dealer promotion videos.
As last year, I was invited to humble myself as a judge of the second annual SNOWfest vintage snowmobile show. While I may have ridden many of the antique and classic sleds back in the days when they were brand new, my memory bank long ago filtered out many of the specs and information that made some of these sleds so unique. Fortunately, Dave Guenther was on hand again to save me from total humiliation in trying to piece together the best of the best so we could make awards in nine categories of antique, vintage, classic and special categories. With his background in the Antique Snowmobile Club of America (ASCOA) and his role as President of the International Snowmobile Hall of Fame, Dave is well versed in the world of snowmobile history. Between the two of us we managed to arrive at trophy winners for each class, but it seems that each show brings better and more unique vehicles to judge.
Despite the fact that there hasn't been ride-able snow in this part of the upper Midwest, SNOWfest 3 attracted a strong number of participants to the event's vintage sled show. The expected early Ski-Doo and Arctic Cats made their appearances. Kris Kuljo of Brainerd, Minn. showed up with five 1960s vintage Olympiques, including four with original Kohler 4-stroke engines and a 1960 with wooden skis, which won the Antique Class.
The thing about vintage snowmobile events is that they tend to remind you just how unique snowmobiling is and how it has evolved over the decades. Ron Lemke's award winning 1973 Speedway Blue Max 340 may be a "show" sled now, but in its day the blue Speedway sleds were tough competitors on the race tracks of the early 1970s. They were light and sported no-nonsense free-air two-stroke engines. Back in the day they may have competed against the likes of a single-cylinder 1972 Yamaha GP 292X, who's restorer, Charlie Posner of Pierz, Minn., earned the award for best race sled, edging out Dacota Greene's fully restored Rupp racer.
In keeping with the sense of reviving snowmobiling history and having fun, Bruce Kuchnicki was presented with the Vintage Costume award for his whimsical UPS Santa's Helper sled and sleigh effort. He managed to convert an original 1988 Indy 400 along with a matching cutter into a UPS conveyance, completed in UPS brown with UPS boxes filling up the sleigh.
But, among the unique sleds we found some truly clever engineering and serious effort put into the Rat Rod/Custom category. This is a class in which snowmobilers can update or modernize an old sled with newer engines, suspension changes and such. To that end we saw a number of old sleds with widened ski stance suspensions and customized paint jobs.
One Rat Rod that caught our imagination came from nearby Isle, Minn. Starting with a Scorpion Stinger, David Ice created a truly clever and unique sled that featured pieces from both old and modern sleds. Although the original 1970s vintage Scorpion Stingers featured unique for the time Para-Rail rear suspensions and poly tracks, they rode rough and didn't steer or handle corners much better.
That's why this Rat Rod featured a full double A-arm front suspension and an M-10 long travel rear suspension. David Ice took a Yamaha Attak front suspension and fitted it to the Scorpion. The most difficult part of that changeover came in adapting the steering. He recalled suffering a great deal of frustration getting the steering mechanics to work – and fit under the hood. But he managed and the end result is a Scorpion Stinger that truly handles better than new!
It rides substantially better than new as well, thanks to fitting a long travel Polaris M-10 suspension in the tunnel. The engine, though, is pure big iron, vintage single carburetor 440cc Scorpion fan-cooled twin, but with a custom dual exhaust. The exhaust shoots directly out the front of the sled with straight pipes that spill into small sound-deadening canisters. He used exhaust pieces from the Yamaha Attak exhaust system to allow flex for his custom dual exhaust design. Topped off with a red-fleck reproduction Scorpion hood, David Ice's creation earned the best custom sled award at SNOWfest.
As we noted, events like SNOWfest bring together snowmobilers who are happy to talk snowmobiling and share their knowledge. Maynard Erickson of Moose Lake, Minn. has shared his snowmobiling experiences since 1967, when he bought the Moto-Ski Capri he put on display. His sled is as original as the owner himself, who still rides the Capri every winter since he first bought it nearly a half century ago. Maynard and his 1967 Moto-Ski were awarded the People's Choice award. A long time snowmobiler, Maynard once worked for Boatel, a local area boat company that manufactured Grand Prix snowmobiles in the early 1970s.
We would have preferred to have enjoyed actual on-snow snowmobiling at SNOWfest 3, but the sharing of sled lore is not to be missed at such events. You never know what you'll see on display nor who will have the most interesting stories to tell. Just know that snow or shine, events like SNOWfest keep the sport alive. Or as Steve Dubbs reminds us, there's only two things of importance to snowmobilers: the snowmobiles and talking about snowmobiling.
SNOWfest 3 is now history, but the board of directors of the Wahkon Film Board and the snowmobile gurus that call Muggs of Mille Lacs their winter pit stop are already planning SNOWfest 4. Save the date, December 10, 2016. If there's snow, ride hard. If not, talk proud and enjoy your fellow snowmobilers!