Snowmobilers Support Veterans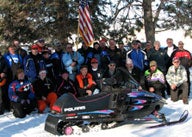 Across the snowbelt snowmobilers honor veterans with special events
Snowmobilers support their communities in a great number of ways. Long recognized as great contributors to charities, snowmobilers across Canada and the United States annually raise more than US$3 million dollars to augment contributions to such organizations as Easter Seals, the Special Olympics, the Multiple Sclerosis Foundation and Make-A-Wish Foundation.
More than 150 Minnesota snowmobilers raised more than US$500,000 at the annual Black Woods Blizzard Tour, held this past February 4 – 6, 2010. At this benefit to raise funds for people with amyotrophic lateral sclerosis (ALS), more commonly known at Lou Gehrig's Disease, the snowmobile community tied in fundraising with snowmobiling to make the three-day charity event one of the most successful events of its kind.
With such a predilection for giving to others, it seems only natural that snowmobilers across the snowbelt would seek to lend support — moral and charitable — to the men and women who have served their country in times of conflict. This sense of patriotism and support for the men and women, who either served or are currently serving in the military, led to the organization of various "veteran's rides" from Vermont to Michigan to Minnesota.
Vermont Snowmobilers Host Annual Veteran's Event
This past January 30, the Vermont Association of Snow Travelers (VAST) sponsored its second annual military appreciation day as a fundraiser for a statewide memorial for all of Vermont's fallen soldiers since September 11, 2001. Event organizers noted that they are more than half way toward their goal of raising $350,000 for the memorial.
Originally the event was conceived as a way to get more people involved with snowmobiling in a rural state where snowmobiles are as much transportation as a sport. But with the focus on veterans the event —officially known as the Military Appreciation Ride-in — grew into a way to honor Vermonters who serve the state and the nation.
Based on its population Vermont has the nation's highest percentage of military veterans. By the same token, Vermont has one of the highest numbers of its soldiers lost in the wars in Afghanistan and Iraq. According to event organizers, this veteran's appreciation event allows Vermont snowmobilers, many of whom serve in the Vermont National Guard, to honor those who serve and sacrifice.
The day's events included a color guard, which conducted a brief ceremony to mark the beginning of a day of snowmobile rides and socializing. The Vermont Army National Guard sent one of its Medevac helicopters to the event, where it circled and landed near the festivities.
The Ride-in was dedicated to the families of Vermont's fallen soldiers and others who will soon be deployed to Afghanistan.
Seney Veteran's Ride
It started six years ago as a simple event to recognize military veterans for their service. Now the annual Seney (Michigan) Veteran's Ride has grown to include 191 riders, roughly a third of whom are veterans themselves.
Air Force veteran Donna Reed and her husband Don, also a military veteran, initiated the event and found a way to combine honoring veteran's with one of their favored recreations — snowmobiling. The day's guided ride is scheduled for about 100 miles in the Seney-area. Local guides are assigned to various groups and lead them to a hot lunch rendezvous at a prearranged stop. The veteran's ride ends back at the starting point for a pig roast and bonfire.
Reed explains that the event, including meals and a T-shirt, is free for veterans. Non-veterans pay $20 to participate in the event. For those without a snowmobile, the Reeds can arrange rental snowmobiles, which is one reason advance registrations are preferred.
The most recent event drew so many participants that the club groomer barn used to host the dinner proved too small to hold everyone. The Reed's quickly arranged for a big military tent and pumped in heat to make everyone comfortable for the annual end of the trail pig roast.
The event motto is simple, yet effective: "Be a vet, bring a vet, thank a vet."
Whether you are a veteran or not but would like to join in the fun, make a note that the Seney Veteran's Ride is held annually on the second Saturday in March. For more information about the event or to register to ride, send an email to foxmotel@jamadots.com or a call @ 906-499-3332.
Minnesota Veterans Appreciation
On Thursday February 11, 2010, we were one of 53 veterans from across Minnesota who gathered at the VFW in Hinckley, MN for a day of snowmobiling. We'd never done anything quite like this, but figured as an Army veteran, "Why not?" It seemed like a worthy cause. It was nearby our office. And we appreciated the efforts of the host organization — Minnesota United Snowmobilers Association (MN-USA). It is a well-organized group that has done more for Minnesota snowmobiling than it will ever be given credit.
The second annual Minnesota Veterans Appreciation ride was conducted as the preamble to MN-USA's statewide convention of member clubs. It was a good way to get the annual meeting started and a great way to invite Minnesota veterans along for a day of snowmobiling on local Pine County trails.
Participating riders included retired and active military personnel, local club members as well as MN-USA members. While many riders brought their own sleds, sled-less veterans were provided new sleds compliments of the four snowmobile manufacturers who helped support MN-USA with the event.
Terry Hutchinson, Director at Large of MN-USA and co-chair of this event explained that MN-USA hosted the "… annual snowmobile ride as a token of our appreciation to our veterans who have given part of their lives to serve all of us."
Larry Shepherd, co-chair and President of Minnesota Snowmobile Education and Advancement Fund (MSEAF), and Hutchinson initiated this ride with the intent for it to continue for many years to come.
The veterans gathered at the Hinckley VFW to register, get placed into groups and for a few pre-ride welcoming remarks. With local guides at the front and a "sweep" at the rear of each group, the event left the VFW for a tour of Pine County trails and a midday lunch at the Hinckley/Beroun Flames snowmobile clubhouse. There the mayor gave the riders a brief welcome as club members served up a warm and welcome luncheon.
We were in a group of eclectic snowmobiles of every brand, though the locally manufactured brands like Polaris and Arctic cat were favored. Some of the sleds were fitted with GPS, which followed local trail maps. Very few of the sleds were very new, but all were in excellent shape as these riders prize their rides by carefully maintaining them. Guess this will make it hard for the snowmobile manufacturers to get these riders on to a new sled.
The local trails were in great shape as the various local groomers had made a point of getting the trails in good condition before the ride. Kudos to the groomer operators for their hard work.
The ride returned to the VFW but the evening festivities shifted a few blocks away to the Pine City American Legion, which served a dinner and was host to a giveaway of door prizes provided by some of the local businesses for the veterans.
As is always the case for a successful event, it was the behind scenes efforts of snowmobilers in the local area who came out to help make this ride a great success. These snowmobilers arranged route planning, planned groomer schedules, and arranged trail guides.
MN-USA's second annual veteran's ride was a success and can't help but grow even more heading into year three. For more information about MN-USA annual veteran's appreciation snowmobile ride, visit the group's website at http://www.mnusa-online.org/.