The "Spirit" of the Arctic Cat/Suzuki Partnership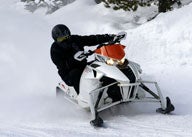 Model Year 2014 will mark the end of the Arctic Cat and Suzuki relationship that dates back 38 years to 1976.
You might think that getting hit with a lawsuit by a competitor might slow down investor interest in your company. Consider that Arctic Cat's stock price reached a 52-week high on December 28th, less than two weeks after Bombardier Recreational Products Inc., maker of Ski-Doo snowmobiles, initiated a suit against the Minnesota-based company for alleged patent infringement on December 15th.
That didn't deter investors. News that Arctic Cat was buying out long time engine supplier Suzuki Motor Corporation's share in the company overshadowed any BRP reaction and actually spurred interest in Cat's stock.
Suzuki's presence in Arctic Cat included more than six million shares of Arctic Cat Class B stock, valued at more than US$79 million.
Suzuki became a shareholder of record in Arctic Cat back in 1988, four years after the re-emergence of the brand from bankruptcy and its Suzuki-powered 1984 El Tigre. Suzuki paid just under US$13 million for a 33 percent piece of Arctic Cat, which was incorporated as Arctco at the time. About this same time, rival Polaris had attempted to acquire Arctco and the Arctic Cat brand for a reputed US$25 million.
Performance was key to the Cat brand as Suzuki and Arctic Cat teamed up with the 1988 Wildcat, which was powered by an all-new Suzuki-built 650cc, liquid-cooled twin that let Cat claim the sled as the "world's fastest."
Suzuki and Arctic Cat have partnered since 1976, when Suzuki displaced Kawasaki as Cat's engine supplier. That year a new breed of Arctic Cat/Suzuki Spirit engines appeared, headlining as the power source in an all-new Pantera model, which listed a Spirit 5000 series twin among its new for 1976 credentials.
The Suzuki engines created a bit of a stir among racing organizations, as they did not adhere to the standard displacement classifications. Instead of the then-accepted 250-340-440 engine size categories, the Spirit engines premiered in "odd" size lots, such as the Pantera's 500cc displacement twin. The new thinking revolved around trail performance and not necessarily racetrack needs. The Suzuki Spirit 5000 engine used a longer stroke than a conventional 440cc motor and, so the thinking went, the engine could run about 1,500 to 2,000 rpm slower but give similar performance to competitive 440s. The new ideas destined for the Pantera, a sporty trail runner, included improvements in low end torque, resulting in better power at low speeds in deep snow, lower clutch engagements for smoother drive-off, longer engine life and less engine noise.
Arctic Cat concluded that its new Suzuki partnership would revolutionize the sport. Maybe, but it did change how consumers viewed trail performance. Up to the introduction of the Spirit engine series, snowmobile motor performance tended to be increased through raising revs. The Suzuki theme resulted in expanding on-trail performance through increased displacement to deliver more power at low rpm and more tractable results on the snow. The new motors featured improved electrics via CD ignitions to give easier, more positive starts.
When Arctic Cat first introduced the Spirit by Suzuki engines, the company tried to stay away from direct displacement comparisons. From Cat's view, it made sense, as the new engines didn't always measure up since the new series tended to reflect a slowing down of revs in favor of delivering improvements in low-end torque. The Spirit twin in the El Tigre 4000 measured 440cc, but because the rpm was reduced by up to 2000 revs, the end result was a 440 with performance better than existing 340cc models but less than a conventional 440. The 5000 series Suzuki engine delivered about 60 horsepower and overall performance superior to conventional 440s as regards torque.
Because Suzuki's Spirit motors didn't always compare directly to the competition's engine sizing, Arctic Cat preferred to discuss its engine performance in terms of either high or low power rather than cubic centimeters. The Spirit series was offered in the 5000 (500cc), 4000 (440cc), 3000 (340cc) and 2000 (275cc) designations.
Suzuki engines replaced Kawasaki as Cat's power source. Kawasaki, which had provided a potent and technologically interesting 440cc, dual-spark plug per cylinder twin for Cat's El Tigre, brought its two-stroke expertise to its own line of Sno-Jet snowmobiles that it had purchased from Conroy prior to the 1977 model year. Sno-Jet would eventually be replaced by a distinctive Kawasaki brand in later years.
While Suzuki no longer will hold a financial stake in Arctic Cat nor seat a Suzuki representative on the company's board of directors, the long time relationship will continue through the 2014 Arctic Cat model year. Suzuki also will supply engine parts to service existing Suzuki-built motors.
The dissolution of this "marriage" comes as no surprise since Arctic Cat announced in June of 2010 that it intended to design and manufacture its own engines at its St. Cloud, MN facility, which has been manufacturing ATV engines since 2007.
The move to build its own engines means that Arctic Cat should be better positioned to respond to market changes more quickly. The lead time to get a new motor built and into a new product will be much more direct, allowing Arctic Cat faster response time to meet dealer and customer demands.
Claude Jordan, Arctic Cat Chief Executive Officer, was quoted as explaining to investors: "Bringing the engine manufacturing work back to Minnesota won't affect profit margins much, but building closer to home is a key part of Arctic Cat's strategy.
He further stated, "…We'll be able to control our own destiny. If there are specific snowmobile engines, certain directions we want to go, … (we) have the flexibility to produce and manufacture those engines."
Snowmobilers fully anticipate exciting things to happen at Arctic Cat as the all-new 2012 ProCross and ProClimb models received very good reviews by test reviewers and Cat aficionados alike. Since Cat announced that it intended to build its own snowmobile powerplants, snowmobilers have anxiously been waiting to see what Cat's engineers will deliver to replace the Suzuki turbo four-stroke and the nifty 800cc two-stroke twin. We've been expecting to catch a hint as the 2013 models start to evolve and maybe steal a glimpse of something new from Team Arctic's racing teams.
Regardless, by cutting its dependence on Suzuki for its engine supply, Arctic Cat should be well positioned to meet its competition in the snowmobile and ATV realms. In the past, Arctic Cat faced time constraints getting product shipped from Japan. In addition, in the past, if Cat had a strong seller the company might be limited by engine supply as to exactly how many of them it could market. By having the capability to produce what it needs, when it needs it, Arctic Cat can meet demand more readily. That can mean increased profitability as well.
Arctic Cat's new independence and direction sent a strong message to investors, who responded to the news by pushing Arctic Cat stock prices to a new high for the year. Obviously, the investment community hasn't been affected by any threat of litigation.