10 Snowmobile-Friendly Places to Stay in Northern Ontario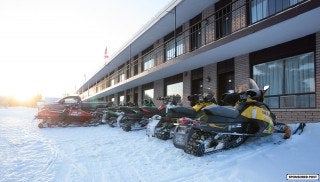 The best hotels, motels and resorts in the region
A hot fire, cozy bed and good grub make all the difference when you're ready to relax after a long day of riding. (Add in a hot tub and life can't get much better, right?) Riders are spoiled for choice in Northern Ontario, with plenty of great options for places to stay while snowmobiling, but the key to transforming a good trip into a great one is finding accommodations that are snowmobile-friendly. No, we aren't just talking about hotel managers or motel owners who smile at the familiar 'braap' sound of a sled as it cruises up — there's more to the term 'snowmobile friendly' than just that.
To be snowmobile friendly means watching people in their rooms open the curtains to see what sleds just pulled up versus those who yank them shut to drown out the noise. It's a property with a giant parking lot — large enough for groups of sleds, plus their accompanying trucks and trailers. It's the hotel that has the fire lit and at just the right temperature when you walk in. The place with breakfast ready early so you don't waste any time getting out riding that day. The resort that gives you boot dryers in your room. That, my friend, is a truly snowmobile-friendly hotel. Here are 10 such places worth booking next time you're hitting the trails in Northern Ontario.
Dubbed a "motorsports resort," this all-season spot is located right next to the trail system, making it easy to access for snowmobilers. The motel's large parking lot is great for staging, and they also offer an indoor heated garage — which is a big plus on those cold mornings! Add in a hot tub and good grub, and you've got yourself the ultimate snowmobiler's destination. Rooms have been recently renovated to cater to powersports travelers, including places to hang helmets and dry gear, a work bench to make any necessary tweaks or repairs, and more!
First of all, the beds at this resort are like floating on marshmallows — or fresh powder. Second of all, the hotel's Nordic spa is unreal after a long day of riding on area trails. Those two things alone are already enough to make this resort a top place to stay in Northern Ontario. Combined with the amazing food, gorgeous chalets, fireplaces, and ample parking? You've got yourself an incredibly luxurious, and snowmobile-friendly, resort waiting for you with open arms.
Besides a name that's about as Canadian as you can get, the Moose Horn Lodge offers individual cabins, so parking outside your door won't be a problem. With over 450 miles of groomed trails in the nearby Chapleau area (including the stunning RAP Tour!) and warm and cozy accommodations, the lodge is an ideal place for sledders looking to enjoy all the great snowmobiling the region has to offer.
New Liskeard is a great place to visit, thanks to a variety of snowmobile trails available to all. Located right off a main trail, snowmobilers can stage at the spacious Holiday Inn parking lot. Enjoy a dip in the heated indoor pool and hot tub at the end of the day, then start your next day of riding off right with a full suite of breakfast options (waffles anyone?).
A big draw for snowmobilers is being able to park right outside of your cabin door, and Spectacle Lake Lodge offers just that! It also offers on-site fuel and great food – making it a great place to stay for those traveling through Barry's Bay and riding the RAP. The property even offers a special rate for snowmobilers; their "Sledder's Package" includes accommodation, a three-course dinner and hot breakfast, a truly excellent value for only $150 per person per night.
Located a short drive from nearby Bracebridge and just off TOP Trail D103B, this serene resort wows with rustic cottages nestled among the pines and lakeside chalets, coupled with easy trailside access. Take advantage of Trillium's "Joy Ride Muskoka" rate for snowmobilers – a package that includes accommodation, plus dinner and breakfast, so the only decision you need to make is which of the many Muskoka area trails you'll tackle that day. Then cap a great day of riding and recharge your batteries with a trip to the resort's Finnish wood-burning sauna or an evening spent relaxing by the outdoor fireplace or hot tub.
Ah, Wawa – a town that holds a special place in our hearts for so many reasons… Maybe it's the gigantic, now infamous, goose statue, or maybe it's the Wawa Boondocking adventures we've been on. Either way, the Wawa Motor Inn is the place to stay here. Everything from standard rooms to individual cabins or a room are offered, all with plenty of parking right outside your door. Boasting comfort food and other creature comforts – like a licensed dining room with a 27-foot tall fireplace! – this northern gem has everything you need to make your next trip a memorable one. (For even more information on this area, be sure to check out Ross Robinson's recent trip and the latest Algoma County trail info here.)
The OFSC snowmobile trail report link on their website should already be enough to convince you that Bancroft Inn is extremely snowmobile-friendly. Then there's the fact that the inn offers ample parking for snowmobile trails, plus convenient winter plug-ins. Add in comfy rooms, a dry cedar sauna, and a free continental breakfast and what more could a rider need? …A nearby day loop? Bancroft has that too.
The Elk Lake Wilderness Resort offers a winter package like no other for snowmobilers looking to take advantage of their prime location: at the base of the Gold Rush Tour Loop and directly adjacent to the A-trail (meaning there's no road running necessary). This resort takes the usual creature comforts and steps them up a notch, like a hot homemade dinner served to you in your cabin, or the fact that they've got an ice fishing hut and a warm shop to work on your sled in addition to saunas and a hot tub. There's even gas on site and take-away lunches available – everything you need for the ultimate winter sledding adventure.
Looking for a true Canadian experience? This year-round camp features cottages with wood stoves, jacuzzi tubs, plus a special snowmobiling package that includes lodging and home-cooked meals. With easy access to the A-trail, this northern spot is also close to fuel and repair shops. Mattawa is a beautiful spot to stay and ride, so don't miss checking this area out.
Want more information, or even more ideas for places to stay while riding in Northern Ontario? Visit NorthernOntario.travel for the area's top snowmobiling destinations and other great trip suggestions.
Lead photo by: Martin Lortz