2018: The Year of Big Power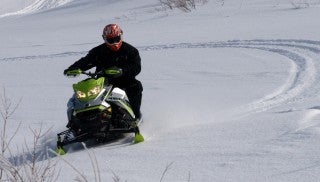 Displacement sells with 800s leading the pack — in power and sales
Wow! Modern snowmobilers must be great riders as the snowmobile industry in recognition of our modern-day skills has made model year 2018 the year of big power. This is in recognition of one salient fact: 800cc sleds outsell 600cc-powered ones in the niches that matter.
Yamaha discovered that its sled buying public preferred power to savings and opted in a big way to purchase turbocharged Sidewinders rather than Vipers. The choice came between sheer power and savings. The "official" 180-horsepower of the Sidewinder proved a bigger draw than a possible savings of US$2,600 if choosing a Viper.
The 2018 Sidewinder R-TX LE retails for US$16,699. The same model in Viper trim, the Viper R-TX LE, retails for US$14,099. There's that US$2,600 price difference. Or, simply Sidewinder buyers decided that paying about US$52 per added horsepower was worth it.
When it comes to power to weight, the Sidewinder buyer won out as well. The added Sidewinder horses pull about the same weight as does the Viper's 1049cc triple. Yamaha claims to have been delighted with the interest in its Sidewinder series, but they weren't sure about the long-term effect of future Viper sales, which trended down this past season. There seems to be some speculation that some riders might realize that the Sidewinder may be just too much of a good thing and those riders will return to the 130-something horsepower of the Viper. Of course, that official 180-hp rating for the Sidewinder ended up being more window dressing than reality as independent dyno readings have established Yamaha's 998cc turbocharged triple as easily delivering 200 horsepower or more. That lowers your cost per added horsepower to just over US$35. That seems like a bargain versus the Viper's staid output.
For model year 2018 Yamaha flooded its line with turbo models. In the trail niche, the Viper counts five models to the Sidewinder's seven. In Yamaha's crossover niche, you'll find 10 Sidewinders to one Viper and four Apex versions. Vipers do outnumber Sidewinder models by one in the mountain category. And no turbocharged Yamaha four-stroke has yet to sit under the hood of a touring or utility Yamaha.
Obviously, the big power of the Sidewinder proved a success and Yamaha fully intends to build on it for model year 2018. But, Yamaha isn't the only sled maker to play up power and displacement in the upcoming season. Ski-Doo took a bold step with its all-new Gen4 and Rotax 850cc E-TEC, giving that platform/engine combination favored status as Ski-Doo moves into the new season.
The GEN4/850 combination works because, well, simply because the chassis and the engine came to life as conjoined parts. You won't find a 2018 Gen4 Ski-Doo model with any engine but the 850. Only the 850 engine fits the GEN4 platform. No current 600 ETEC, 800 Rotax twin nor any of Ski-Doo's nifty fuel-saving advanced combustion four-strokes fit. The current GEN4 platform also doesn't accommodate the "air suspension" features of the Grand Touring or Renegade Enduro. Most of the non-GEN/850 models come into 2018 virtually unchanged.
Ski-Doo's new breed of big power makes sense when comparing the value of select 2018 models to the essentially carried over ones. For example, for the extra US$1,300 you'll pay to upgrade from a base 2018 MXZ TNT 600 E-TEC to the 2018 MXZ TNT 850, you get a bundle of value beyond the obvious power and displacement upgrade. That alone immediately gives you a 40-hp bump from about 120-hp to 165. You get an entirely new chassis, complete with vastly improved handling and the not to be underestimated current Ski-Doo state-of-the-art suspension settings, including RAS 3 and rMotion.
Whether its trails, off-trail or serious powder pounding, the new chassis and strong 850cc twin offer advantages and explain why Ski-Doo downplays its perfectly good 600 E-TEC and ACE engines as power choices for the new chassis. The new combination is simply better in virtually all ways — power, handling, ride. That explains Ski-Doo's move to big power in model year 2018.
Arctic Cat, like Yamaha, enters model year 2018 with an influx of bigger power choices. Unlike Yamaha, Arctic Cat isn't relying strictly on its biggest power choice, the Yamaha turbo. There are turbo models, but Cat held back and offers power balance in its model lines. There will be twice as many 800s available as turbos in both Cat's mountain and trail offerings. Cat's line also showcases a strong sampling of its own dual stage injection 600cc and 800cc engines across the 2018 lineup.
As expected, Cat's all-new 800cc C-TEC2 engine with dual stage injection highlights its technology as it replaces the previous fuel injected Suzuki 800 twin. Cat is justifiably proud of these C-TEC2 twins as they ramp up quicker while utilizing 30 percent less oil. The new Cat 800 offers a claimed 36 percent increase in low end torque and greatly improved throttle response.
While none of the four sled makers have giving up on the 600-class of sleds, Arctic Cat remains most loyal to the class by offering more 2018 models with its 600cc C-TEC2 twin. You'll find this 125-hp category engine providing motivation to a new Pantera as well as the all-new Norseman 6000 ES utility sled. Easily ensconced in the 160-hp class of performance sleds, the new 800cc CTEC2 adds a solid power to weight benefit to Cat's mountain and performance on and off trail models.
Polaris remains a believer in the 800 advantage as the company has been offering more models with its Cleanfire 800cc semi-direct injected twins than with the 600. As the number one selling sled brand in the steep and deep areas of North America, Polaris worked long and hard to offer the strongest balance sheet of power to weight. Well established in the 160-hp class, Polaris' two-stroke twin helped the 800 Pro-RMK earn its reputation as being the sales leader in the West. Of course, a weight of 408-pounds helps cement the impression of being light and nimble in the powder. Whether a rider can take advantage of the sled's promise is neither here nor there. The fact is that the Polaris 800 Pro-RMK remains one of the lightest, most maneuverable deep powder sleds in the sport.
When Polaris decided to create a new niche of hot rod versatility sleds with its new Titan series, the company went all in with an 800, the most powerful engine in its arsenal. There is no other option. Meaning that outside of its value line of Indy models, Polaris recognizes the new trend to big power. Actually, Polaris likely was the first of the sled makers to go all in on big power or, at least, 800 power.
There is no mistaking this trend to big power. The question will be, how big is big power going to get? We're seeing the older 800s moving aside for turbos and bigger displacements. Will the next definition of big power be 200-plus horsepower?