3 Areas With Open Snowmobile Trails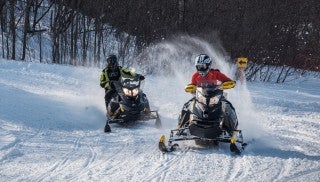 Winter is showing its beauty in many places. Therefore, we wanted to share three areas with open snowmobile trails all thanks to Mother Nature and some hard work by the clubs. 
To find trails that are open we talked to friends, paid attention to social media posts, searched websites, and checked the Polaris Ride Command App. While early season riding, please use high amounts of caution, keep your speeds low, and stay on marked trails to avoid injury or damage to your sled.
The Michigan Upper Peninsula
We knew Sunshine Oelfke and her family were riding Michigan this past weekend. Jackie Sue Oelfke shared that she often checks www.johndee.com and M&M Power Sports live webcam for information and updates for the areas they ride.
The Michigan Department of Natural Resources website has links to snowmobile club websites and trail reports.  Please check area club information and please adhere to any warnings or trail closings. Michigan Department of Natural Resources
Pure Michigan has an easy to navigate website that includes conditions, trail maps, and permit purchases.  Michigan has 6500 snowmobile trails, and Pure Michigan offers many links to many of the different regions. Pure Michigan
The Polaris Ride Command App is unique in its information sharing.  Looking at the photo below you'll see that the brown icon offers that club/area's trail condition. The red/blue/green diamonds are riders posting their own conditions, rating, and comments. It looks like the UP is getting close to a promising season and the Cadillac area is showing a lot of green already.
Quebec, Canada
Quebec's snowmobiling history runs deep and they have some open trails already. They have a vast expansion of trails and you'll see that many are blue/green already. Keep in mind you'll need a Quebec Permit and their provincial law states that you must have permanent mirrors affixed to your snowmobile at all times. Many Quebec natives speak English, but brush-up on a few French words, they'll appreciate it.
Quebec's Interactive Trail Map is a great source for trail conditions and an App can be downloaded to your phone.
The La Federation Des Clubs De Motoneigistes Du Quebec website offers a wealth of information including clubs, permits, safety, rules and regulations, regions, and much more.
Snowmobile Quebec also offers rentals, suggested rides to plan, and upcoming events.
Haliburton Forest & Wild Life Reserve LTD
Their 300 km of snowmobile trails are nestled in a unique 100,000-acre reserve, located east of the Muskokas in Ontario, Canada and they are now open. With an abundance of forest and inland lakes, Haliburton has always been a destination for snowmobilers. This particular area is privately owned, often receive early season snow, operate their own snow guns and groomers, require a private permit, and they limit rider volume. Making a reservation is recommended.
Adding to this unique experience are the options to visit their wolf sanctuary, go dog sledding and more.  For more information visit Haliburton Forest.
As Christmas nears we hope these and other areas receive the cold and snow that we pray for every year. If you have a chance to help your local club get the trails ready during the holidays, it's a lot of fun and greatly appreciated.  Have fun and be safe.