Artic Cat Plans Expansion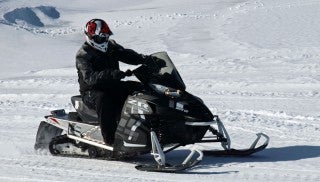 Multi-faceted expansion parts of Cat's plans for its future.
An acquaintance of ours researches various companies for potential investment and authors an informative newsletter divulging his findings for various clients. He sometimes turns his research to the snowmobile industry, but of late expends most of his energies studying merging markets with greater investment potential than the snowmobile market, which seems to be mired in an annual sales outlook of about 125,000-plus units. He reserves a little effort for BRP (Ski-Doo) and Polaris Industries, but has turned away from Arctic Cat. Although Cat's arrangement with Yamaha did pique his interest when it was announced. So, while he occasionally might recommend his clients peek at Ski-Doo or Polaris, he disregards Arctic Cat.
We understand his reasons. Of the four existing snowmobile manufacturers, Arctic Cat is the smallest in annual revenues, although it is competitive in both sled sales and ATVs thanks to the popular Wildcat side-by-side. As a point of reference, consider that Polaris Industries, with annual sales of more than US$4.7 billion, recently announced its intentions to purchase privately-held Transmerican Auto Parts Company for about US$665 million. That's US$32 million more than Arctic Cat's stated 2016 annual sales of US$633 million!
Generally, we tend to be dismissive of stock analysts. Unlike us snowmobilers they look solely at the bottom line and not the bottom line products that make up a company such as Arctic Cat. Oh, they pay lip service to "understanding" the markets of the companies they check out. But few analysts are enthusiasts, which is good and bad.
The good part is that analysts don't get hung up on brand bias. You know, "My Cat can beat your Polaris, etc." They look at the facts, such as how Arctic Cat with its US$600-plus million revenues are about 14 percent the size of Polaris or less than a quarter the size of BRP's annual sales of US$2.9 billion. The good part here is that analysts don't expect Arctic Cat to match Polaris and Ski-Doo model per model. But we snowmobilers do.
If you understand that virtually all companies assign a fixed percentage of their revenues to research and development, manufacturing and marketing, then maybe you can appreciate how well Arctic Cat competes in the snowmobile business against competitors with vastly deeper pockets for new model development.
There are some market realities that can play into Arctic Cat's plans. The market size has momentarily settled into about 125,000-175,000 annual sled sales. Within that Arctic Cat can work to carve out a consistent niche somewhere north of a 20 percent market share. If you add in select Yamaha-branded models built by Cat, the niche expands. Of course, it is the partnership Arctic Cat needs. Where BRP can design and build an all-new 850cc ETECH twin for its sleds and a turbocharged 900 ACE for its top line Can-Am side-by-side, Arctic Cat has to improvise. And do it wisely while incurring minimal costs. The Yamaha partnership brings along a proven four-stroke motor for a variety of trail, touring, utility and off-trail Cat models. The new "Sidewinder" turbocharged Yamaha 998cc triple provides Cat with an advantage in the high horsepower niche. Repurposing a Kymco-sourced 700cc four-stroke from its Wildcat side-by-side models allows Cat to market a "green" series of budget models like the sporty ZR3000 LXR and select Pantera and Bearcat models as well.
All the while Cat kept pace in the 600cc category by developing and manufacturing its all-new C-TEC2 599cc two-stroke twin. When that engine began powering a wide variety of Cat models, we snowmobilers almost immediately started demanding a larger displacement 800cc-plus version to replace the long-running and popular Suzuki 800 twin.
Here's a bit of reality that coincides with Cat's revenues. It costs a ton of money to gamble on a new engine. That's money that Cat simply can't afford to gamble, especially when the company has decided to invest in the snow bike segment with its standalone, purpose-built and certified SVX 450 snow bike. While some may see this venture as risky, Arctic Cat enlisted a partner, track manufacturer Camso, to share engineering and research costs. Cat's executives expect the new snow vehicle to create and reinvigorate Arctic Cat sales in North America's deep snow areas. Still, Cat retains focus on appealing to its traditional base of powder riders and recently introduced a limited edition US$16,899 King Cat with the 180-plus horsepower turbocharged four-stroke and a 162-inch length track. That's thanks to the Yamaha hook up.
So, Arctic Cat plays smart to compete against companies seven times its size. How will Cat manage its future?
From what we gleaned at Arctic Cat's recent open house in St. Cloud, Minn., this company plans to grow and is readying its expansion. Cat's St. Cloud facility currently builds various four-stroke ATV motors and the 600cc C-TEC2 two-stroke. When we visited for the open house, we found that things had changed some since our initial walk-through back in 2012. There was now a $400,000 mezzanine expansion designed to accommodate a variety of design engineers for development of new "wheelers" and sleds. The area includes state-of-the-art multi-link communications for video conferencing between the traditional Thief River Falls manufacturing and engineering facilities and the new corporate headquarters in downtown Minneapolis.
But, wait, this is just the beginning. Designs and plans are in place for a 67,000 square foot expansion of the existing St. Cloud building as well as creation of an all-new research and development facility for new wheeled products. The St. Cloud facility is positioned to grow exponentially, specifically with engine development and new "wheeler" engineering planned.
The heritage Thief River Falls plant already saw a US$20 million paint system added. Plans are to retain snowmobile product development and manufacturing there.
Of course, some of these changes have been long overdue and could only be implemented by "outsiders." Just as Textron moved Polaris' corporate, sales and marketing functions out of Roseau, Minn. in the early 1970s, so too is Arctic Cat transitioning its corporate headquarters. Obviously this change presents some upset for long time Arctic Cat people. Still there has been a steady changing of the guard at Arctic Cat in recent years as veterans of the post-bankruptcy Cat began to retire and made way for newer computer-assisted ways of doing things. The planned expansion will mark a new more consolidated era in Arctic Cat as a company and in its product development.
Arctic Cat executives recognize that the company needs to address product development plans, attend to the needs of dealers and create excitement within its enthusiast base. And when opportunities arise, Cat needs to be nimble enough to respond. Such as when snow falls early and often — or late and infrequently; take advantage of opportunities presented when a competitor falters; utilize partnerships; and out work and work smarter than the competition within company resources.
Cat executives recognize snowmobiling as a relatively stable marketing platform that consists of about 200 million registered snowmobiles in North America. They know that snowmobiling accounts for an economic impact of almost US$40 billion worldwide. And the sled business alone generates more than 100,000 full time jobs in North America, whether in snowmobile dealerships, various manufacturing or tourism. Snowmobiling, one aspect of Arctic Cat's business, is viable and offers the company opportunities for continued growth depending on how inventive their corporate thinking proves to be.
We don't know what our friend the stock analyst sees, but we see a company readying itself to move forward, poised for and anticipating a strong future. Cat is investing in itself, maintaining a status quo while preparing viable and vital partnerships for future growth.