Snowmobile Sales By The Numbers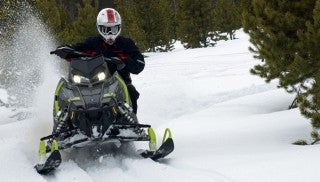 Status quo in North America but worldwide slippage in total sled sales
The Russian bubble of 2014 burst, making worldwide snowmobile industry sales look worse than they may be in 2016. In our "Pollyanna" world where snowmobiling is a happy, fun and mostly North American sport, utility sleds like those sold in Russia comprise a modest market segment compared to the more popular niches of deep powder and crossover. And, for us, that's what counts.
According to industry estimates, the deep snow mountain sled segment makes up roughly 29% of annual sled sales. Compare that to the recreational/utility segment that owns about 16% of the entire worldwide sled business. Within that segment are both utility models as well as dual-purpose touring/utility models.
Interestingly, if you check out the marketing segment for crossover sleds, you'll see that segment has come on strongly in recent years and trails the steep-and-deep models by a mere two percentage points – 27% for crossovers vs 29% for mountain sleds. Trail performance makes up another 21% of annual sled sales.
If you're wondering why sled manufacturers emphasize high performance and sleds with tricked out suspensions, premium shocks and such, perhaps the industry recognized that consumers are willing to pay for it. Growth in these premium sleds has increased to 47% demand versus 39% for the core models of all sleds purchased. Canadian buyers took in 6,000 fewer sleds than last year, but more than in 2013.
Of course, based solely on snowmobile sales numbers, the sport looks a bit weak. Current reported total sales of 126,972 units reflect a decline of 15.8% against the 150,713 units sold last season. North American sales remain above 100,000 units sold for the third consecutive season. In the US, sales were off by about 2200 units, but stayed about the same as in 2014.
Overseas, the picture is dramatically different and worked to wreak havoc on the overall sales picture as units sold outside North America went from 54,320 in 2014 down to this year's reported 26,535. About three years ago, Russian snowmobiling looked as though it might become a serious contributor to the snowmobiling scene. While that market is still in the processing of rebounding from its recent economic slump, it has yet to reach a full recovery as far as snowmobile sales are concerned.
However, Norway recently opened up some of its previously closed lands to snowmobiling and helped account for a boost of more than 5,000 sleds where previously very few were sold. That helped make up shortfalls in Finland and Sweden sales.
Taking the optimistic view, the US snowmobiling market remains fairly healthy, especially in the popular segments of mountain and crossover sleds. Look at where Polaris and Ski-Doo placed their emphasis for model year 2017. Ski-Doo reinvented the REV chassis, developed the next generation E-TEC and brought them into the mountain segment and performance on and off trail. Polaris looks to retain ownership in the mountain segment with its light, long and potent RMK as well as dominate terrain with a brand new XCR model. Arctic Cat and Yamaha counter with a turbocharged 998cc triple, but have yet to make up the market share points Polaris and Ski-Doo claim. Nonetheless, all this new sled action is focused on the buyers who want the ultimate performance in the mountains and with a multi-purpose on-off trail crossover.
It doesn't take an MBA to figure out the sled business. Sleds sell when it snows and when it doesn't, they don't. Although virtually all the sled manufacturers noted, at the first of the year, their sales were down by double digits, serious efforts in price discounting, effective sales programs and the willingness of snowmobilers to ride later into the season helped US sales to dip a mere 4%.
Even with weather as the key factor in consumer willingness to buy new sleds, there was acute financial pain inflicted on the oil fields of the northern plains in both the US and Canada, which saw significant cutbacks in consumer purchasing power.
With consistent North American sales of more than 100,000 units annually, it makes sense that Yamaha decided to consolidate its global sales and concentrate its effort in the US and Canada.
What is the picture like at 100,000 sales? It means the four sled makers can battle over about 29,000 mountain sled sales annually, 27,000 crossovers and 21,000 performance units. Polaris claims that it gained market share in North America, gaining its highest total in 13 years and winning back its Number One snowmobile sales position in the mountain segment. An analysis of the snowmobile market indicates that Ski-Doo as well as Polaris has increased market share since model year 2010.
Coming off a down financial quarter, this July Polaris aggressively moved to confront negative feedback posed by recalls of some wheeled products and is hitting the investor circuit hard with a focused presentation outlining what the company is about and how it is moving forward to enhance its position as a premier stock purchase. While we're not looking to buy stock, we've noted some interesting concepts that relate to how Polaris interfaces with customers.
We've known for quite some time that no other snowmobile manufacturer to date gets the new age of social media and digital presence as well as Polaris. One of the ways Polaris seeks the attention of consumers is via online traffic, including serious efforts in creating its mobile applications. The company has created updated online product shopping and has proven very adept in engaging potential buyers with new product launches. Video presentations take the Polaris consumer virtually on site and showcase the product in action – in its snow element! It's part of what Polaris considers its "…best consumer and dealer experience in the world" that is intended to deliver "loyal lifetime relationships" that will earn repeat purchases.
It's really quite simple: Polaris engages the customer via its web presence, gets them to work with dealers who help them to own a Polaris product and enjoy their riding experience. Think of the process as created to let consumers: Shop, Buy, Ride.
Of course, all four snowmobile manufacturers work to steal sales from each other, especially in a market this size. So far, Polaris and Ski-Doo have done the better job. While worldwide snowmobile sales may have dropped to less than 130,000 units this past season, the overall snowmobile market in North America is very stable with ups and downs predicated on snowfall. Last year's lower than normal snowfall didn't help, but snowmobile rider demographics remain predictable and overall registrations are consistently healthy at nearly two million. If the Russian economy perks up, total overall sled sales should rebound. Even so, the 100,00 plus or minus annual sales of sleds in North America remains the life line for snowmobiling, offering opportunities to steal market share with innovative and high performing models with new features that outperform the competition in the mountains and on or off trails.
Snow means sales. Innovative, exciting sleds generate interest. Combine the two ingredients and you have increased the market. More snow for the winter of 2016-2017 should mean increased snowmobile sales.
Snowmobile Sales from 2016 to 2013
Sled Sales
Worldwide
US
Canada
Total North America
Other – Scandinavia, Russia
2016
126,972
56,006
44,431
100,437
26,535
2015
150,713
58,299
50,752
109,051
41,662
2014
157,106
54,028
48,758
102,786
54,320
2013
144,601
45,536
44,022
89,558
52,043