Avalanche Safety for Snowmobilers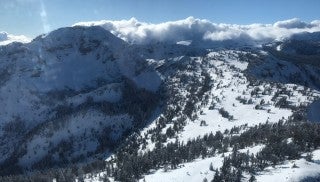 Avalanche safety should be front of mind for all mountain snowmobilers. Fortunately, there are things you can do to stay as save as possible in the steep and deep.
Avalanche danger is real, fellow snowmobilers. Thus far this year at the time of publishing, there have been five snowmobiler avalanche fatalities in the mountains; with recent snowfall the chances are for that number only to increase.
There is more avalanche search and rescue technology and avalanche safety gear available than ever before, and more people are seeking out avalanche certifications, and are relying on avalanche forecasts, which are at our fingertips. Why then, we must ask, are we losing so many snowmobilers to avalanches? That which we love shouldn't kill us, or rather, we shouldn't allow the environment which we ride to kill us.
Every year the mountain crew at Snowmobile.com releases a few articles on avalanche awareness, gear, and tips, and we do so with great care. But we also hold back on releasing so many avalanche articles, for if we don't, our readers become numb to the importance of these articles. I originally wasn't going to write this article for that very same reason. However, there have been many fatalities in the areas the Snowmobile.com mountain crew considers their stomping grounds, I was compelled to put pen to paper (so to speak) and do what I can to encourage snowmobilers to: seek proper training, purchase and know how to use proper avalanche gear, ride with a responsible group, read and understand an avalanche forecast.
Proper Training
Bret Rasmussen, backcountry riding instructor of Ride Rasmussen Style fame, and certified avalanche instructor, hosts many Level 1 and 2 courses stating that "One bright spot is that more than ever, snowmobilers are seeking out avalanche classes." Many National forests offer free avalanche awareness courses that range from one to four hours. The Gallatin National Forest, for example, has these listed on its calendar. Many snowmobile dealerships also offer free awareness courses. Recently the snowmobile clothing company, Klim, hosted a free awareness class at its corporate offices in Rigby, Idaho, with one of its ambassadors, Mike Duffy. Duffy has been at the forefront of avalanche safety since the 1990s.
At Klim's awareness class, 450 chairs set up, and they were all filled, with an additional crowd standing in the back. We see this as a positive sign in the industry, however, awareness classes can only do just that – make you aware of avalanches. The most important lesson learned from an awareness course is the desire to learn more. Many snowmobilers believe an awareness class is enough, but it is simply not enough training; there is not enough time to cover the training in a 1-4 hour course. Bret also state "when searching for a higher level of training search for Avalanche Level 1 and then Level 2, ensure that the course is taught by an accredited instructor." An accredited course will ensure that you will have the most current information and rescue techniques.
Matt Entz of southern Colorado is another backcountry riding instructor, who is also  certified avalanche safety instructor. Entz owns and operates MOUNTAIN SKILLZ, a backcountry riding school with clinics on improving riding skills and on avalanche awareness.
"There are also a lot of good free awareness programs being attended. These are a start, but need to be followed up by taking a motorized specific AIARE 1 or AST 1 equivalent course that includes on-snow training and education in avalanche terrain," Entz said. "These courses provide riders with detailed information to help recognize avalanche terrain, assess risk, understand the avalanche forecast, plan appropriately, keep records, understand snowpack makeup, perform a companion rescue, access additional resources, test and practice with your gear, and much more. All of these items combined give us the proper tools and ability to make good decisions while we are on the snow."
Like many lifelong snowmobilers, I was shocked at how little I knew about avalanches, and how lucky I had been over the years to never be caught in an avalanche.
Proper Gear
"When it comes to 'avalanche safety,' it is becoming more the norm for snowmobilers/snowbikers to carry the necessary gear," Entz said. As a young snowmobiler in the early 1990s, we were exposed to some early avalanche transceivers. Very few people had these, even fewer had the skill and knowledge to use them effectively – the avalanche transceivers were very crude but functioned well with constant practice. Fortunately, mountain snowmobiles were fairly terrain challenged and could cover only a limited amount of mountainous terrain.
Fast forward to today where most people have the basic gear: transceiver (beacon), probe, and shovel. Most mountain snowmobilers believe they know how to use their avalanche transceivers, however, time and time again, we see snowmobilers struggling to interpret what indications a transceiver is communicating. There are numerous transceiver techniques and tips that are learned in certified avalanche level 1 and level 2. These techniques will ensure you will get the most out of your transceiver. Since snowmobiles are no longer terrain challenged, we must ensure that our avalanche skill keep up with our snowmobiles' abilities to cover the terrain.
An avalanche airbag is another essential piece of backcountry equipment. Air bag technology has come a long way since its infancy in the 1980s. "More people now than ever wear air bags. Do know how to use it? Do you know how to maintain it?" Bret Rasmussen said. Unfortunately, many people do not deploy their airbag, one such person told me 'I thought I could ride out of it.' At the first sign of trouble, it should be deployed, with your non-throttle hand, because you may be able to ride out of it, but that depends on the terrain, the snowmobile, the avalanche, and the abilities of the rider. Many people do not maintain their packs properly. I know a situation where a snowmobiler rode an entire season and did not have a charged cylinder, or in another situation the cylinder was not even properly attached. There is simply no excuse for this; there are instructions on every pack, and if that is too hard to follow every manufacturer has videos of their product on YouTube. Every year I attend a local snowmobile show in the fall. I go ahead and have a party pull, and let the BCA rep fill my tank, and inspect my pack, I suggest snowmobilers do likewise
Ride With a Responsible Group
The dynamics of the group you ride with is very important; there are very reckless groups and there are very knowledgeable and skilled groups. Figure out where your riding group fits in and if changes need to be made it is easier to tell your buddy that he should stay off that slope than tell his wife and kids that he was buried in a slide and will not be coming home. Yes, the stakes are that high when riding in the steep and deep.
Take a moment and think about if you have the knowledge and the skills to rescue your buddy in the group. Could they find you within a few minutes of a burial? If the answer is no, then there is some work to do. Do not ride with anyone who does not have an avalanche transceiver and test them before you ride and at possibly after lunch. Know how to use it! Have a travel plan to avoid avalanche danger. What if a rider in the group may not even know how to switch the transceiver from transmit to search? How would you like to have that person look for you if you were buried? The group dynamics should encourage all in the group to have at least an avalanche level 1 course.
Prepare to avoid avalanches, stay in safe areas, but if someone makes a mistake understand Companion rescue. Be prepared to aid another group, you may be out riding and be flagged down by a rider in another group that needs help in a burial.
Check and Understand Forecast
Before undertaking any outdoor activity, the weather forecast should be checked, because the weather could adversely affect your enjoyment of the outdoor activity. The avalanche forecast is no different, and it should also be consulted before you decide where to ride and how extreme you want to ride. Many National Forests post a daily avalanche forecast. For example, the Gallatin National Forest Avalanche Center puts out forecasts complete with an explanation with current snow conditions and snow trends. If you want a forecast at your fingertips, the app Avalanche is fantastic; touch the area you want to ride in and it will give you the latest avalanche conditions. Ensure that everyone in your group is aware of the avalanche conditions, and that the group will adjust its riding to fit the current conditions. Even if the avalanche forecast is high still go out and ride, although the areas you ride should be scrutinized for avalanche potential. If you are an impulsive rider and can't stay off a hill, then maybe you should just stay home.
Backcountry snowmobiling is truly a unique outdoor activity. It is one of the few that the risk of being killed by the environment in which we ride is so great. Like many activities, we do not need to fear avalanches, but we should respect them. The average snowmobiler has gotten away with without any issues with avalanches for so long that they may believe that nothing will happen. Yes, you got away with it for years, but a stocker goes now where mod sleds could not even seven years ago. How many times do we stand on the top rung of the ladder? How many times do we cut something with a power tool without safety glasses without consequences? This leads people into a false sense of security that can potentially harm or kill an entire group. Many riders fall into some fallacies such as being: ignorant, overconfident in situation, overconfidence in equipment. We can no longer be blind or ignorant to avalanche danger, training and gear are things that you owe to yourself your riding buddies, and to your family.
For more information about accredited avalanche courses contact Matt Entz at mountainskillz.com, or Bret Rasmussen at riderasmussenstyle.com.