Better Snowmobile Choices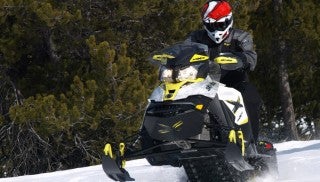 Compared to the good old days, modern snowmobilers have no fewer choices, just better ones
In our modern world of snowmobiling we have many, many choices for sleds, tracks and track lengths and, of course, power options. Do we have too much choice?
A recent conversation with a multi-line snowmobile dealer led us to ask that question. In his view, there are too many choices. He looks at this from his position as a dealer who has to stock parts and who has to nuance the advantages of various models to interested buyers. He may have it a bit harder than most dealers as he sells both Arctic Cat and Yamaha, where models overlap with features even if the colors and model names differ.
But, he has a point. He suggests that the dealership side of the business could be better with way fewer models. In his opinion, his model line could be readily cut in half and, perhaps, divided into base segments of deep powder, trail, touring and utility. In reality, that is how the sled makers look at the market, too.
Beyond that basic simplification, though, snowmobilers throw in serious complications. Deep powder riders want more than a basic mountain sled. It must have power. Lots of power. A turbocharged sled with 200-plus horsepower works. But does it? When considering that same snowmobiler wants his power sitting in a super light chassis, then the weight of a turbo four-stroke creates complications. And a lightweight chassis can only get so light before it may break or bend. Beefing it up adds weight. What do the sled makers do to satisfy that niche rider, create more models with different power options and track lengths? Now the dealer has several more models to sell and extra parts to keep on hand for service.
Of course, the trail segment has to be easier, right? Sport sled riders aren't as fickle. Yeah, right! Let's see, we now have trail sport sleds for groomed trails and weekend group rides that need only the moderate power of a 600cc to 900cc four-stroke. These sleds are quiet and stingy with fuel. But, they're not the sportiest of the sport sleds. The serious trail rider wants precision cornering and strong off the corner torque. That's a niche and so is the extra track length and taller profile lug height of the sleds that get our sport rider off trail when he wants. Heck, we're now seeing a serious niche of mountain sleds converted to the wants and needs of off-trail flatland riders in heavy lake effect snow areas of the Midwest and Eastern provinces.
Our dealer may like fewer models, but it isn't happening. When we attended Ski-Doo's preview of its new 2018 models, company spokesmen noted that they were aware of having too many models and suggested that they were cutting back. Sort of! While some actual models did vanish, more popped us as a result of adding new technologies to already existing designs, thereby essentially creating more models. Adding the cMotion rear suspension and creating the SHOT lightweight electric start system added more models or, at least, more variations of similar models. Cut back in models? Not really. Sorry, Mr. Dealer.
All this is nothing new. Interestingly, while there are only four snowmobile manufacturers in model year 2018, there are way more than 100 choices in sleds from which to choose. Choice is a given in snowmobiling as far back as 1970 when one early snowmobile publication listed more than 30 separate sled brands offering more than 180 models using more than a dozen brands of engines. Today four sled manufacturers remain, offering an equal number of models as back in the day!
In model year 1970 Arctic Cat offered nine models powered with a choice of six different engine manufacturers. That included a unique Wankel option. For 2018 you'll find Arctic Cat sleds continuing that engine variety as housed under Cat hoods are four-strokes from Yamaha and Kymco as well as an assortment of two-strokes including Cat's own dual stage injection 800cc and 600cc displacements plus a Suzuki two-stroke fan-cooled twin. That same model year, Ski-Doo listed more than a dozen models that were all powered by Rotax, which was to become a Ski-Doo subsidiary.
With more than 30 different sled makers in those early days, a few sled manufacturers set themselves apart by utilizing their own proprietary engine or engine brand. That was the case with Ski-Doo and its reliance on Rotax. Yamaha had just entered the sled market and, of course, used its own Yamaha oil-injected two-strokes. Johnson and Evinrude had private label motors from its parent Outboard Marine (OMC), but also fitted JLO two-strokes into select "value" models.
As any vintage sled collector can attest, the early days showed quite a variety of engine suppliers, although the most prominent tended to be European designs from Hirth, JLO and Sachs. Kohler power and the advent of Canadian Curtis Wright (CCW) were to be prominent power sources throughout the decade of the 1970s. Choices? Wow, plentiful!
While sled models proliferate, today's choices for engines is basically tied to sled brand. Ski-Doo and Rotax as well as Yamaha both continue from those early days. Yamaha, though, produces power for Arctic Cat, continuing a business model seen in the earlier years of the sport when Yamaha cut engine deals with various "off-brands" such as Sno-Jet and Roll-o-Flex.
Polaris worked with Fuji Heavy Industries to develop its Star engines in the 1970s, eventually developing its own Cleanfire design of 600cc and 800cc two-strokes. While currently Polaris does not offer any four-strokes in its model mix, the company once worked with Weber Motors in Austria for 750cc normally aspirated and turbocharged four-strokes that were used in both sleds and personal watercraft. Ironically, Weber Motors is now Textron Motors and its modular 850cc four-stroke powers Textron Off-Road's Side-by-Sides and soon will be built alongside Arctic Cat ATV engines in St. Cloud, Minn.
So, while our dealer friend bemoans the large number of sled choices, he should be grateful that these models employ synergies by brand that include common engines, parts and accessories not available in the 1970s when there were 30-plus sled manufacturers struggling to find a niche. While Arctic Cat, Polaris, Ski-Doo and Yamaha survived, where did brands like Ariens, Chaparral, Arlberg, Boa-Ski, Eskimo, Featherweight, Fox, Herters, Innovar, Viking, Wheel-Horse and Yard-Man go?
While there are still similar numbers of choices for snowmobile consumers, at least they are safe choices from proven manufacturers who have weathered the storms of adversity that claimed their competitors over the past five decades. The remaining brands satisfy our wants and fill needs we didn't know we had. Did you know you wanted Ski-Doo's SHOT system or Yamaha's 200-horsepower turbo? This is just model year 2018, what will we get when future model years kick in and Textron puts its mark on Arctic Cat branded sleds? More choice!