How Snowmobiling and Snowmobilers Have Changed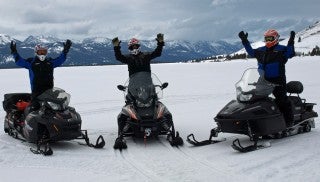 30 years ago, snowmobilers looked much the same
Apparently snowmobiling and Peter Pan have much in common. Just as Peter Pan never wanted to grow up, modern snowmobilers remain virtually unchanged and have demographics that have not changed dramatically from 1987 to now, 2017.
Imagine if you will the supposed differences between snowmobilers of today versus those sledders of 1987. A great deal has changed in the snowmobiles. A 1987 sport sled like Ski-Doo's Formula Plus would be carbureted and feature a two-stroke engine of 521cc with a new Total Range Adjustable (TRA) clutch. Today's 2017 Ski-Doo grew to 850cc and features a fourth-generation rider-forward REV platform,
The price for such a sled would be around US$5,000 in 1987 versus US$12,549 for a new Ski-Doo MXZ TNT 850. So, that's a big change. Thirty years ago, Minnesota boasted of one mile of groomed snowmobile trail for every one of its 10,000 lakes. Today Minnesota still boasts of 10,000 lakes but now claims 21,000 miles of trails, more than double. Sleds are better, cost more and can be used on more trails than ever.
But what about the snowmobiler of 1987 versus 2017? According to the International Snowmobile Manufacturers Association, the average snowmobiler is 43 years of age, spends US$4,000 per season on his sledding lifestyle and rides an average of 1,210 miles per year. Also, 53% of those snowmobilers trailer their sleds to reach riding areas while the remainder ride from home or a vacation property. Thirty years ago, 55% of snowmobilers fell in the 25 to 44 years old age bracket. Not much changes there. Snowmobilers tend to own their homes, many have a vacation home and drive trucks or an SUV with the power to tow their toys – sleds in the winter and ATVs in the non-snow months.
These are serious motorsport recreationists who don't seem to have aged. They were in their 40s back in 1987 and remain that age today. So, what's all this Millennial versus Boomer angst we read about? It can't be snowmobilers, can it? Seems like today's Millennial to-be becomes yesterday's fading Boomer. The core lifestyle remains snowmobiling.
While the age and enthusiasm seems to stay remarkably constant, the industry has not. In 1978 there were a reported 228,000 sleds sold worldwide. That number dropped to 150,000 by 1992, hitting more than 260,000 sales just five years later. Sales figures for 2016 indicate almost 128,000 sleds were sold around the snow world.
That's a bit of a whammy for the sport, but you can't fight lack of snow in key markets. Today's key market, the deep powder play areas of the North American West, was a small sales area 30 years ago. Few, if any, sleds were specifically marketed to those riders. Quite a change from 1987, model year 2018 showcases a fleet of deep powder sleds with upwards of 200 horsepower. A goodly number of these powder models have been adapted to suit the supposed needs of the flatland off-trail snowmobilers who want big action from super long tracks working out big torque from big displacement motors, both four-stroke and two-stroke.
Just as before, the sled makers go where the buyers are. Back then they were high speed trail runners looking for precision cornering via an assortment of front end suspension designs: trailing arm Indys, telescopic strut Yamahas, Progressive Reaction Formula Ski-Doos or A-arm Arctic Cat El Tigres. That battle went to Cat's double A-arm style as virtually all performance sleds have some version of an A-arm design. Rear suspensions have fallen away from focusing solely on inches of travel to how that travel, whatever it is, works through rough to groomed conditions. Even more specifically, rear suspensions zero in on helping riders maneuver in deep powder and in the vagaries of backcountry rides. Indeed, with sled sales ebbing, the sled makers building product for model year 2018 focus on the wants of the few, the proven and the most serious enthusiasts, who remain youngish, predominantly male and endowed with the willingness to part with upwards of US$20,000 for a kitted-out top of the line snowmobile. These sleds are technological marvels compared to the "hot" sleds of the 1980s.
Make no mistake, snowmobilers, the most serious of us, share the same enthusiasm for their active lifestyle – snowmobiling – in 2017 as those from 1987. The difference is that today's 42-year-old effectively has replaced yesterday's version, the 40-year-old Boomer who now would be 70 something. As one group ages into the virtually unchanging "official" snowmobile key demographic, another ages out of it. The group aging out, though, can claim the virtual creation of the sport. They were the ones who made those thousands of miles of groomed trails, they are the ones who fought the battles for sledders' rights to ride, and they are the ones who still vigilantly watch to protect their hard-earned victories.
In essence, whether you are aging in or aging out of the key demographic, like Peter Pan you refuse to grow up, at least as far as snowmobiling goes.