Carbide Runner Maintenance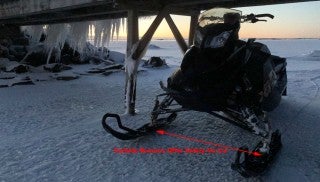 Carbide runner maintenance can be one of the most important safety decisions you make with your snowmobile each year. Carbides could be the difference between sliding through an icy corner, or not being able to steer out the way of someone who isn't making a corner. If you cannot turn while riding icy conditions, it's time to maintain or replace your carbides.
Managing Carbides
New snowmobiles often come with a standard runner and we often use that set for pre-season running. Once the rocks and stumps have been covered in snow we install our favorite set for the snowmobile chassis.  Once our favorite set becomes worn we then use them as pre-season runners. Having two sets to swap will keep your favorite set in great shape for your riding season.
Noticing Problems During Your Season
One of the most noticeable traits of a damaged carbide runner is darting or drifting. If you suddenly start experiencing this during your riding season, roll your sled on its side and check your runners. If your runners are good then you could have bent a suspension component or need a ski alignment.
Maintaining Your Carbides
There are many ways you can maintain your carbides. By removing them from your skis you'll have a better ability visually to inspect them, and the condition of your skis as well. If the carbides are in serviceable condition, you can then straighten your host bar or studs in a vice if required. There are also many tools available to sharpen your carbides. The carbides shown in the pictures were no longer safe for riding and could not be saved.
Visual Inspection
When visually inspecting your carbides you're looking for a few things:
Bends in the host bar that will cause wandering
Chips or cracks in the carbide that will cause darting
Sharp edges that will cause darting or catch hazards like rocks, or stumps, etc.

These could even damage/bend your suspension or bulkhead

Blunt/square edges that will catch hazards – see the second picture below
Missing carbide pieces
Worn or missing leading and following carbide
Bent mounting studs
Worn host bar
At the end of the day, we all want to return home safely. Sometimes the simple things get overlooked and carbides sometimes land in that category. We hope our carbide runner maintenance tips help even one person have a safer, more enjoyable, and fun riding season.