Jackson Hole Snocross National Report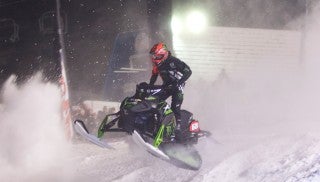 It was a beautiful weekend in Jackson, Wyo. for the second ISOC race of the season. This was the inaugural ISOC race for Jackson, and by far the westernmost race of the season.
The race was held on Snow King Mountain, home of the famous Jackson Hillclimb. To have enough snow for the event, truck loads of snow were hauled in from the Teton Pass for the course, aided by the Snow King Resort snow makers. Fans came from all over the west, and mid-west to watch the races, and enjoy the beauty of the nearby Teton Range.
Round 3, Friday Dec 9, 2017
Pro Lite Final
Jake Yurk secured the holeshot in the Pro Lite Final on Friday night, and then proceeded to climb up Snow King Moutain, Nisse Kjellstrom and Daniel Benham were hot on his tail. Four laps in Benham passed second place Kjellstrom. In the end, Jake Yurk would lead the entire race for his first Pro Lite career win. Daniel Benham and Nisse Kjelstrom finished second and third, giving Cat the podium sweep.
Pro AM Women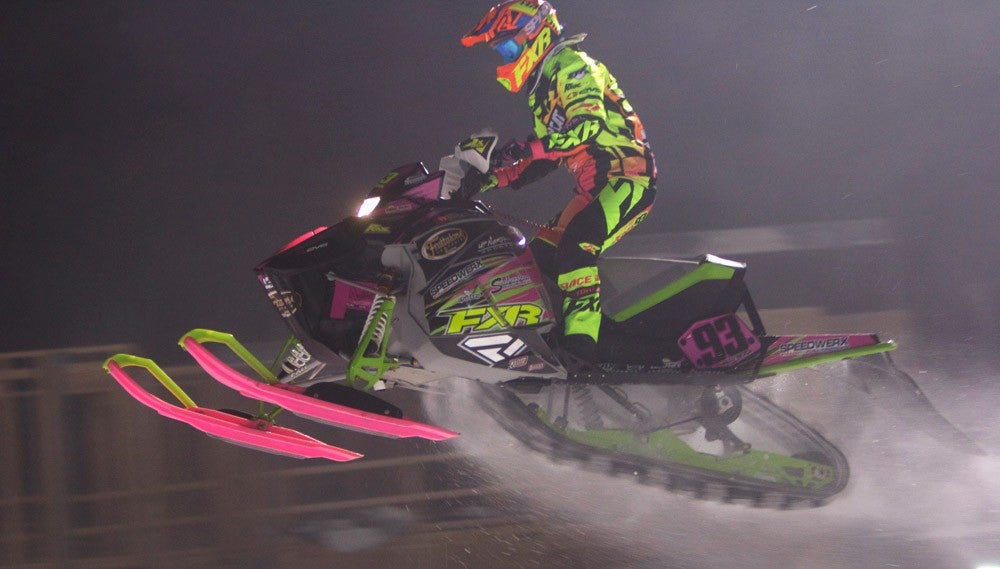 In the Pro AM Women's class, Malene Anderson rode her #93 Arctic Cat to victory, while Ski-Doo rider Megan Brodeur finished in second place, and Polaris rider Emilia Dahlgren would finish third.
Pro Round 1
Building on his success in Duluth in round 1 and 2, Tucker Hibbert led the entire heat 1, with Johan Lidman second and Kyle Pallin third. In heat 2 of round one, Polaris swept the event with Kody Kamm first, Petter Narsa second, and Kristoffer Holm third.
Pro Round 2
In heat 1 Hibbert nailed the holeshot, which he maintained for the duration of the race. Second went to Lincoln Lemieux who made an impressive come back from fifth position after the first lap. Johan Lidman was the third finisher. With a near repeat in heat 2, Kody Kamm first, Petter Narsa second, with Logan Christian in third.
Pro Final
The pro final was the race that everyone had been waiting for and it did not disappoint. Johan Lidman came out blazing as he secured the holeshot, with Kristoffer Holm in second. Logan Christian was in third making his way closer to the leaders. Tucker Hibbert got caught up in traffic, and started the race in ninth position. At lap number 11 of 22, Hibbert was in seventh position. With four laps remaining Hibbert was charging to fourth, while the top three were within one second of each other. Lidman had trouble with lap traffic, and Christian took over as the race leader, and Kody Kamm moved into second.  Kamm unfortunately received a black flag for passing on a yellow flag, forcing him to drop back a few positions. Meanwhile, Hibbert took a huge gamble on the downhill and moved into second.  At this point the crowd was going wild with all the excitement. With only one lap to go Christian was in front with Hibbert only one second behind. The two remained close on the uphill, on the downhill turn, Hibbert moved deep to the inside pushing Christian out of the way, and Hibbert then surged down the hill to take the double checkers.  Hibbert won Round 3, Logan Christian second, and Kody Kamm came in third.
Round 4, Saturday Dec 10, 2017
Pro Lite Final
Cat's Daniel Benham got the hole shot with fellow Cat riders Martin Moland, and Jacob Yurk close behind. Second and third battled it out, Yurk passed Moland, only to return second place back to Moland late in the race.  In the end Daniel Benham took first, Martin Moland second, and Jacob Yurk third.
Pro AM Women
Malene Anderson rode her Arctic Cat to her second consecutive victory in Jackson, Wyo. Last year's Champion Elina Ohman came in second and Megan Brodeur finished third.
Pro Round 1
Johan Lidman led the entire race in heat one, with Lincoln Lemieux second, and Adam Renheim coming in third.  In heat two there was a near constant battle between Logan Christian, Kody Kamm, and Tucker Hibbert. Christian held out for the win in heat two, maintaining his lead in front of two past champions.  Hibbert surged late for second, and Kody Kamm finished third.
Pro Round 2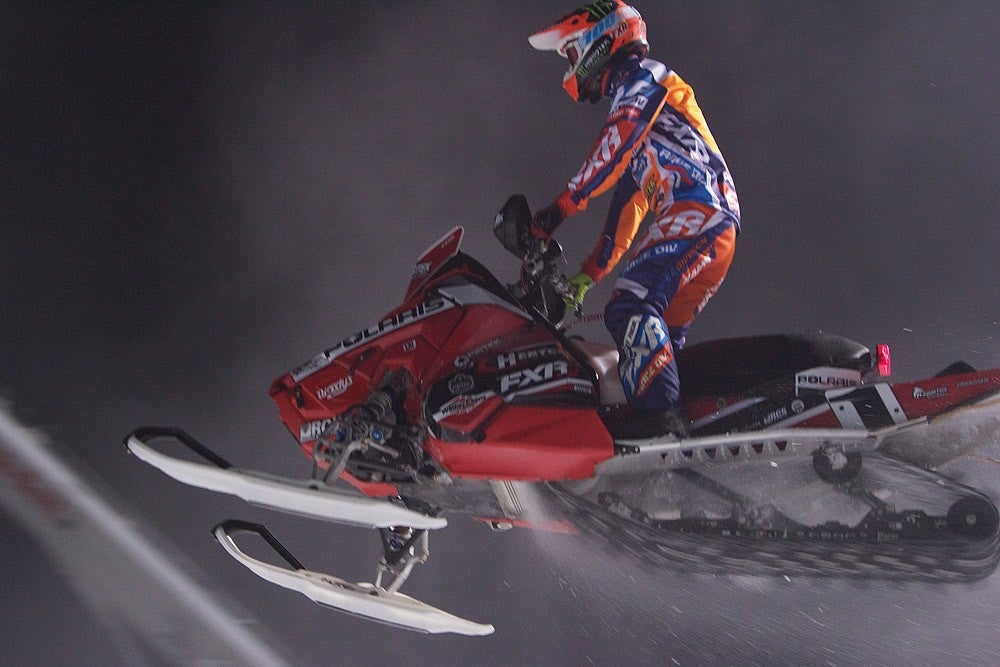 In heat 1, Logan Christian pulled away with an early lead and maintained it for the duration of the heat. Kody Kamm started working his way from fourth into second.  Lincoln Lemieux came in third. In heat 2, Kristoffer Holm pulled away, but was later passed by Tucker Hibbert, and Brett Nastala. That is how they finished with Adam Renheim in third.
Pro Final
Fourteen racers qualified for the Pro Final, and no one had dominated the heats like Tucker Hibbert.  However, Johan Lidman was the first up the hill, but was caught by Tucker Hibbert and from there Hibbert lengthened his lead from the rest of the racers. Kody Kamm and Logan Christian also got around Johan Lidman.  From that point on, the top three racers, Hibbert, Kamm, and Christian, only separated themselves further from the rest of the racers.  By the time the race was over Hibbert had a five-second lead over second place. Despite the temperatures in the teens, when Hibbert removed his helmet he was dripping in sweat. On the podium Hibbert acknowledged the efforts of former champion Kody Kamm, and teammate Logan Christian.
Snow King Mountain was a great location for a snocross race and most participants agreed they would like to return to Jackson, Wyo. Ultimately it will be up to the town if they return next year.  To see all race results visit snocross.com.