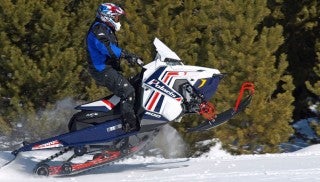 Rear suspension designs need to meet evolving needs
From the "everything old is new again" folder, we bring you a look at Polaris' modern IGX 144 snowmobile rear suspension. Found on a variety of dual-purpose models for 2017, the Ideal Geometry Xover (IGX) 144 is the latest in a continuing evolution of straight rail suspensions designed to bridge the needs of on and off-trail riders.
Until Polaris introduced its unique external rear shock rear suspension for the Rush, all on/off trail sleds featured some form of a self-contained parallel rail rear suspension. With the advent of what is now the Pro-XC rear suspension, Polaris by default admitted that its conventional internal shock suspension designs had gone about far as they could go in maximizing on-trail bump reaction and rider comfortability. What may have been unstated was the simple fact that rear suspension travel reaches finite limits influenced by the distance available in the suspension itself, from rail to suspension arm location. Placing the shock outside that framework created room as well as more controlled travel. Stretching the Rush suspension length led to the current Pro-XC Switchback. From that first external shock suspension to the current Pro-XC, Polaris engineering evolved shock location, shock types and reworked the front torque arm and various pivot points. Obviously, suspension design is a black art with no true "best" set up.
While Polaris worked on its Pro-XC, Ski-Doo's equally clever suspension engineers fashioned its own version of outside the skid rail design with the rMotion that features optional running board-mounted control adjustors. But it seems that inside the skid rail thinking continues as all snowmobile manufacturers look for the best answer to combining technology and engineering enterprise with the ability to maximize manufacturing simplicity in a manner that is cost-efficient, yet effectively versatile for modern riders.
If you look at what the four snowmobile companies offered this model year, you'll notice a serious evolutionary emphasis on the "conventional" skid rail rear suspension system. While the sled makers appear to make their new rear suspensions less complex for the end user, us, to tune and understand, the fact remains that each "simple" design required some serious and complex thinking. The Yamaha SingleShot suspension used on its Yamaha-built Vector and Apex models does away with the remote shock settings of the previous design. In effect, the SingleShot's tuning relies on adding or subtracting air from its extra volume Fox Float shock. Arctic Cat's Slide-Action suspension uses old school slip action to control front and rear weight bias under acceleration or deceleration. Torsion springs and control blocks assist the tunability.
Based on customer feedback, all sled makers know that more snowmobilers want greater versatility in their ride. While they may venture off trail more than ever, modern snowmobilers still want the handling they've come to expect from their trail sleds. This is not a new phenomenon as Polaris began this battle back in 2004 with the introduction of its then-new Switchback. This sled highlighted Polaris' battle with Ski-Doo's Renegade, which stretched out its popular MXZ trail models to make a new sled better suited for off-trail boondocking. The popularity of the Renegade wasn't lost on Polaris marketing.
By model year 2004 Polaris countered with the Switchback, a crossover sled available with 600cc, 700cc or 800cc power options to spin its 144-inch track. Polaris referred to its elongated 144-inch rear suspension as a Dual Purpose Rail where the rear one-third of the rail tipped upward by 2.8-degrees to effectively shorten the wheelbase and instill a sense of short track agility. The suspension's RydeFX high performance gas shocks featured compression adjustability so the rider could easily dial-in his ride preference.
The 2004 Switchback was Indy-based complete with an adjustable width trailing arm front suspension. The standard factory-set 42.5-inch ski stance provided optimal trail sled performance. Narrowing the width to the 41-inch stance enhanced its off-trail, deeper snow characteristics.
When Polaris switched from the Indy's trailing arm front suspension and EDGE chassis to the Fusion's wishbone front end and IQ chassis set up in model year 2005, the company refined its 144-inch suspension but retained the tip-up rails. In essence, the 2006 IQ Switchback crossover rail was more of an extended 136-inch "flat" rail but with the benefits of accommodating a longer 144-inch track, providing increased on-snow flotation and the ability to bridge bumps. Polaris and the other sled makers watched the growth of this nuanced on/off-trail market.
This crossover market remains strong. Look at what's new for model year 2017. Yamaha and Arctic Cat added 153-inch track lengths and all four sled manufacturers added "adventure" dual rider sleds and crossover models with bags, tall windshields, an array of track options and powertrain choices. Still, though, for now, at least, the 144-inch suspension seems a relatable choice for versatility.
Polaris continued its 144 innovation with the release of the new-for-2017 IGX 144 rear suspension. Its evolution comes from parallel rail designs of the original EDGE Switchback, IQ Switchback and current deep powder SKS and RMK models. The IGX 144 front arm draws on RMK thinking for 43% more travel than with other previous 144 skid rail suspensions. Although the rail is still tipped to ensure short-track action, the rails are all-new with construction that makes them lighter yet still rugged to take off-trail hits when banging through moguls. Polaris claims that its IGX 144 features reduced bottoming, but this plays into shock packages, too. For example, the 600 Switchback SP 144 uses Fox internal floating piston gas shocks whereas the 800 Switchback Assault 144 is fitted with top of the line Walker Evans compression adjustable reservoir gas shocks.
Like its predecessors from the Indy and Fusion eras, the IGX 144 has been designed to enhance off-trail adventuring while retaining the fun of a short tracked model. The modern IGX 144 offers up to 16 inches of travel while the original 2004 Switchback dual purpose EDGE rear suspension featured 17 inches of travel controlled by a Rappid Adjust rear track shock with seven compression settings. The 2006 IQ Switchback's dual purpose parallel rail rear suspension offered 16.5-inches of travel and retained the tip up design that acted on the trail like a 121-inch tracked sled but floated over powder like a stretch track model.
All of the 144-inch rear suspension designs maintain that original premise of giving on/off trail riders the best of both worlds – combining short track groomed trail handling and stretch track strong off-trail grip and flotation. While the rail length may be like past Switchback models, the modern-day Switchback and Assault with the IGX 144 have gotten better with evolution and upgrades in shocks, construction materials and a better understanding of what today's snowmobilers want and need. What's new is new, even if it's based off an older premise.