Four-Stroke Sport Cruiser Comparison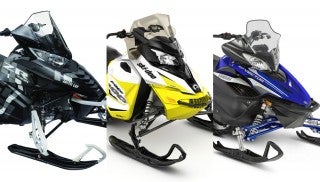 Arctic Cat ZR 7000 LXR vs. Ski-Doo MXZ TNT 1200 vs. Yamaha Vector
There are so many niche options available today, we often forget the "why" we ride equation. The great majority of snowmobilers want a snowmobile that can be counted on to get them to and from their destination without problems. Yet it needs to provide a sense of style, impart a sensation of being fun to ride with consistent handling, comfortable ride and smooth performance from drive-off to top end. It needs to offer good value in features per dollars spent and we'd like it to get us through the seasons with a minimum of mechanical drama.
Of course, every snowmobiler we've ever met is unique and generally a seasoned rider. They know what they don't like. These three 4-stroke sport cruisers will provide any snowmobiler with lots to like. They are not the ultimate in their respective brand line-ups, but they are among the most solid, reliable, dependable, fun-to-ride sleds on the market. Plus, they tend to be fuel efficient, a positive when planning a long ride in a sketchy, remote trail system with limited fuel stops. They will be fitted with top line front and rear suspension systems that offer above average shock packages. Expect them to be comfortable with easily tuned ride and handling components. Their ergonomics will be excellent for long days of riding.
All three come with very efficient drive trains that will be smooth getting you underway, amply able at midrange to give you smooth power off a turn and capable top end. Any of these three 4-stroke sport cruisers would be an excellent choice for the snowmobiler who wants an everyday trail friend on which to roll up hundreds of miles in a weekend.
Arctic Cat ZR 7000 LXR
We don't see how you can fault the Cat's ZR 7000 (US$12,499), be it Sno Pro, Limited or our choice, the LXR. The tall spindle chassis is proven. The Yamaha-built, Cat-tweaked four-stroke triple has been a truly versatile power choice across the Arctic Cat line. The ZR ergonomics with Cat's curved handlebar, heated seat, 13-inch tall windshield and pushbutton features make the LXR a comfort champion.
For the serious trail rider, the LXR combines proven Yamaha reliability with a front and rear suspension combination that soothes virtually any trail situation. Freshly groomed trails are the best as this sled lets you settle into a rhythm where you can easily eat up a corridor trail's miles and offer you some fun when powering through a wide sweeper. The Slide-Action rear suspension readily soaks up the moguls left on a trail at the end of the weekend. Cat's own IFP shocks relentlessly negate the trail's deep chatter. As a combination, the tall spindle front suspension paired with the Slide-Action rear rate as well with us as any suspension pairing on sleds in this performance range.
As with the other sleds in this grouping, the LXR puts down the same 15-inch wide by 129-inch length Ripsaw track to the snow. Each of these sleds share this track, including the standard 1.25-inch lug bite. We appreciate that all three sled makers retained the 1.25-inch profile rather than cheap out with a 1.0-inch design. The Ripsaw has proven itself as a versatile track for all-around performance. It offers enough grip for occasional off-trail adventures, but is well-respected as a good gripper for the 130-horsepower levels of these trail cruisers.
The LXR sets itself apart with the advantage of its standard heated seat, not available at all on the Yamaha or Ski-Doo. The curved handlebar set is another plus as it offers excellent rider-control when you want to push the throttle lever in and move the drive belt higher in the TEAM Rapid Reaction drive clutch. Just because these are 130-ish horsepower sleds doesn't mean you can't push their limits. Fortunately, all three of these sleds anticipate their owners' occasional need for speed and true sport riding. They are designed for long shots of serious "go."
Ski-Doo MXZ TNT 1200 4-TEC
Unlike Arctic Cat's ZR 7000 LXR, Ski-Doo's four-stroke sport cruiser seems to focus more on the side of comfortability within its performance character. We view Cat's LXR as oriented more to performance with comfortability following. The Ski-Doo TNT is all MXZ, make no mistake about that, it's just that its Rotax 1200 4-TEC is, well, more sophisticated, especially since the latest iteration offers multi-mode performance settings from economy to sport.
Ski-Doo's Rotax-built 4-TEC triple emulates the multi-purpose trail characteristics of the company's advanced combustion (ACE) designs that incorporate intelligent throttle control (ITC) and unique engine mapping that can be changed with the flick of a button to one of three performance settings: economy, sport or standard. Ski-Doo's ITC gives the rider a very light throttle pull, plus there is the option of reversing the throttle lever from thumb to finger control. The engine can be paired with a "learning" key that can limit sled performance if you want to trust less experienced riders with it. It's a feature common to Sea-Doo watercraft, Ski-Doo's BRP sibling.
We might argue that the Ski-Doo MXZ TNT 1200 4-TEC (US $11,749) is the smoothest and most versatile of these three four-stroke trail cruisers. This latest version of the 1200 4-TEC evolved from Ski-Doo's first serious venture into snowmobile-specific four-stroke power, which was used to power both sporty MXZs and a series of Grand Touring luxury cruisers. Back then the 1200 4-TEC featured unique characteristics for the MXZ to make it sportier in both performance and sound characteristics than the quieter, slightly smoother version common to the touring series. Today's 1200 4-TEC with its multi-mode design is one engine that fits all needs. To that end, you'll find this 2017 iteration is incredibly smooth, thanks to the use of the eDrive2 drive clutch, which allows drive off at a low 2200 revs. Top end peaks at 7800 rpm. Expect this drive system to provide the best range of torque in this grouping.
We've found the "standard" engine setting to be the smoothest of all. If you want to get aggressive, go with the Sport setting as it holds revs longer. If you find a situation where you need to stretch your mileage with this oil and fuel efficient four-stroke, set it on Eco and maximize its 10.6 gallons of onboard fuel.
If you do feel a need for speed, enjoy the MXZ TNT's basic attributes that include Ski-Doo's RAS2 front suspension and proven rMotion rear set up. The sled comes with high performance gas HPG Plus shocks front and rear. The sport handlebar set is aluminum with integrated J-hooked ends for cornering control. As you'd expect with a REV, the sled's REV-XP X "racer" style seat puts you in a perfect position to react to oncoming bumps or settle in for a corner. Ski-Doo's REV chassis was first to evolve riding styles and it remains the leader.
Ski-Doo's MXZ TNT 1200 4-TEC is a terrific value for sport riders longing for comfort, smoother performance and added value in things like the tall windscreen, in-seat storage and the advantages of Ski-Doo's LinQ accessorizing system.
Yamaha Vector
How much longer Yamaha's Vector models remain in Yamaha's lineup remains to be seen. The base RS Vector for model year 2017 remains one of the sport's best values (US $12,099). While it's not the lowest priced of these sleds, it is competitively priced, especially when you look at its features.
Yamaha's Vector established the market for today's fleet of four-stroke snowmobiles. Yes, the original RX-1 proved that a four-stroke could have high performance, but it was the Vector with its everyday appeal to serious trail riders that moved the industry ahead. We suggest that the Ski-Doo 4-TEC came as direct response to the Vector's 1049cc four-stroke triple. It's 120- to 130-horsepower niche led to creation of trail sport models that key this category of sport cruisers.
Of course, Ski-Doo's multi-mode 1200 4-TEC jumped ahead of the Vector's 1049cc four-stroke, but Yamaha responded by adding its own version of multiple mode performance with Yamaha Chip Controlled Throttle (YCCT) technology. There are nuanced differences between the Rotax and Yamaha systems, but suffice it to say that both systems offer multiple user-selectable modes. Like Ski-Doo's set up, Yamaha YCCT gives you three settings:
S (Sport) Mode for maximum performance
T (Touring) Mode for smooth low and mid-range response and improved fuel efficiency;
E (Entry) Mode for predictable acceleration, reduced top speed and optimum fuel economy
One key difference is that the Ski-Doo allows you to switch modes on the fly. You must come to a stop to change modes with the Vector. The YCCT is also electronically controlled for-performance, control and efficiency. We can argue about which system reads more data, etcetera, but the end-result is three modes of performance. Both three cylinder designs are incredibly smooth in overall operation, with the Vector triple earning high marks for its longevity and minimal maintenance requirements.
The Vector pushes power through Yamaha-developed YVXC clutching to a Ripsaw track that spins around its newly designed SingleShot 129 parallel rail suspension. The design reflects a 10-pound weight loss versus the previous suspension. Plus, the SingleShot 129 gets the benefit of a Fox FLOAT 3 XV (extra volume) air shock with infinite adjustment.
The Yamaha A-arm front suspension offers 8.5 inches of travel for its Tuner II skis, a Yamaha exclusive. Front shocks are 36mm KYB high pressure gas. While that seems fairly par for the course in a modern sled, you'll find that the Vector's unique electric power steering (EPS) assist gives the sled a unique on trail "feel." Only Yamaha offers EPS and it makes a major difference in the Vector's low speed handling. Yamaha notes its "…Electric Power Steering velocity sensing system delivers maximum assistance at slow speeds to nearly zero assistance and high speeds. Aside from dramatically reducing steering effort, the system reduces negative feedback and delivers precise handling characteristics."
The power assist really works and truly sets the Vector apart in this grouping of three sport cruisers.
Admittedly, the Vector looks less changed when compared to the competition, but it has enjoyed serious evolution: power assist steering; SingleShot 129 rear suspension with air shock; Tuner skis; and multiple performance modes. Today's Vector has an excellent wide, hooked and curved handlebar set that is among the best in the industry. Its Genesis 1049cc triple is one of the most reliable and proven drivetrains in the sport.
The 2017 Yamaha Vector enjoys upgrades that make it as worthy a first choice as the Arctic Cat or Ski-Doo in this threesome. While the Cat may be the most sport-oriented; the Ski-Doo the most oriented to on-trail comfort; the Yamaha Vector is proven as an all-around versatile performer.