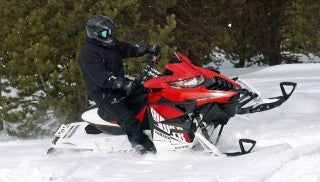 Trailside help when you need it most
You're out with your friends, tearing up the trails and all of a sudden, your snowmobile starts to sputter and comes to a complete stop. What's the problem? It could be an empty gas tank or an engine break down, but the result is the same – your snowmobile isn't going anywhere. You need to get it to the shop or get it going again… do you have roadside assistance?
Snowmobile roadside assistance can be included in your existing snowmobile insurance policy (at no extra charge or for a small fee) or it could come as a separate Tow and Labor coverage. It's always a good idea to have some kind of backup plan in place just in case your snowmobile breaks down, even if it's brand new.
Roadside assistance or Towing and Labor liability covers you at the place where you break down and tows you to the repair shop of your choice. Here are a few of the sticky situations roadside assistance will help you out with:
• Mechanical or electrical breakdown
• Dead battery
• Lockout or lost key
• Ran out of fuel, oil, water or other fluids
• Stuck in snow, mud, water or sand
Your buddies might not be willing to pick you up and take you to the garage, but Roadside Assistance will. And because breakdowns don't schedule appointments, this service is available to you seven days a week, 24 hours a day.
If you go with Towing and Labor coverage service, you can get $300, $500 or $1,000 coverage per occurrence that goes toward towing and labor female viagra sale costs, depending on the amount of coverage chosen. Labor coverage applies when work is performed at the time and place of disablement.
It's always nice to know that someone's got your back should your snowmobile ever break down. Check to see if Roadside Assistance or Towing and Labor coverage is offered by your powersports broker or insurance agent.