Quebec's Unique Gaspe Region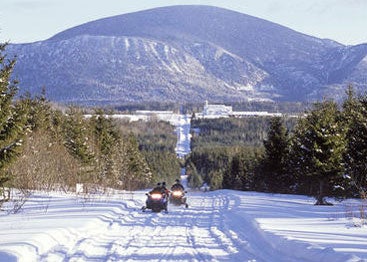 Travel from mountains, through forests and plains and on to the seashore
There is a reassuring charm in the friendly, welcoming voice of Patsy Babin as she answers the telephone at Info Motoneigiste Gaspesie. You sense her decade of experience acquainting snowmobilers from all over the United States and Canada with this most unique snowmobile destination.
Patsy Babin's voice welcomes snowmobile tourists to the Gaspe, the easternmost portion of Quebec, a peninsula that forms the southern bank of the St. Lawrence river and which welcomed Jacques Cartier to Canada in 1534. If you are a first time visitor to the trails and follow Patsy's recommendation, you will find a marvelous overview of the St. Lawrence from Perce Rock along the main corridor route, Trans-Quebec 5.
"Your first trip should be all around the coast," Patsy told Snowmobile.com. "But even though the Gaspe offers a wide variety of scenery and trails," she adds, "the trip is the people you meet. In the towns. The restaurants. On the trails. Every place has a little something you won't find in other areas."
It may be that many midwestern snowmobilers don't know Quebec's Gaspe, but riders from Ontario and the eastern United States have become very familiar with this snowmobile area. It is one of the very few areas where you can snowmobile through mountainous trails and come out on a view of the Atlantic Ocean then ride into a thick forest. As you would expect from Quebec, the trail system is well maintained with ample and friendly places to refuel your sled and your body.
Real Information
Patsy Babin and her assistants make your comfort, convenience and safety their priorities. When you are in the area, you simply dial 1-877-201-INFO (4636) for the most up-to-date trail conditions. There is no recording; a real person provides trail specifics. When we called, the area was being hit with a major snowstorm that dumped more than a foot of fresh powder on the trails. We heard her tell callers that they best wait to ride until the next day as the groomers couldn't keep up with the storm but would have trails in excellent riding shape within 24 hours.
Recently a couple on a two-up touring sled decided to ride the trails alone. Patsy helped them plan a route and insisted they call her at the office by 4PM every day so she would know that they were okay and had made their daily destination. "It was reassurance for the couple," Patsy explained, "because if we did not hear from them by that time we would call the local area club and ask them to check on them. We want visitors to our area to enjoy what we have to offer and we want them safe so they may return again and again."
1,500 Miles of Trails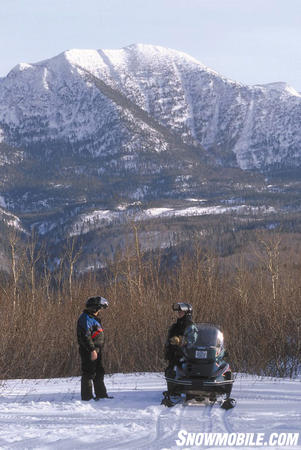 The Gaspe regional network consists of 18 snowmobile clubs to oversee more than 1,500 miles of trails. The Trans-Quebec 5 tours the peninsula and counts a variety of lodging, restaurant and fuel stop accommodations. Some of the other routes cut from the perimeter trail inward and network through the five distinct regions comprising the Gaspe.
Most visitors from Montreal or Quebec City enter the "The Coast," the northwest side of the peninsula bordering the St. Lawrence estuary and home to Matane, a popular snowmobile starting point. The central north coast of Upper Gaspe counts salmon rivers and the Chic-Chocs Mountains with the tallest peaks in southern Quebec.
Land's End, at the tip of the Gaspe region, consists of two distinctive areas that come together in Perce, just south of the town of Gaspe. The northernmost portion of Land's End, stretching from Grande-Vallee to Perce, is ruggedly mountainous and sparsely populated except for the city of Gaspe with its restaurants, museum and the Indian head rock in Saint-Georges-de-Malbaie. Terrain in the southern region shifts to flat lands with farms and harbors, which include the unique beaches of Newport.
In the south with portions resting atop New Brunswick, the Bay of Chaleur region is relatively mountainous and covers the estuary of the Ristigouche River. The Cascapedia River Bay, renowned by anglers around the world for its salmon fishing, actually cuts the Bay of Chaleur in half.
The fifth region of this unique area, The Valley, is the only intracoastal region of the Gaspe. The Matapedia Valley is famous for salmon fishing opportunities. The southern portion is primitive and steep while the northern section is attuned to agriculture.
Five Regions
Trails run you through the five distinct Gaspe environments with the opportunity to soak up mileage at your own pace. If you explain your snowmobiling objective to Patsy, she can help you formulate daily destinations varying from easily accomplished 100-mile days to ambitious rides of 250 or more miles per day. Of course, if your day's route proves too ambitious or you run into problems on the trail, a simple call to Patsy can help you find alternative overnight stops or assistance.
"We can give you dealer information if your sled needs service," she points out. "We even will help you locate lost bags if you should lose them on a route. We call the local club and ask them to look along the route and make arrangements to get them back to you."
Saddlebag Tours
As you may note, snowmobile travel along the Gaspe replaces automobile tours. These are self-contained "saddlebag" trips. Patsy explains that there are special locations in Gaspe where you can off-load your snowmobiles and leave your tow vehicle and trailer in a secured lot.
A decade ago, snowmobilers couldn't rely on "word-of-mouth" trail reports. Patsy says that Info Motoneigiste Gaspesie replaced the too often unreliable trail condition claims made by some locations that wanted tourism and didn't concern themselves with trail condition veracity. Those days are gone. A call to Info Motoneigiste Gaspesie or a visit to the official Quebec Trails website will get you accurate trail information, suggestions for lodgings to match your needs, and even the proper trail permits.
Patsy notes that many visitors hail from New England, New York, Pennsylvania and occasionally further west and don't always know what they need for riding their sleds in Quebec and the Gaspe. If you are coming to the area from the United States, you can order either an annual or weekly Quebec trail permit. If you request a permit ahead of your visit, Patsy will see that it is sent to you before you leave home so you can affix it to your sled before you set a track to a Gaspe trail.
If you are looking for a snowmobile experience in a truly unique area, then the time is right to head to the Quebec Gaspe region. Patsy admits that March is her favorite time for snowmobiling the area as the days are longer and warmer, leaving more time to soak in the scenery that ranges from mountains to seascapes. Of course, any time between mid-January to mid-March is a good time for snowmobiling the Gaspe. But, before making any plans, be sure to call ahead and speak with your Gaspe snowmobile ambassador, Patsy Babin, for a personal itinerary and up-to-date snow conditions. Tell her that Snowmobile.com suggested you call!
For more information: Telephone toll-free, Info Motoneigiste Gaspesie at 1-877-202-INFO (4636), Email at [email protected] or visit the official website at http://www.quebectrails.com/.
Related Reading Riding in Quebec's Gaspesia Region