What is Transport Trailer Coverage?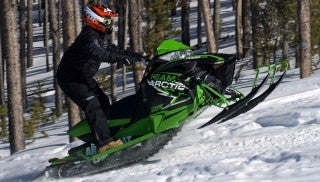 Coverage for those who tow their snowmobiles
We've looked at some of the most common aspects of snowmobile insurance, such as Collision, Comprehensive and Medical Payments coverage, but there may be a few lesser known liabilities regarding snowmobile insurance you may not have been aware of. For instance, do you live in the city? Do you need to travel to get to the trails? Can you get to them on your snowmobile? If you need to travel any kind of distance in order to ride your snowmobile, you need to get it there by trailer. Is your snowmobile or trailer covered if something happens when you're transporting it? You may need to get Transport Trailer coverage added on to your auto or snowmobile insurance policy.
There are a few variables you may not have thought about when it comes to towing your snowmobile. What would happen if the trailer you were using to tow your snowmobile became unattached and ran out of control down the highway? Would your auto insurance cover you if someone was hurt or the snowmobile was damaged? It may be easy to hitch a trailer onto the back of your vehicle, but you need to put a little more thought into it before heading out.
Transport Trailer coverage will cover a non-motorized trailer that's designed for public roads and towed by a vehicle. This can be a fully enclosed or a flat trailer, as long as the primary purpose of it is to transport snowmobiles.
Some states or provinces may require the trailer to be registered, and as far as trailer insurance goes, it varies. Be sure to check your auto insurance policy to see if your trailer is covered, because you don't want to be paying for it twice. If it's not included, check with your insurance agent or a powersports broker to add Transport Trailer coverage to your current snowmobile insurance policy.