2017 Arctic Cat ZR 9000 LXR Review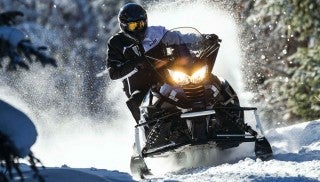 How can a powerful 180-plus horsepower sled be subtle?
How subtle can a sled packing 180-plus horsepower be? Compared to the in-your-face styling of the 2017 Arctic Cat Thundercat, Cat's new-for-2017 ZR 9000 LXR looks more subtle with its black and silver trim, slightly taller windscreen and lack of racing-oriented handguards. It's US$1600 lower retail price is a bit subtler as well.
Fast Facts
Engine: 998cc turbocharged three-cylinder
Power: 180+ horsepower
Track: 15 x 137 x 1.25 Ripsaw II
MSRP: US$15,299
View Full Spec
The extra cost gets you the Thundercat style, those handguards and an upgraded shock package, but that's about it. All Arctic Cat 9000 series snowmobiles come with a new Yamaha-built 998cc turbocharged three-cylinder four-stroke, the most potent production snowmobile power pack to ever hit the snow. Rated at 180 horsepower, Arctic Cat knows that it has more to offer.
Based on third party dyno runs conducted by DynoTech Research at its Batavia, NY dyno center earlier this year, the all-new turbocharged Yamaha-built triple exceeded Cat's claimed 180-horsepower and ran up to a rated 211 horsepower. While not Cat's official rating, the results back Cat's claim that the Thundercat ranks as the World's Fastest stock snowmobile.
This all-new power package combines Yamaha and Arctic Cat engineering prowess thanks to the partnership the two companies struck up a few years ago. Arctic Cat needed to redesign the cowling and underhood areas of its ZR designs to fit the new triple and accommodate its compact turbocharger. Yamaha designed and provided the new 998cc engine, which shares similarities in design and displacement with the normally aspirated 998cc unit powering Yamaha's sportiest Side-by-Side, the YXZ1000R. The snowmobile power product nearly doubles the Side-by-Side's output and is paired with a CVT snowmobile-style drive as opposed to the YVX1000's five-speed sequential gearbox.
To harness the turbo's power, Cat worked with its drivetrain partner, TEAM Industries, to develop an ultra-quick reacting drive and driven system. TEAM and Cat engineers updated the TEAM Rapid Response primary drive clutch to thrust power smoothly to the TEAM-designed Rapid Reaction II driven. Proven durable and consistent in previous years' top-of-the-line performance Cats, this new Rapid Response II system also features a snowmobile industry exclusive, an auto-adjusting belt tension system claimed to deliver consistent performance without the necessity of making manual adjustments. While still maintaining the top ratio, this new clutching system features a 12.5% lower effective starting ratio that ensures smoother engagement with more evenly distributed force for lower belt pressure and reduced belt wear.
While Yamaha's new top line Sidewinder shares the same 998cc turbo, updated Cat platform and revised cowling, Yamaha opted to stay with its own clutching system, which was upgraded specifically to handle the increased power. Which is better? Can't tell you, but our limited experience revealed both brands of turbocharged sleds worked extremely well. Suffice it to say that both drive packages get your attention at full throttle as you power up to infinity and beyond!
One of the things we truly enjoyed with the ZR 9000 LXR was its absolutely charming on-trail behavior. In puttering mode, the package felt completely at ease, working a slow-moving convoy like a 340cc value sled. On straights, when we expected a need to grasp the handlebar with iron grip, a full throttle stab led to a quick but well-controlled moment of acceleration – exhilaration? This sled can handle all matter of trail duties. If you oversee a vintage ride as tail-gunner, relax and know that your sled can pass a line of lumbering vintage models in a heartbeat. If you are on full weekend cruise with sport-minded friends, relax in knowing that you can take on all comers out on the longest lake.
Depending on your level of ego, the ZR 9000 LXR makes more sense than the Thundercat as it is subtle, in appearance. Yet, it's no more subtle than a full-fledged T-Cat when it comes to throttle squeeze. The instant-on reaction of this turbocharged Cat is smooth and quick. And it's controlled in a way that we weren't expecting. Our previous experience with big power sleds is that they tend to torque out under a full throttle slam and require quick steering correction. The ZR 9000 LXR proved to be very controlled. You want to recognize its power, but there's no need to fear it as the sled accelerates quickly, yes, but under control. At drive off it's extremely smooth. At top end your eyes water and you'll be guessing at what speed you're seeing on the speedometer. Calm. Potent. Quick. Smooth. Pick a description, the ZR 9000 LXR defines them all.
Where does that savings of US$1600 come from? The main difference comes from the shock packages. The Thundercat features the latest FOX QS3 while the LXR assumes you're a more moderate performance rider and is fitted with Arctic Cat internal floating piston IFP 1.5 adjustable shocks on the ARS front end and Slide-Action rear suspension. Most riders will not fault this set up, as it offers smooth operation in virtually all trail conditions. Big bump speed riders will assuredly want the greater ride and performance adjustability offered with the QS3 shocks.
From a pure riding experience, we found the ZR 9000 LXR a terrific joy. It has all the on-trail throttle lever performance of a Thundercat. It's on trail manners are exceptional, especially when you consider what this sled has throbbing under the hood. Comfort-wise, the Cat's ergonomics are unmatched. The heated performance seating offers outstanding down-the-trail views and allows quick response to bumps. The handlebar is curved and designed to assist you into and out of tight or sweeping corners. The LXR's long travel front suspension works well to keep the new Cat ProCross 6 skis planted. And on trail, the 13-inch tall mid-height windscreen is both stylish and effective.
For long term riding joy during the winter, you'll appreciate the standard push button reverse, electric start and added amenities like the 12-volt outlet, the "just in case" front bumper, LED headlights with defining LED accents and the tunnel-mounted rear storage bag.
Cat's 2017 ZR 9000 LXR gives you the raw go-power of the Thundercat. But it also offers the more subtle features of an all season rapid transit cruiser with superior ride and comfortable ergonomics. Subtle, yes and no. The ZR 9000 LXR is simply a less expensive, gentler, kinder Thundercat.