2018 Arctic Cat Pantera 6000 Review + Video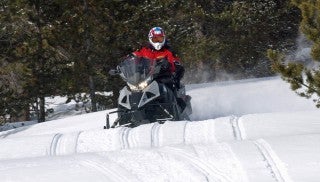 A comfortable, yet sporty two-up snowmobile
One thing we especially like about Arctic Cat's evolved line of 2018 snowmobiles deals with its greatly improved bodywork. That bodywork, simply known in Cat parlance as "Next-Gen," adds a more sophisticated "look" to all 2018 Cats wearing it.
Fast Facts
Engine: 599cc 2-stroke Twin
Power: 125 horsepower
Track: 15 x 146 x 1.35 Cobra
MSRP: US$11,899/C$14,599
Styling aside, the Next-Gen body work consists of panels that more readily snap on and off, allowing much easier access to underhood components. Although designed to ease access, the panels' fitment actually narrows up the body. As you view the new Cats like the 2018 Arctic Cat Pantera 6000 ES, you recognize them as seeming different, cleaner and sleeker than previous versions. But, once aboard the Pantera and as you look over its tall windshield, the change becomes more obvious. The sled seems thinner and because of that you sense a new nimbleness. That's all psychological, a mind trap, because in reality the 2018 is two inches longer overall to accommodate its longer 146-inch Cobra track. Width and ski stance are the same on the 2018 Pantera 6000 as last year's Pantera 7000. But the 2018 gives a sense of its being narrower and maybe, even, lighter because of it.
Applaud Cat engineering for this. Those new, thinner body pieces came from the mountain group, which needed to cinch in the powder sled bodywork for smoother flow in deep snow. It works on the trail and touring group, too.
The expansion of the 600cc C-Tec2 dual injection twin works as well. For 2018 you'll find more sleds with Cat's own engineered and manufactured two-stroke twin. This design is the basis for the long awaited and all-new Arctic Cat 800cc C-TEC2. First introduced in limited quantities in model year 2014, the 600 C-TEC2 powers a full range of 2018 125-horsepower category Cats.  It has proven extremely reliable and very trail friendly with a good dose of sporty behavior.
This marks its first time as the power supply for a two-up touring sled, though it's not much of a stretch if you consider that this drive system powered longer tracked Cats like the 2017 M 6000 153 as well as CrossTrek and High Country models. Cat knew the 600 C-TEC2 could readily power a touring model and wanted to offer a two-stroke option for its Pantera series to offset its Yamaha powered two-ups.
On the trail the 2018 Arctic Cat Pantera 6000 performs as we expected. Its 125-class twin seems to rev more than the four-stroke 1049cc Yamaha triple getting up to speed, but you accept that difference as the character of a two-stroke versus the four-stroke. There is the lighter on trail "feel" you get as the two-stroke C-TEC2 doesn't have the burden of the Yamaha's extra cylinder, nor the added complexity of the four-stroke's valve train, etc.
We like both Pantera versions, the Pantera 6000 and the Yamaha-powered Pantera 7000. Admittedly we favor two-strokes and just as admittedly we do think the Yamaha version with its 135-class triple offers better midrange overall, which it should. That being said, we couldn't tell you which sled to buy as they are so close in overall performance. Theoretically the four-stroke Yamaha should give you better fuel mileage, but in the real world your throttle thumb makes that determination.
As noted, the 600cc C-TEC2 option is just that, an option. People looking for a two-stroke and a savings of about a thousand bucks will go with the 2018 Arctic Cat Pantera 6000. Horsepower-wise the two sleds seem "real world" comparable when you add in power-to-weight and such things.
Feature-wise the two Panteras, the Pantera 6000 ES and Pantera 7000, come loaded with goodies. That new bodywork that makes the Pantera look like it starred in a Nutrisystem commercial isn't available on the Yamaha two-upper as its engine width doesn't currently work with the Next Gen panels. That's a plus for us. But we couldn't discern any suspension advantages one sled to the other.
Both Pantera models come built around the ProTour chassis, which Cat engineers deliberately designed for comfortable touring in the Pantera and as the underpinning for utility usage in the Bearcat series. The Pantera utilizes a "comfort" version of the tall spindle Arctic Race Suspension (ARS) with coil springs assisting Arctic Cat IFP shocks. The slide-action rear suspension also features touring-tuned IFP 1.5 shocks but adds more versatility thanks in part to the adjustable torsion springs and, of course, the use of fiberglass overload springs that give you more support for carrying two riders and a weekend's worth of gear.
The Cat design suspensions work well with the main pieces that touch the snow: the 146-inch Cobra track with 1.325 lug height and the 6-inch wide ProTour skis with a deeper and stiffer keel for improved cornering grip.
As you'd expect the premium Cat touring sled offers a comfortable perch with room to move around in moments of spirited riding. Two-up accommodations include a rear passenger position complete with an adjustable backrest. It's a bit overstuffed for our liking, but Cat has almost always employed such a plump backrest.
Standard fare on the 2018 Arctic Cat Pantera 6000 includes convenient push-button electronic reverse. The four-stroke Yamaha-powered Pantera 7000 features a mechanical reverse that adds a bit of weight and complexity. Both Panteras provide a heated driver's seat as standard. The addition of a 4.3 US gallon auxiliary fuel tank is an option.
If you go without the add-on fuel tank, you gain impressive rear storage to complement the sled's touring basics such as the standard rear compartment. Windshield mounted rearview mirrors allow the convenience of keeping tabs on other sleds in your touring convoy. In addition to a heated seat, the Pantera adds a plug-in for heated helmet visors and a 12-volt accessory outlet to accommodate various devices such as a cellphone charger or a GPS.
On the trail the Pantera feels like a sporty Cat as its famed handlebar curvature adds comfort and control for easing into a fast sweeper. The ride and handling are standard Cat fare, with supple action through the front's 9.5 inches of travel and the rear suspension's 13.5 inches of controlled action.
If you want a comfortable, yet sporty handling two-up sled for long distance touring and weekend adventuring with your favorite snowmobiler, you need to consider the new-for-2018 Arctic Cat Pantera 6000.