2018 Arctic Cat Snowmobile Lineup Preview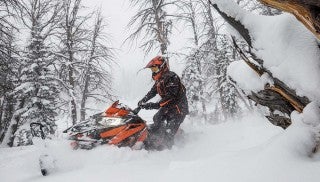 Big News at Cat, plus a new 800cc C-TEC2 twin
Arctic Cat fans across the snowbelt have been anticipating the 2018 Arctic Cat snowmobile lineup and waiting for the all-new 800cc C-TEC2, but now that it's here, it's not the biggest news for Arctic Cat. Arrival of the 800 paled compared to the news that Arctic Cat was being acquired by Textron, former owner of Polaris Industries from 1968 through 1981.
Regardless of the Textron situation, know that little should change in the short term and that Arctic Cat delivered on its new 800cc twin, loosely based on Cat's popular 600cc C-TEC2. Cat aficionados recognize that engineering had a difficult assignment replacing the Suzuki 800cc two-stroke twin. That engine enjoyed a good reputation for strong power and durability. But, the Suzuki era closed at Cat along with the use of that powerplant, which needed updating for efficiency in oil consumption and emissions. Once Cat fans try this new 800 C-TEC2, they'll relax as the all-new Cat-engineered big twin works exceptionally well with excellent midrange and strong torque characteristics across the rev range.
In a brief riding session with the new C-TEC2 twin this past January, we came away with a great appreciation for what Arctic Cat's in-house engineering crew accomplished. It feels stronger than the Suzuki with what we felt was an earlier midrange "feel" that lasted longer as well. It just seems to have a broader torque input than the Suzuki did. It was very smooth at drive off. We were limited in achieving any top end impressions, but we doubt this engine will disappoint. It will fill the bill as Cat's new 160-hp category power maker.
Along with the new engine comes a tuned TEAM Rapid Response II drive clutch with consistent, auto-adjusting performance with a 12.5% lower starting ratio for smooth drive away. This power team comes standard in Cat's 2018 800cc mountain, crossover and trail sport categories.
In addition to the new 800 C-TEC2, Cat totally revised its mountain segment with new low-profile Next-Gen Mountain bodywork that's three-inches narrower to improve deep snow and sidehill performance. It also accounts for up to a 15-pound weight reduction depending on model. Also new is an advanced Ascender platform that blends all of Cat's most recent improvements into one chassis. The Ascender package also includes improved ergonomics and adds an exclusive to Cat FOX QSL rear shock designed to offer three settings. Like the QS3, there are two quick-set ranges but the QSL drops the third setting in favor of a lock-out to help aggressive mountain riders achieve new levels of control when climbing.
Arctic Cat's 2018 early release M 8000 Sno Pro previews the all-new Arctic Cat 8000-Series 794cc C-TEC2 engine with Dual-Stage Injection and the all-new, narrow profile Next-Gen Mountain bodywork that makes up the new Ascender platform.
Fitted with narrowed running boards and increased forward foot placement for maximum backcountry performance, the new 2018 M series incorporates many of the changes that debuted on the Mountain Cat package.
The improved handling of the M Series is aided by the lightweight Arctic Mountain Suspension (AMS), which features mountain-specific spindles, geometry and 34.5-38.5-in. stance to enable better sidehilling and reduced drag in the snow. Last year's M models revealed an update Float-Action rear suspension with new front arm and rail geometry for increased travel, improved ride quality and consistent track tension.
For Cat's legion of sport and performance riders, the new 800cc twin finds its place in the ZR and XF series, which also gain ergonomic updates and new cinched in bodywork. This new Next-Gen bodywork showcases Cat's improved fit and finish, adds quick release tabs for easy on/off of side and hood panels, and improves airflow to under hood powertrain components.
While the much-anticipated Arctic Cat produced C-TEC2 twin is big news, Arctic Cat introduced other new products for 2018. One new model enters the marketplace diametrically opposite the new 800cc models. At its new model preview, Arctic Cat unveiled its hope for attracting and retaining future Cat riders with its all-new ZR200.
The ZR200 takes the Kitty Cat concept to a new level in hopes of keeping riders who may transition out of the small "toy" sled into a bigger but manageable trail-ready sled. Equipped with a 200cc four-stroke air-cooled engine and a virtually maintenance-free belt drive, the ZR200 is positioned to provide sprightly on-trail riding for young or diminutive riders up to about 170 pounds.
Based on the ZR120 chassis, the ZR200 platform is extended and features a new front substructure to accommodate the Yamaha 192cc single cylinder engine and to support the new longer travel front A-arm suspension. The rear suspension is also new and keeps the short Camso Cobra track in touch with the trail. The ZR's Cobra track measures 10 inches wide by 93 inches long with 1.0-inch lugs.
Arctic Cat also announced new Norseman 3000 and 6000 sport/utility models. The Norseman is powered by Cat's 600cc C-TEC4 twin. Cat notes that the Norseman features a versatile "do-it-all platform for riders who want utility, trail and backcountry performance in a single machine."
In addition to these new models, Cat will retain most of its previous models, although featuring the updated bodywork on most of its trail and off-trail sleds as well as full-featured Bearcat and touring sleds. Expect the new 800cc C-TEC2 to establish a niche between Cat's proven 600 C-TEC2 and the Yamaha power that includes the 1049cc four-stroke and the 998cc high performance turbocharged triple. Performance helps set the Arctic Cat line apart from its competition and we found in initial test runs that the new Cat-built 800 will continue that tradition.
What does the future hold for Arctic Cat? A new partner with cash reserves and an interest in continuing the Cat traditions into the future.