2018 Arctic Cat XF 8000 High Country Review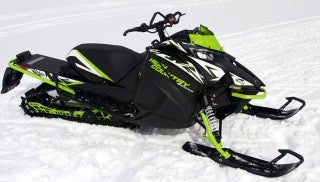 Cat's XF High Country is a new 8000
Wow, we've just about ripped through summer and before long, fall will come with a whiff of two-stroke smoke. After fall teases us with its crisp air, winter will come WOT – wide open throttle. Can't wait. Will you have your crossover goggles ready? To give you a taste of what is to come, we are looking at the 2018 Arctic Cat XF 8000 High Country.
Fast Facts
Engine: 794cc 2-stroke Twin
Power: 160 horsepower
Track: 15 x 141 x 2.25 Power Claw
MSRP: US$14,099/C$16,299
Lately, we've spent much time discussing the manufacturers' latest money-making consumer-demand product, the crossover snowmobile. We, through our stories on all deep-powder-crossover from the four builders, Arctic Cat, Ski-Doo, Polaris and Yamaha, believe his market segment is a bold future for the four builders. As folks from the mid-West and East continue to watch YouTube videos on Chris Burandt, Bret Rasmussen, Rob Kincaid and others on the wiles of backcountry riding, these heartland and eastern folk are making a living in their flatland countryside. Even though they have deep-powder, trails, open meadows, many have Rocky Mountain envy (often huge). At their disposal is the hybrid snowmobile that makes them feel Rocky Mountain strong, while too, retaining their fast-attack trail image. That product is the long track crossover snowmobile with tall paddles – a snowmobile that several years ago, was a deep powder mountain masher. We know…we've piloted several.
Since the manufacturers often hand us a long track crossover sled with two-inch and taller paddles, we've been known to bash into each other on the trails while ripping to our favorite deep-mountain honey hole, only to bash into each other again on the return to the truck. The Snowmobile.com Mountain Team is a wee bit too brave on a deep-powder crossover when burning down a trail.
So, what we have here is the 2018 Arctic Cat XF 8000 High Country with Cat's new domestic– designed and built 794cc Twin cylinder two-stroke with direct electronic fuel injection. How sweet it is.
When you peruse Arctic Cat's website and study its crossover XF line, take note there are two crossover lines, one that is trail-oriented, more than deep-powder oriented. The trail XFs are the Crosstrek, Crosstour and Cross Country. The powder hungry XFs are the High Country and High Country Limited. The trail crossers rely on Cat's Arctic Race Front Suspension as the front grinder, and the Slide-Action Rear Suspension as the rear grinder. For the two High Country configurations, the XF 8000s use the Arctic Mountain Suspension up front and at the back end, the Float-Action Rear Suspension.
Chassis for the two are different as well. The trail crossovers use Cat's ProCross chassis, and have the company's new Next-Gen panels – smoothed panels for powder play. The High Country models are built on Cat's new Ascender chassis (an improved/updated ProClimb chassis) which also has upgraded Next-Gen outer panels. These smoothed and tightened panels are the exact panels used on the M8000 and Mountain Cat line. In fact, let's be specific here, differences between the Ascender XF and M lie in ski stance, sway bar and track lug height.
The 2018 Arctic Cat XF 8000 High Country comes in two track lengths, 141 and 153. However, Cat reserves the 153 length for the Limited; the standard XF 8000 High Country is a 141 only. Regardless, if choosing a Limited or standard, each spin Cat's PowerClaw track with 2.25-inch lugs. Track pitch 3.0 inches.
When it comes to manual start versus electric start, the 2018 Arctic Cat XF 8000 High Country Limited has electric start, whereas the standard XF 8000 High Country has manual start – the trusty ol' pull rope.
Shock packages between the Limited and standard differ as well. The standard depends on the Arctic Cat Internal Floating Piston (IFP) 1.5 shock at all four impact points. The Limited has the Fox 1.5 Zero QS3 – Quick Switch three-position – shock. For added tuning, each shock package has coil over springs. The specific ski all High Country models use is the ProClimb 7. Ski stance is an adjustable 38.5 to 42.5 inches. The front Arctic Mountain Suspension is locked down via a sway bar.
Each High Country model has the Arctic Drive System (ADS), which includes the TEAM Rapid Response II drive clutch and a TEAM Rapid Reaction BOSS driven clutch. Clutch calibration is sea-level precise, 0 to 3,000 feet.
Now, let's go riding. With the 2018 Arctic Cat XF 8000 High Country, clutch calibration is well-suited for the low lying flat lands. The gearing, too, is correct at 19/50. In fact, the high-altitude Mountain Cat has the same gear ratio, but its set of TEAM clutches are calibrated to 6,000 to 8,000 feet. If riders plan to take their XF8000 High Country to the Rockies, then contact your dealer to have your High Country crosser receive the same clutch weights and springs as the M8000 and Mountain Cat. Don't give away these sea level components to your brother-in-law – you'll need these when riding back in your home flatland state, or territory.
The variables between riding the two track lengths is subtle on the trail. The 153 will be somewhat smoother due to its longer rear suspension. However, how smooth or stiff the rear suspension is depends on shock load. Regardless, when casing moguls or tightly-knit rollers, the 153 will be more compliant. When hitting the snug S-curves, the 141 will be more snocross like, especially when 141's ski stance is at its widest.
For us who spend more time in the mountains than on the trails, we'd go with the Limited in 153 length. Our recommendation is, if you vacation in the Rockies for a couple weeks during the winter and with your 153 Limited prepped for high-altitude riding near Alpine or Pinedale, WY, cinch in the ski stance to its narrowest, soften up the front shocks for powder play and let 'er rip.
With all the same cockpit amenities as the M8000, the 2018 Arctic Cat XF 8000 High Country has the handlebars, runningboards, footwells, and vertical steering post for remarkable powder work and sidehilling. The XF's Ascender platform and Next-Gen panels make mountain riding buttery. Unlike the M8000, the wider-than-M8000 ski stance and sway bar requires a little bit more planning to make a nip-and-tuck sidehill cut than a cut on an M8000. But, it can be done.
The Ascender chassis, as compared to the 2017 XF8000 High Country, is 10% narrower, has one-inch narrower runningboards, and a redesigned bellypan that allows the rider's feet to move two inches farther forward for enhanced trail and standup mountain riding. For this new platform, Cat dropped the drive shaft 1.125 inches, which gives the XF 8000 High Country a lowered 9.7-degree approach angle for improved deep snow maneuverability.
The 2018 Arctic Cat XF 8000 High Country has Cat's vertical post telescoping handlebars, which the M8000 does not. This gives the XF 8000 High Country versatility for trail and mountain use. The vertical post steering does not swing steering wheel like, as the bars do on the CrossTrek and CrossTour. The High Country is made for more standup riding than sitting. If positioning the telescoping bars to its lowest setting, the High Country gives the driver a seated position that will allow the High Country to hug a tight turn; compliment too, to the Ascender platform's open- and deep-forward foot wells.
Motor grunt is important to all crossover riders. The new 8000 C-TEC2 engine with Cat's proprietary "Clean Technology 2-Stroke" – first introduced on the 600cc C-TEC2 engine – uses Cat's exclusive Dual Stage Injection (DSI) where at low engine speeds a fuel-oil mixture directly injects into the combustion chamber. When engine speeds increase, the fuel-oil mixture injects into the crankcase through the motor's transfer ports. This makes the motor more fuel- and oil-efficient and lubricates essential internal engine mechanisms.
How does this motor compare to the Suzuki we've come to love? It has more bottom-end snap. With this motor, owners will find it easy to tune the clutches, as its RPM band is fatter and linear, if that makes sense. In motor speak, the clutches, when set for elevation, hold peak RPM better and upshifts and downshift easier, as the motor receives the driver's throttle inputs. When rolling into and out of bend, the motor and clutches are crisp. At high-altitude, which we've spent much time at, the 2018 Arctic Cat XF 8000 High Country snaps like a whip…its motor is always awake.
But, we need be honest here, the Suzuki 800 the High Country used in year's past was a fine motor. It was strong, durable and one that gave Arctic Cat many competitive wins. It is good to know the 8000 C-TEC2 motor is built somewhat like the SooZook.
Crossover snowmobile use is a growing segment. We don't see the manufacturers giving a "thumbs down" to this movement. This does not mean the fast trail, cruiser and mountain snowmobiles are given second thought, not at all. But, like the mid-size 4WD pickups from GM, the four-door Chevrolet Colorado and GMC Canyon, which fill the niche for a suburbanite to have a truck and city commuter, the crossover snowmobile fills the niche for rugged powder play and trial play – both within limits. The 2018 Arctic Cat XF 8000 High Country and High Country Limited are versatile, adaptable, capable and well behaving.
Summer is fast leaving, fall is approaching and winter will be here in four months. Crossover riders, go check out Cat's XF 8000 High Country with your crossover goggles on.