2019 Arctic Cat Alpha One Mountain Cat Review + Video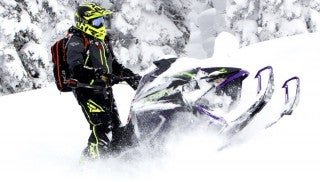 The 2019 Arctic Cat Alpha One Mountain Cat just may be the most-balanced and easiest-to-ride mountain snowmobile to date.
"The Alpha One is a boondocker's dream," so says Snowmobile.com Mountain Team guest-test rider, Brent Burton.
From the Beginning
Fast Facts
MSRP - $14,699
Engine - 794cc 2-stroke
LxWxH - 132.3" x 42.5" x 50"
Track - 154/165 PowerClaw
Ski Stance - 35.5-37.5"
Perhaps you've read our first article on the 2019 Arctic Cat Alpha One Mountain Cat? If not, mouse over to receive some history and technical knowledge on the Alpha.
Since this first article, we learned snowmobilers wanted more than just tech information; they wanted rider impressions. The day that initial story became active, we began a four-day jaunt riding an Alpha, be it a 154 or 165 (this alongside the other manufacturers' 2019 mountain snowmobiles as well). We will provide rider impressions from two of our seasoned test riders, but before we do so, we want to report some thoughts from Arctic Cat's mountain snowmobile Product Development Manager, Andy Beavis, who speaks on the 2019 Alpha One and the Arctic Cat mountain team.
"The Alpha was really only an idea (in 2013), and without the great team I have working on this stuff," Beavis reports, "[Alpha One, would not have happened]."
Beavis continues, "A new Andy is on the Mountain Team, Andy Ellsworth. His coming to the team was a great help. But this project (Alpha One), and everything on all the mountain sleds, was really a full-team effort."
"Todd Tupper, Shay Smith and Joe Starkey at the Island Park, Idaho facility, is where the track meets the snow – every member of this team is dedicated to the products and in using the products themselves.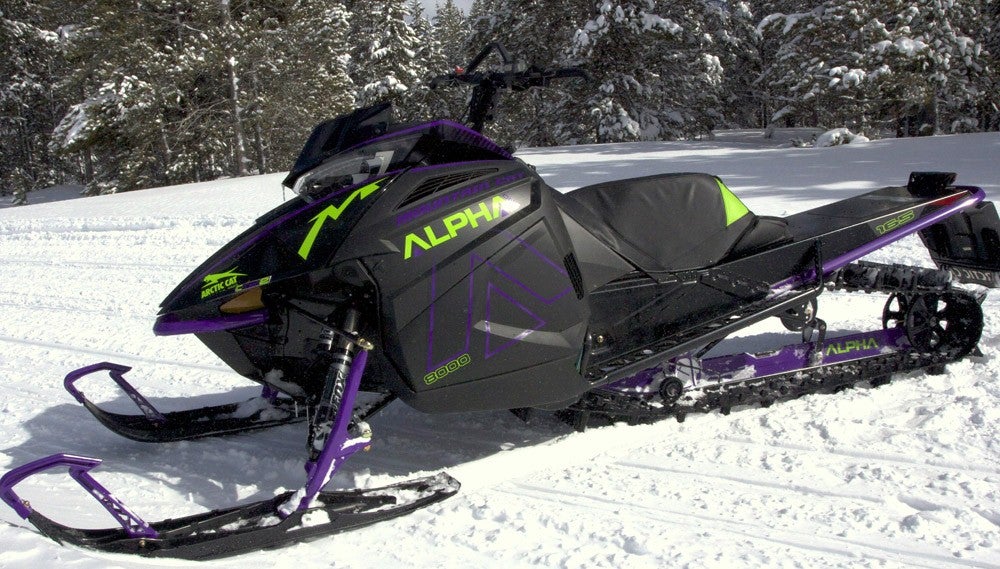 "We have three design engineers, [the earlier-mentioned] Andy Ellsworth, and Derek Sorenson and Mike Larson. Andy Ellsworth is the junior guy on the team with only five years of experience at Arctic Cat; he goes above and beyond both in riding and designing.
"We have a top-notch fabricator, Lee Larock, with 40-plus years of experience who wrenches on our sleds, builds the cool prototypes, and who still likes to squeeze the throttle to go fast.
"Our Bill-of-Material (BOM) person is Brooke Neushwander, who is the glue that keeps us all focused, assembling the sled BOMs for production, and in keeping the guys in replacement parts and making sure the T's are crossed and I's dotted."
We report this because we recall a day, just over two years ago, when we (that is I), was harping on Arctic Cat for losing its way on the mountain slopes (January 2016). An Arctic Cat mountain team member, whom we have the upmost respect for (we can knock each other around and still be pals), said, "Do you think we don't work hard? We've been working our @s#s#&s off." It was at this time, that day, we first walked past a snowmobile code named Alpha Bravo. The next year, 2017, we rode the top-secret Alpha Bravo, and again the next year, this February and March 2018, as the official 2019 M8000 Alpha One Mountain Cat.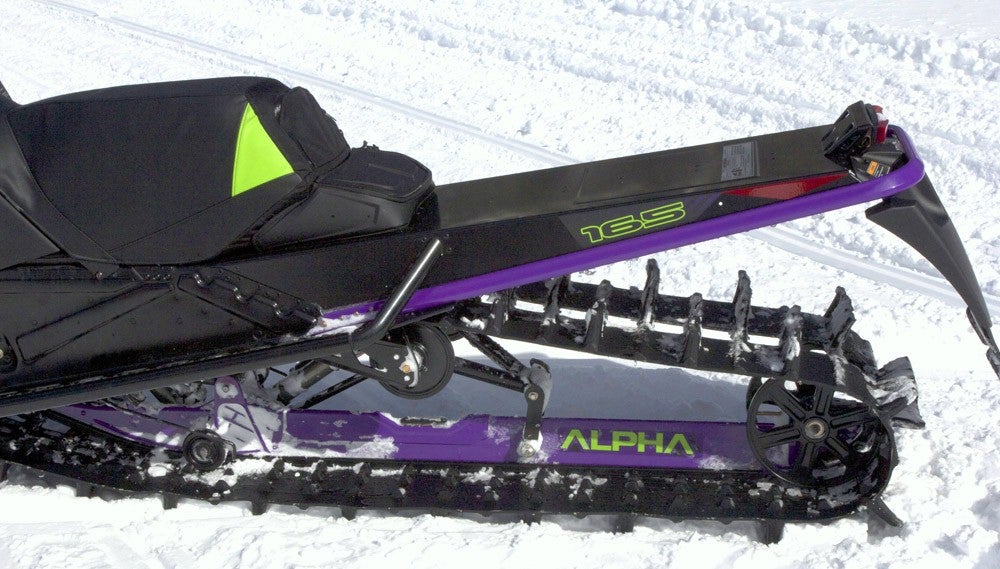 Arctic Cat's Alpha One, as well as Cat's M8000 Sno Pro, Mountain Cat and XF 8000 High Country Limited, are products that testify Cat's mountain team members are working their butts off.
This is our newly rediscovered testament: Arctic Cat is back. But, to the Arctic Cat mountain team, they never left, maybe it was me, you, I, we, and us, that left.
Thoughts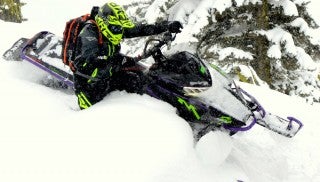 2019 Arctic Cat Alpha One Mountain Cat
The 2019 Arctic Cat Alpha One Mountain Cat, from many Facebook posts and comments from our first story, generated an interest to a mountain snowmobile not seen since Polaris introduced its lightweight Pro Ride RMK Pro 155 with its low inertia Quick Drive belt drive system.
Recently, we pulled into a café with our truck, which has a "Snowmobile.com" graphic on its rear window, dudes rolled out from their trucks or a strange looking VW Passat, to ask questions. It seems from parking lot discussions, the nay saying has moved to curiosity and now from our perspective, to support.
Here from two Snowmobile.com test riders, who rode a 2019 Arctic Cat Alpha One Mountain Cat 154 or 165 for numerous days, Kevin Allred and Brent Burton, report:
Kevin Allred, Snowmobile.com Sr. Test Rider, Mountain Team
In nearly two decades evaluating and testing mountain snowmobiles, I have to say the Alpha One represents out-of-the box thinking, and that's a good thing from my competition-is-good perspective.
I first got a glimpse of Arctic Cat's future for two years ago, when Andy Beavis, lead engineer on this project, summoned me outside at Arctic Cat's Island Park, ID test facility, where he showed me an early prototype of this monorail rear suspension. Beavis got a chuckle at my reaction, my mind going a hundred miles an hour with questions and thoughts. He told me not to spend too much time thinking about it, 'It'll keep you up all night,' he said. It did, for two years.
Modelyear 2019 Snow Shoot in West Yellowstone, Mont. this past February, Mother Nature was good to us, she delivered new deep snow. Literally, it was epic. The way the Alpha One performed in the deep snow was also epic. It left me with a strong impression: the Alpha is very efficient in the way it drives the track.
This combined with an incredible track, the new Power Claw 3.5-inch pitch, sitting on a single beam rail that frees up the track to grouse (from the word 'grouser,' which are the high-strength metal wear bars on a tank track or land excavator track) or hunt for whatever traction it may find in the snowpack. This is the strong impression the Alpha gave me, its ability to hunt for snow and drive forward in epic deep snow.
The new light-weight 3.5-inch pitch Power Claw track along with its large diameter drivers and 10-inch diameter rear axle wheels, makes for efficient track rotation. The Alpha One easily and quickly gets up on top of the snow and then goes forward.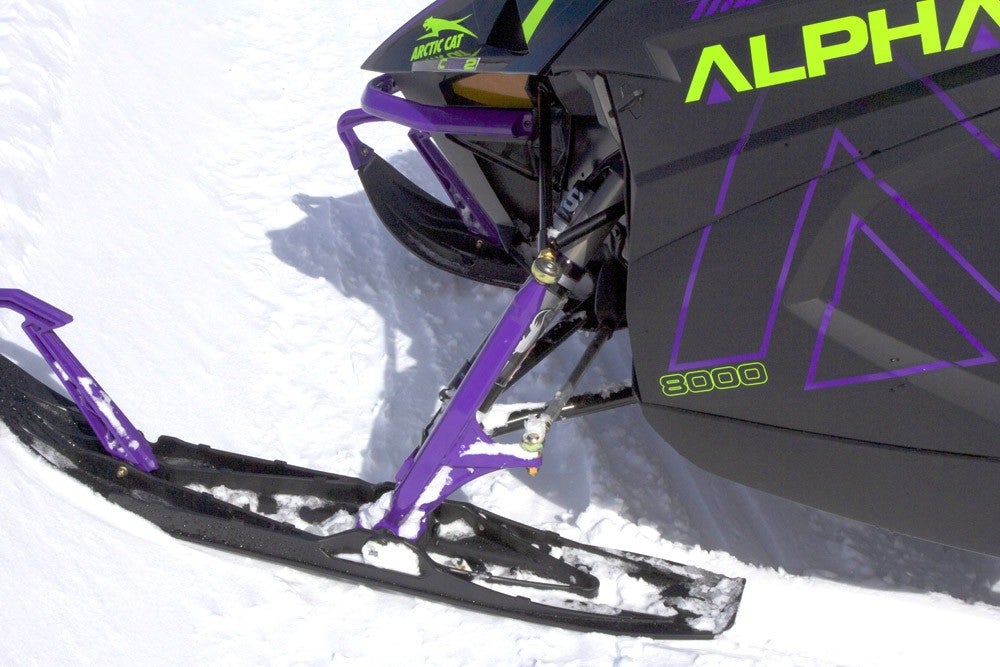 Given the above, I've had ample time on the Alpha in somewhat marginal snowpack, where it managed itself well in these conditions – making fun of said conditions. As for Springtime hard frozen-snow conditions, I've not driven the Alpha in such as I compile my comments.
In conclusion, the 2019 Artic Cat Alpha One Mountain Cat 154 and 165 are pretty cool sleds, giving a whole new and different approach to deep-powder snowmobiling. The Alpha One defiantly caught and has my attention. Whatever your thoughts or opinions, or your brand loyalty, the Alpha One deserves a look.
Brent Burton, Guest Test Rider, Mountain Team
Arctic Cat definitely stepped up its innovation with the newly designed Alpha One Mountain Cat, but it's important to note the sled is a complete package. Starting with the recently introduced Team clutches that remedied Cat's long-standing struggle in the drivetrain department to the new C-TEC powerplant, that is responsive through the low, mid and top end, and a much improved chassis, the entire mountain cat lineup makes for very strong competition. Adding the single beam rear suspension to the mix throws a very interesting variable into my personal mountain sled purchase decision tree.
The new rear suspension works perfectly in tandem with the front suspension, which makes the Alpha One, in my opinion, the most responsive rider-to-chassis (input) snowmobile I've ever ridden. When looking at the design concept, I assumed responsiveness would come with a stability penalty, or in other words, I thought the chassis would be responsive, but unstable and a handful to ride. However, I was pleasantly surprised to find the rear skid (ed: which is the rear suspension in whole) integrates so well with the front suspension's movement, the chassis is actually more stable than a sled with a standard [twin rail] skid.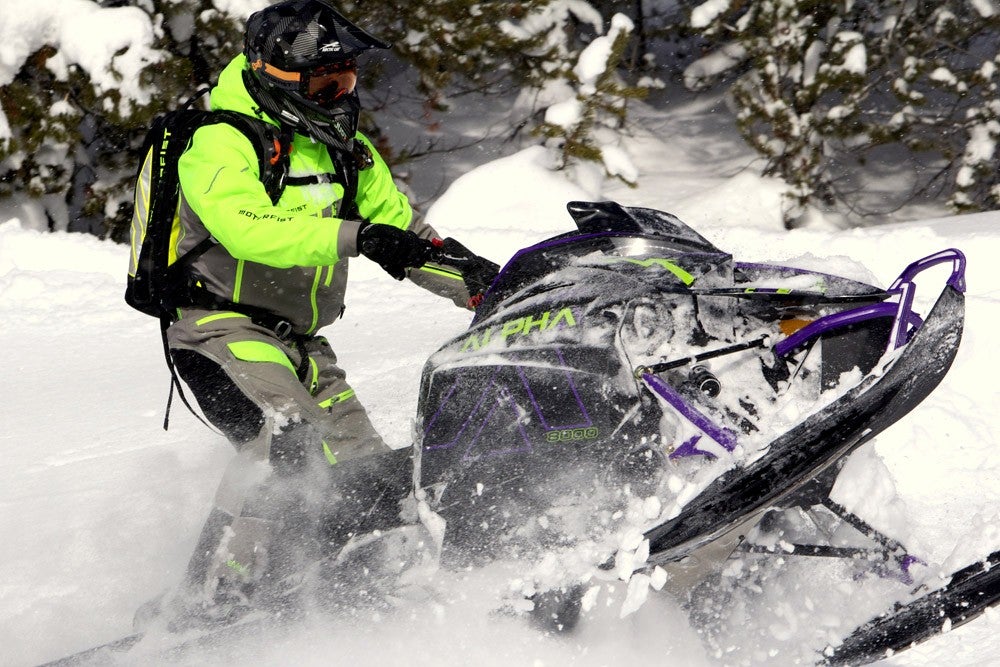 I wasn't riding the same kind of skinny 'edge' as I have in the past. As a result, I actually felt less feedback in the bars; the sled holds a very stable line when traversing a tracked up meadow or a tracked up sidehill.
In addition to the powertrain and the rear skid working well, the newly designed Power Claw track with its 3.5-inch pitch, works extremely well, and the skid pops on the snow like a modern mountain sled should. Perhaps most notable is the fun factor; this sled is unrivaled by anything I've ridden, and combined with a proven powertrain and chassis, makes the Alpha One a boondocker's dream and a home run for the Arctic Cat mountain team.
In The End
Since Arctic Cat released its improved ProClimb chassis, now the Ascender chassis, we've come to appreciate how well-balanced the Ascender chassis is; nose-to-tail and side-to-side. When the 2017 Mountain Cat came to market, still in the ProClimb chassis, we spent a full season riding the Suzuki-powered 800; we were truly impressed at the Mountain Cat's balance and its easy on-edge handling.
Then we received an early-release 2018 M8000 Sno Pro 153 in the new skinnier Ascender chassis with pulled-in panels, opened up foot wells, dropped and rolled chain case and Arctic Cat's own domestic-built 800. Momentum was building at Arctic Cat's Island Park, Idaho skunk works. Balance and control, and easy handlebar flips to throw the Sno Pro on edge, were fantastically improved by the early-release 2018 Sno Pro.
For season-2018, the 2018 Mountain Cat was our Mountain Snowmobile of the Year, and our King of the Mountain in our deep-powder shootout.
The 2019 Arctic Cat Alpha One Mountain Cat, with its single-beam Alpha rear suspension, its reduced vehicle weight, reduced track inertia, reduced track resistance, and reduced track rotating mass, all dialed into the Ascender chassis (a chassis well proven from 2018), just may be the most-balanced and easiest-to-ride mountain snowmobile to date. It takes little driver energy (input) into the Alpha to become a highly aggressive driver– in a controlled manner.
We often hear we need balance in our lives. The Alpha One is such an example.