2019 Arctic Cat Norseman X 8000 Review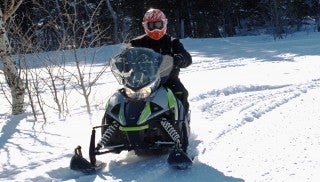 The 2019 Arctic Cat Norseman X 8000 is a powerful option with emphasis on utility in the sport-ute equation.
Fast Facts
Engine Type:Horizontal In-line
Cylinders:2
Engine Stroke:2-Stroke
Valve Configuration:Reed Valve
Displacement:794 / 48.4
Starter:Electric
Turbocharged:No
View Full Spec
In the ongoing battle for dominance between northern Minnesota's snowmobiling titans, Arctic Cat counters Polaris' 2018 introduction of the 800cc Titan with a more powerful Norseman for 2019, the Norseman X 8000. Both the Cat and Polaris are designed to combat unfriendly snow terrain in the boldest of the bold north's outreaches.
The new 2019 Arctic Cat Norseman X relies on its Norseman 6000 roots, which were introduced last season. The big difference comes under the hood in the form of Cat's own 800cc C-TECH2, which adds about 40 more horsepower to the go-anywhere "X." Other dimensions and suspension details remain consistent with the first year Norseman.
Arctic Cat's engineered and manufactured 800 has proven popular with Cat fanciers, as the company's new two-stroke engine delivers quicker throttle response and improved acceleration versus the previous Suzuki-built 800. Cat also claims the C-TEC2 offers up to a 30% reduction in oil consumption below 7000 rpm, a 36% increase in low-end torque and an 18% increase in midrange torque. Built at Arctic Cat's St. Cloud, Minnesota facility, company spokesmen state the 8000-series C-TEC2 features "a rare combination of increased power, reduced emissions and ultra-low oil consumption, the overall crispness sets new standards for performance and rideability in the 160-HP class."
To get that performance to the 2019 Arctic Cat Norseman X's 153-inch long track is left to an Arctic Drive System that features Cat's latest CVT drive and driven clutches. The engineering emphasis here was for a combination of smooth shifting for optimal performance that results in maximum durability, improved serviceability and reduced weight.
One key accomplishment is the CVT's auto-adjusting belt tension design that was made possible through the use of a roller bearing on the shaft. Auto adjustment means this drive clutch delivers consistent performance without need for manual adjustments.
Overall drive system benefits also include a claimed 12.5% lower effective starting ratio that also maintains the top ratio. This strived for smoother engagement produces more evenly distributed force for lower belt pressure to ensure reduced belt wear at drive-away speed. This drive design is unique to Arctic Cat.
If doing a straight up comparison to the Polaris Titan, you'd note the 2019 Arctic Cat Norseman X lacks a gearbox. The Polaris Alpha gearbox with high/low/reverse ranges was added to provide grunt for serious backcountry hauling capability. We were a bit surprised to see Cat not go with its three-speed high/low/super low gearbox it uses in the Bearcat models. This is a key difference between the two Minnesota snowmobile heavy haulers.
Having spent time with both the Titan and the Norseman X, we view them both as surprisingly potent under full throttle acceleration and quite nimble on groomed trail. We would cast the Titan as more backcountry friendly, as it puts down a larger footprint. While both have similar length tracks (Titan – 154 inches versus Norseman X – 153 inches), the width differs as Cat goes with a narrower and more common 15-inch width. The Polaris specifies a five-inch greater 20-inch width. The Cat's Camso PowerClaw track present a more aggressive 2.25-inch lug profile contrasting the Titan's Ripsaw track with 1.375-inch lug height. Here Cat brings its mountain sled experience of deep powder tracks, mountain-style seat and raised handlebar with grab strap into the "sport utility" realm for the 2019 Arctic Cat Norseman X.
When you compare the specifications of these two super sport utes, you'll find them quite similar overall. It came as a surprise to us that the Titan measured three inches shorter; not the titan we expected. Still, width and height are comparable, even with the mid-height windscreen on the Norseman X.
As for front suspensions, the Norseman carries on with Cat's well-regarded tall spindle design with IFP 1.5 shocks controlling 9.5 inches of total travel. The Polaris has its own AXYS-based A-arm design for 9.3 inches of travel.
The rear suspensions take into account the need to reverse over obstacles and add their own takes on articulated suspension designs with the Polaris providing three more inches of travel at 16.5 inches. In its unlocked position Cat's XTRA-ACTION articulating system allows the rear of the suspension to move up and down making the sled more maneuverable for riding across rough terrain. But for backing up to connect to a tow sled or maneuvering over an obstacle, you'll go to the unlocked position that allows the rear of the frame to lever up, rather than dig into the snow. For maximum traction, you can lock the skid rail as a straight-rail suspension that puts the most track on the snow.
Although we didn't find the 2019 Arctic Cat Norseman X as much fun to ride as the Titan, it certainly serves the needs of back country and far north riders who will use it more for work than sport, The Norseman plays into the "ute" side of sport utility. For that purpose, check out its credentials: strong yet lightweight aluminum constructed rear rack; rear storage bag for easy underseat access; wide but hour glass tapered ProUte skis for great float in powder and tipped ends to prevent trenching into crust when backing away from trouble; and narrowed Next Gen body panels for style and easy-access to underhood components.
The Norseman X adds a powerful dimension versus the 2018 Norseman 6000, namely a substantive bump in power and overall performance. With the lowered overall gearing of the Norseman X you'll find the powertrain revs up to speed smartly as it gets power down to that 153-inch track very quickly.
Designed more for off trail than groomed trail needs, the 2019 Arctic Cat Norseman X rider will enjoy the flexibility of the shorter and taller mountain-style seat that allows quick moves from side to side to wrangle this long 132-inch sled through a forested hillside. That's where the narrower 15-inch track width becomes an advantage over the 20-inch width of a Polaris Titan. Each of these Minnesota-bred sleds have their strengths, it will be up to the you the buyer to decide which sled works better for you. For model year 2019, Arctic Cat's Norseman X 8000 is a powerful alternative to the Polaris Titan.