2017 Polaris 800 RMK Assault Review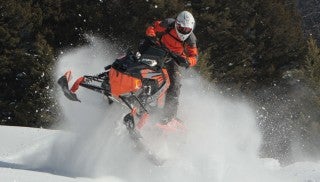 Assaulting a mountain makes one a Rocky Mountain King
The 2017 Polaris 800 RMK Assault is a lot of things. First, it is gorgeous. Second, it is nasty looking. Third, it is a full functioning, mountain-brawling, tough sled that is all AXYS RMK and then some.
Fast Facts
Engine: 795cc Polaris Cleanfire
Power: 160+ hp
Weight: 427 lbs
MSRP: $13,799
View Full Spec
Over the past dozen years or so, as we ride the best deep-powder crossover snowmobiles, like Polaris' AXYS Switchback Assault or Arctic Cat's XF 8000 High Country, we also find ourselves equally elated with the OEM's exclusive hillclimbers, like Arctic Cat's HCR 8000 and Ski-Doo's Freeride. The 2017 AXYS RMK Assault is one steep-n-deep crusher that pulls us in like a mallard heading to a duck call.
In Polaris' media push, this is what the company states about the RMK Assault: "The Backcountry Original. Tough-As-Nails for Extreme Conditions."
Polaris' 2017 RMK Assault is in its second year on the AXYS RMK chassis which, as one year on the snow tells us, the AXYS RMK chassis is light, strong and a chassis with excellent lift when it comes to charging out from deep powder holes and when assaulting the nearest mountain. "Lift" in Polaris-speak is the AXYS chassis' ability to launch – move forward – in deep snow with minimal underside drag while maintaining proper weight transfer, and staying high atop the snow without compromising handling and control. As Polaris states, "The AXYS RMK features a patented, raised chassis that increases clearance and reduces drag to keep you on top of the snow."
To understand the RMK Assault is to understand its single purpose: be a hammer. The RMK Assault sees mountain, powder, drops, cornices and race courses as nails. Hammer moguls, hammer air on a long flight, hammer the messiest ravines, and hammer your sled pal when she or he is too weak to follow. It is the hammer of all hammers.
Now it's time to lift off the side panels and led to our tech speak.
Motor is High Output
Inside the AXYS RMK Assault belly is the CleanFire 800 High Output (H.O.) two-stroke twin-cylinder engine with an actual displacement of 795cc from a bore and stroke of 85mm and 70mm. This electronic fuel-injected (EFI) motor is an integral key in giving the RMK Assault its superb power-to-weight ratio. With that, best to know the RMK Assault has an estimated dry weight of 425 pounds, track and shock choices vary this.
This is why the RMK Assault is so good in competitive hillclimb circuits and in the backcountry. To be king in the Rocky Mountains, a snowmobile must have three salient features: 1) two-stroke power, 2) lightweight chassis, and 3) a rigid chassis. RMK Assault – check, check and check.
With ample horsepower and the lightweight AXYS chassis, the 800 H.O. delivers quick throttle response. The motor has three-stage electronically-controlled exhaust valves, and an electronic oil pump, which takes drag off the motor. The H.O. breathes air in through VForce Reed intake valves. Also of note, the 800 motor has a lightweight crankshaft, which Polaris spent much time developing and which helps greatly at achieving a rapid spool up when the throttle is squeezed.
Lightweight means controlling and reducing as much rotating mass as possible. A lightweight crankshaft means fast.
Rubber on the Snow
Several track options are available for the RMK Assault – three to be exact. First is the single-ply Peak which has 2.25-inch tall paddles. Not tall, but suited for marginally deep snow and some hillclimb competitions; this track really makes the RMK Assault more crossover-like, one step ahead the 800 AXYS Switchback Assault. This track takes ice or speed screws quite well. Second is the Series-6 2.6-inch paddle track, which, as Polaris states, is the best all-purpose mountain track. Third, which was available for early Snow Check customers, is the Series-7 which has 3.0-inch paddles. This track is tall and best for crazy deep powder. After spending last season on a Series-6 and Series-7, we believe the Series-6 to be the best track and agree with Polaris, it "is the best all-purpose mountain track."
The 165-plus horsepower motor has more than enough power to spin the short lug 2.25-inch Peak or the new Series-6 2.6-inch powder track – which replaces the Series-5 2.4-inch paddle track. Furthermore, the motor will easily churn the Series-7 3.0-inch paddle track. Remember, the RMK Assault comes only in a 155 – shorter or longer lengths are not available.
The H.O. 800 motor is mated to Polaris' P-85 drive clutch and a TEAM LWT driven clutch. These clutches are Polaris' traditional clutches for this model and have proven reliable for mountain action.
Absent from the RMK Assault is the Low-Inertia Quick Drive belt drive system. The Assault, per racer input, uses a chaincase; professional hillclimbers want the ultra-toughness a chaincase delivers. Big-drop and long-flight boondockers that equip their Assault with a turbocharger also demand a chaincase. This is shared tech with the AXYS SKS, and on the big deep killer, the 174 LE.
Nose and Tail
The AXYS RMK Assault has the same raised front as the AXYS Pro-RMK, but does not rely on Pro's forged aluminum A-arms. The RMK Assault uses the A-arms from the 2015 RMK Assault; racers demand these for their brutal strength. These are slightly heavier than the Pro-RMK's A-arms.
Ski stance for the RMK Assault is an adjustable 41.5 to 42.5 to 43.5 inches. It uses Walker Evans Needle Shocks and the reliable Gripper ski. The RMK Assault, unlike the Pro RMK does not have a sway bar. With a wider ski stance, the Assault compensates for the width by dropping the sway bar. This too is a racer's demand. We recommend the 41.5-inch ski stance, which is similar to the Pro-RMK's narrowest. Front suspension travel is 10 inches.
Under the tunnel is the light and rigid RMK Coil-Over rear suspension that rides, at the rear track, with Walker Evans Needle Shocks. Rear travel is 16 inches. The rigid rear skid is designed and built to control pitch and improve weight transfer. Polaris claims "the rigid suspension delivers power directly to the snow."
The RMK Assault's slide/hyfax rail helps lift the rear skid while driving the chassis forward. The rails are part of the Assault's strength where material is needed and minimized where not. Through much computer-aided design and strength analysis, and from about four years of in-the-field engineering and testing, the rails came to be and have proven the engineer's and computer's work.
To Be Narrow
Polaris believes all its RMK and SKS sleds are meant to run through narrow-spaced trees and be smartly-balanced on their sides when ripping across a hillside.
Polaris' AXYS RMK/SKS engineers designed the side panels to be close to the motor to minimize "paneling out;" which is when the side panels prevent the track from locking into a hillside. Given that, the RMK Assault's side panels are flush with the Powder Trac runningboards and are inside the skis' outer edge. With the raised platform and narrowed-in side profile, the RMK Assault is dirt bike skinny.
The Best Stuff
The RMK Assault comes with Polaris' Powder Trac runningboards, Pro Lite seat, Pro Taper handlebars and new "Interactive Digital Display" instrument pod that feature GPS mapping and Bluetooth mating. Early Snow Check buyers could opt-in bounteous color, the Interactive Display and storage bag options.
The ProTaper bar comes with a lower center mountain strap – much appreciated – that is out of the way. Current boondockers do not use the mountain strap much, so minimizing its height is valued. Also, the ProTaper bars are narrower by a half-inch on each side and come in three different heights. Snow Check buyers could choose their height – low, medium or high.
King-Made Assaulting
From the cockpit, the motor's throttle lever is easy to press and does not fatigue the right hand thumb. The motor breathes well at high-altitudes. In the conditions we rode in – much hardpacked hero snow – the RMK Assault with Series-6 2.6-inch track, was delightsome. When marginal deep-powder was found in the shadows and in a tree-infested ravine with wicked slopes, the RMK Assault proved itself a playful critter. But, its mean streak is ever present; it likes to hit. With its Walker Evans shocks and properly-set chaincase gear ratio, the RMK Assault is mixed martial arts savvy.
Here is what we talked about mostly. The RMK Assault set in a 42.5-inch stance (remember, no sway bar on this RMK) and the lowest built ProTaper handlebar is crazy fun. Depending on track type, the 155 RMK Assault is 427 pounds (dry weight), which makes it much, much lighter than its competitor Arctic Cat HCR M8000 153 and Ski-Doo Freeride 154. With its H.O. motor, locked-down AXYS RMK chassis and RMK Coil Over rear suspension, the RMK Assault has no warts or blemishes.
In our tests late February and early March, the RMK Assault did not panel out. We had fairly good powder on our test day, and the RMK Assault managed its weight transfer and hill ascents. We can confidently state, we believe in the "instantaneous lift." One may assume the RMK Assault on hardpack snow, with its "lift" concept, would tailwalk up a hill. Nope. It defies this and maintains a flat presence up a hill. But, owners can manipulate this through rear suspension shock pressure and limiter strap length.
For the Snow Check buyers, they had the benefit of choosing color, bar height, windshield color, standard or Interactive instrument pod, graphics, and storage options, and build your dream RMK Assault. For buyers who wait until the Fall harvest is done, and the money (or lack thereof) is counted, then in-season RMK Assaults come mechanically equipped as the spring-buy Snow Check special, minus the optional painted tunnel, bar height choice, optional Series-7 3.0-inch paddle track, storage bags, Interactive Display instrument pod and various hood colors. Regardless, it is an RMK Assault nonetheless; nasty and sexy looking and all lightweight brawn.
Yes, the RMK Assault is a deep powder player that is also a monster hill killer. On the trail, it is precise.
2017 Polaris 800 RMK Assault 155 Specs
| | |
| --- | --- |
| Engine | Polaris Cleanfire two-stroke high-performance 795cc; bore/stroke of 85mm/70mm; two-cylinder, liquid-cooled; Cleanfire electronic fuel injection system; dry sump lubrication |
| Horsepower | 160+ |
| Drive | Polaris Chaincase with Polaris P85 driver and TEAM LWT driven |
| Front Suspension | AXYS RMK adjustable A-arm; Walker Evans shocks; up to 10-in of travel; Gripper skis |
| Rear Suspension | Polaris AXYS RMK parallel slide rail; Walker Evans gas piggyback shock; up to 16-inches of travel |
| Length | 131.0 in |
| Height | 49.125 in |
| Width | 46.5 in |
| Ski Stance | Adjustable 41.5-42.5-43.5 in |
| Track | 15 x 155 x 2.25 Peak |
| Weight | 427 lbs (claimed) |
| Brake | Polaris AXYS RMK LWT hydraulic disc brake |
| Features | STANDARD: High rise Pro Taper handlebar; electronic reverse; Pro Lite seat; digital gauges OPTIONAL: storage bags, windshields electric start |
| Fuel Capacity | 11.5 US Gal |
| MSRP | US$13,799 |