1971 Ski-Doo TNT 775: Vintage Nostalgia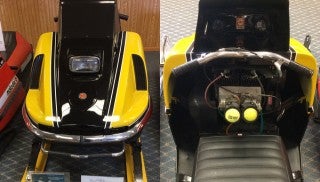 How Ski-Doo went big in the 1970s
In today's world of snowmobile performance, a 125 hp sled qualifies as a "starter" model. A displacement of 775cc earns minimal attention as Arctic Cat features a 700cc four-stroke twin under the hood of its "value" entry, the ZR 3000. But in the early 1970s, performance riders drooled over Ski-Doo's TNT 775, a high-performance trail sled based on winning Ski-Doo racers piloted by the likes of Yvon Duhamel.
By 2017 standards the 1971 Ski-Doo TNT 775 would equate to the 2018 Ski-Doo TNT 850 E-TEC. Like the modern Ski-Doo, the ancient one featured a newish chassis and a big bore two-stroke Rotax twin. But with the advent of professional Sno Pro "formula" racing that limited the biggest of three displacement class of sleds to 440cc, the big bore racers with 750s and 800s slowly disappeared. Officially sanctioned "money" racing settled on three classes, a 250cc, 340cc and 440cc as the heart of the new factory-supported Sno Pro series. It was an attempt to bring structure to racing that would attract strong independent teams that could compete with the factories. Of course, that only rarely reflected reality. The factory advantages of technology, money and securing the best riders remained.
Because winning meant sales, sometimes bumps up to 50 percent according to rumors of the day, the main factories such as Ski-Doo spent equivalent sums on their racing team to keep up their race portfolio. Ski-Doo was said to have a racing budget of more than one million dollars in the late 1960s and early 1970s. But, consider that sled sales were expected to rise to more than 500,000 units back then. Long term, with or without racing teams, the snowmobile manufacturers never saw such sales. An oil embargo that generated long lines for gasoline and a tanking economy caused many of the smaller and weaker sled makers to abandon the business entirely and hurt those that stayed in.
Still, serious snowmobilers wanted the power and sleds that the racers rode. Enter race-bred models designed for the trails. Among them was the 1971 Ski-Doo TNT 775. It and its competition featured a big displacement two-stroke and, by 2017 standards, a moderate power output between 50 and 75 horses. Ski-Doo settled on a 775cc axial fan-cooled twin built by Rotax, its in-house engine maker. Arctic Cat offered both a 760cc JLO twin and a 793cc Hirth triple as power for its track or trail performance Panthers. Polaris likewise featured a big bore Hirth plus a 793cc Fuji/Polaris. At that time, Yamaha's big gun SS396 competed with 36 horsepower from a 396cc twin, but weighed in nearly 200 pounds lighter than some competitors. Even then Yamaha focused on power-to-weight, only now that power measures more than 200 hp!
Sleds like the aptly named TNT (for track "n trail) performed well in straight line running. Cornering a TNT 775 at speed proved challenging. Its chassis was old school even by the times. The engine sat on the tunnel right in front of the driver where its twin Tillotson carbs could suck in a rider's jacket, causing a quick slow down for the unsuspecting. To further unbalance the sled, the fuel tank was ahead of the engine, out on the nose. Even with the wide chassis and its 18-inch track, the sled needed serious effort to push through tight turns. The front suspension of multi-layer leaf springs supporting narrow steel skis couldn't hold the sled in a tight line. Center of gravity, high roll rates and narrow ski stance all worked against competent handling back in those days. But it looked exciting as it offered riders a great workout as they needed to swing off the saddle and out over the inside ski to achieve any sense of handling grip.
By the 1971 Ski-Doo TNT 775, the Quebec-based company began readying a successor, the 1974 TNT Everest. It would highlight Ski-Doo's manufacture of one million snowmobiles since the original wooden skied one back in 1959. That new TNT followed Arctic Cat precepts of engine off the tunnel and mounted forward. Like the 775, the new Everest featured a wide-ish track, but only 16 inches and not the 775's 18-inch width. The largest engine option was a 440 and handling, ride and flotation proved remarkably improved.
Still, though, for Ski-Doo performance riders the 1971 Ski-Doo TNT 775 was king. It had muscle at low end, could compete well with its competition in impromptu side-by-side lake drag races, and it had styling that set it apart and with its bright yellow with black trim immediately identified its rider as a serious snowmobiler.
If you compare it, timewise, with the modern intentions of the 2018 Ski-Doo TNT 850, there are notable similarities — believe it or not. This sled defined Ski-Doo performance. It defined the wants of serious riders in that it had a big, brutish Rotax twin on a race-winning chassis. Flash forward to the GEN4 TNT 850. It enjoys a strong 850cc two-stroke twin developed by Rotax that sits on a specially engineered REV chassis. The sled's main purpose is performance. It may do it with more sophistication than a 1971 TNT 775, but both sleds define Ski-Doo's version of on-trail performance for their times.
If you look at how you can ride the new TNT 850s, you quickly recognize that Ski-Doo engineering played to the same rider inputs that got the TNT 775 around the corners. The TNT 850 lets you slip "slideways" on the saddle and set up to put weight over the inside ski. The 2018 TNT 850 embraces that rider input needed on the old 775. Of course, the TNT 850 will take corners neatly without the effort that was mandatory on the 1971 TNT. But, still you can party on the 2018 like it is 1971 – if you want.
Power-wise, there is no comparison. The 850's throttle pull is light and response lightning quick. You need strong hands and thumb to move the throttle flipper and you might encounter a burble on the way to top end. The power delivery and back shifting can't be compared as modern drive clutching has vastly improved since back in those days.
Comfort? Virtually none in 1971. Today's rMotion and RAS3 suspensions with modern shocks couldn't have been imagined in 1971. Yes, at a claimed 474 pounds the 2018 TNT 850 weighs more, but not all that much greater if old specifications of 450-plus pounds are accurate. Remember, where the new breed of performance sleds utilizes lots of aluminum and lightweight materials, sleds from the 1970s used steel construction, fiberglass bodywork and thick rubber ply tracks and such. Hey, with a 775cc twin, who worried about weight savings?
Sorry, vintage sled folks, while the 1971 Ski-Doo TNT 775 may have been a stout trail ripper in the day, a modern 2018 Ski-Doo TNT 850 E-TEC is vastly superior in all ways. The 1971 TNT 775 was perfect where we found it – on display at the World Snowmobile Headquarters in Eagle River, Wisconsin (http://www.worldsnowmobilehq.com). We'll ride the trails with a modern TNT 850.