2019 Ski-Doo 600 Summit SP 146 and 154 Review + Video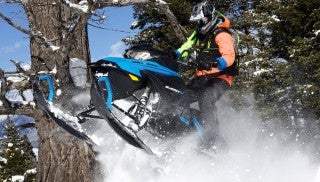 Outside of the engine, the 2019 Ski-Doo 600 Summit SP is identical in every way to its big brothers. This mountain snowmobile is just plain fun.
Fast Facts
MSRP - US$11,149
Engine - 599.4cc twin
Horsepower - 125 hp
Track - 16 x 146 x 2.5 Powderax II
View Full Spec
"At first I was guilty of limiting my exposure knowing I was on a 600. However, I quickly gained confidence in the 2019 600 Summit SP, and pushed harder with no disappointments…." – Sr. Mountain Test Rider, Kevin Allred
For this upcoming season, Ski-Doo reminds us mountain whackers, a 600 may be all the mountain snowmobile we need to bludgeon a hillside. Ski-Doo may be declaring, its new 600 may be the new "800" as displacements stretch beyond 800cc. Ski-Doo's new 600 motor in the G4 Summit chassis is a motor whose attitude is bigger and brawnier that its actual size. This new 600 motor from Ski-Doo is built with the same technology – sparing none – as Ski-Doo's 850. One can honestly say it is a baby 850.
Are you confident enough in your womanhood or manhood to ride a 600 mountain snowmobile? What if that mountain-snowmobile can muscle its way through the steep-and-deep like a 750 (if there were a 750)? The 2019 600cc G4 Summit SP, in either 146- and 154-lengths, may be the surprise muscle snowmobile of the year.
Recanting events from Snowshoot 2019 (for model year 2019 snowmobiles) February 2018, we eagerly awaited our time to flog the mountains around West Yellowstone on Arctic Cat's 2019 Alpha One Mountain Cat and Polaris' 2019 850 Pro-RMK. At this time, we were itching too, to take a 2019 G4 Summit X 165 and set it to brawl with the Alpha and the Patriot Pro-RMK. Little did we know as we hopped the backcountry on these sleds, with our little 2019 Ski-Doo 600 Summit SP tagging along like the little brother who did not want to be left home as big brother and his pals went to play some "Sandlot" baseball, became the what-just-happened-here home run slugger.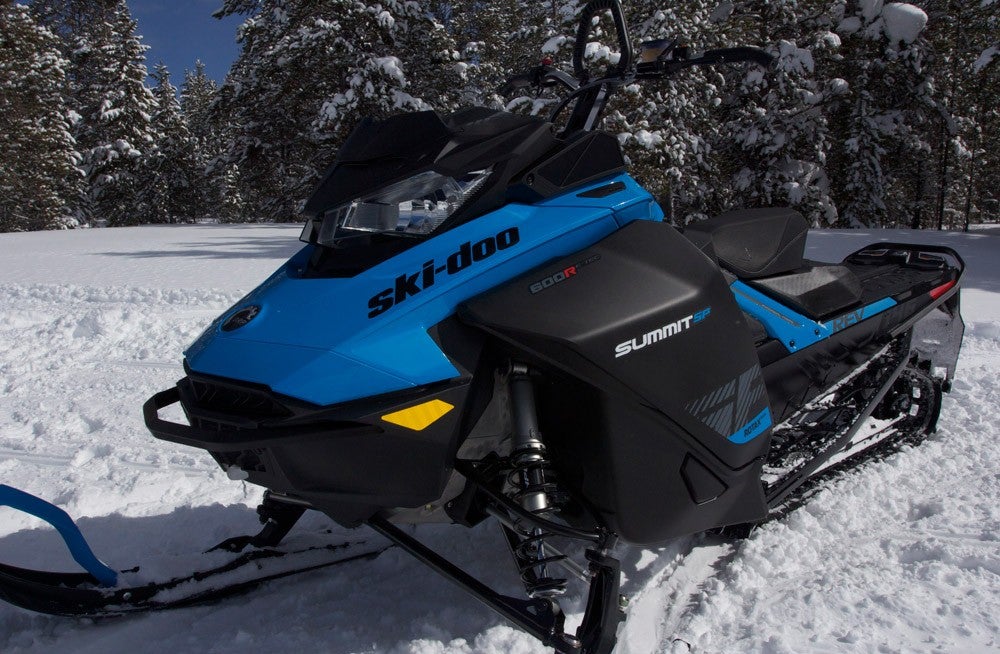 Now don't misread what we're writing; these two 850s (Summit and Pro-RMK) and 800 (Alpha One), were bladder-emptying fun. But Ski-Doo's new 600-powered G4 Summit SP was the warm up band that made the main attraction's performance "as expected." (Yes, we're using another simile to explain its awesomeness.)
We were waiting. First came the G4 Summit X and SP 850 in 2017. Then for 2018, Ski-Doo launched the G4 850 in the Freeride configuration (nice move) and the 175 (another nice move). But as we attended Ski-Doo's sneak peek venues, we asked, "Will there be a 600 G4 Summit based on the 850; maybe a 650." The answer was the same, "Maybe." "We're looking into it." "We have to do more research to verify if the sales numbers are there." "If we do build a G4 600 Summit, we don't want it to be just a 'rental sled.'"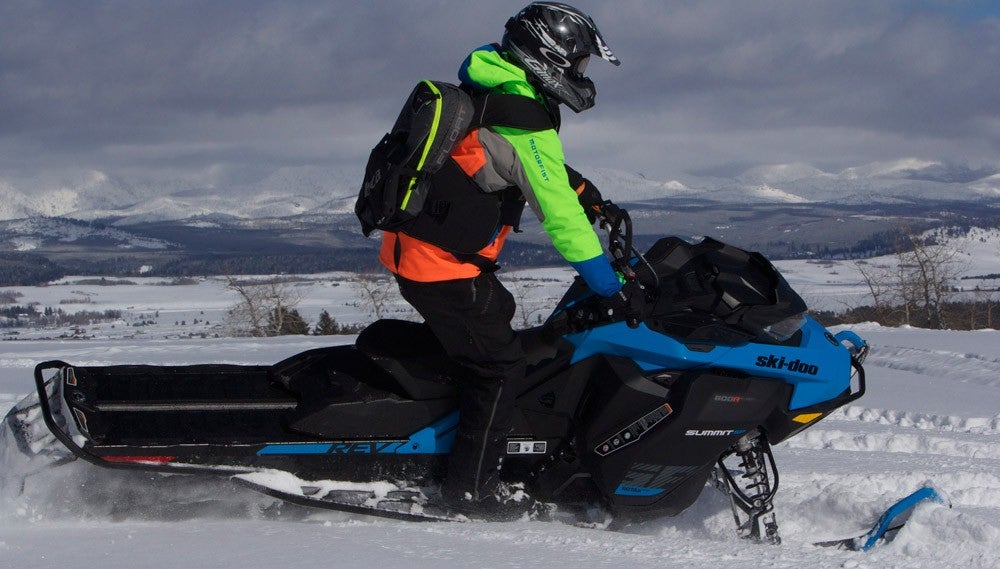 All these above written answers are corporate speak for: "Yup." "One major chassis- and motor-upscale at a time; I swear, you journalists." "Don't give yourself a wedgie peeking over the wall, it'll happen."
It happened and no wedgie.
To build an additional base to this story, the 600 2019 Ski-Doo 600 Summit SP 146 and 154 are identical in every aspect to the 850 Summit SP of same length; an 850 SP with a three-inch PowderMax Lite paddle track. When we say it's a baby 850 SP, we mean it. In tandem, the liquid cooled twin-cylinder two-stroke E-TEC direct injection 600 motor is identical to the E-TEC direct injection 850, except for bore and stroke and no intake booster injectors (which we wish it had). Like the 850, its exhaust valves are eRAVE. Repeat: When we say it's a baby 850, we mean it.
The 600's bore is 72.3 mm and its stroke is 73 mm. It's almost a square motor; displacement is 599.40 cc. Peak RPM is 8100, 200 more RPM than the 850 (7900 RPM). Ski-Doo claims the new 600 has a 30% improvement in throttle response over its previous 600. Horsepower is 125 as observed from a dynometer in optimum conditions.
When ordering a 600 SP, several track choices are available, PowderMax II with FlexEdge technology or the PowderMax Lite with FlexEdge technology. For the PowderMax Lite, lug height can be either 2.5 inches or 3.0 inches. We highly recommend the PowderMax Lite track with three-inch lugs. This little rock-and-roll star can spin the 16-inch wide tall-lug track with no faint. We learned this for ourselves in wonderful deep pow pow.
If ordering a 2019 Ski-Doo 600 Summit SP on Ski-Doo's Spring Buy program, we recommend too, ordering it with SHOT (Start Hot); you'll not regret this at all.
Ski-stance is an adjustable 35.8 inches or 37.4 inches. Drive sprocket for the 146 is an eight-tooth driver, whereas the 154 is a six-tooth driver. The drive clutch is the pDrive with clickers, and the driven clutch is the QRS.
The 600's front suspension is RAS 3 with HPG shocks. The rear suspension is tMotion with HPG shocks set at the front and rear. Rear suspension travel is 9.4-inches, with the front suspension's stroke being a tad bit shallower at 8.5 inches. These HPG shocks with coilover springs are fantastic; these shocks provide sufficient bump soak and keep the front suspension mashed into a hillside when making a run.
Let's call in our test riders and deliver to you their thoughts on the 2019 Ski-Doo 600 Summit SP, beginning with Brent Burton: "The word I use to describe the new 600 R E-TEC is 'surprising;' it is surprisingly responsive and powerful.  Like its 850 sibling, the motor is smooth and has a great deal of torque on the bottom end.  I'm really not sure if you were blindfolded you could easily tell the difference between the two – the 600 and 850.
"Ski-Doo's specification sheet indicates the 600 has 125 horsepower, but comparing it to the 125 horsepower 700 cc sleds of a decade or two ago, this new 600 performs at a much higher level."
"The 600 powerplant nestled in the G-4 chassis makes a very fun combination. The sled we rode had the 146-inch track that performed very well, and would likely do the trick in most riding conditions short of the deepest powder and longest climbs. Overall, a very fun sled to own for those looking for a bit of economy and the traditional reliability of a 600 cc sled. "
Next is Sr. Mountain Test Rider, Kevin Allred: "West Yellowstone Snow Shoot 2019, had no shortage of new stuff to grab hold of. One product that really caught my attention was the new 600cc power from Rotax. This lil' screamer is based on the 850 E-TEC introduced two years ago, where most all its notable technology found itself on a smaller package.
"During the winter, in our test fleet we generally have 600 mixed in with the bread and butter 800s/850s. I find it interesting our 600s (when we have one), is always is high demand. I can't speak for our all our test riders, but of me it's simple, I have a blast on a 600.
"Yes, a 600 is not an 800/850 and at times, on long steep pulls, you'll miss some horsepower, but for everything else, a 600 is just plain fun.
"I've mentioned in the past, when I ride a 600, I try a little harder, ride a little smarter, and am well-rewarded as I hang in there with the 800/850 sleds. With that being said, on paper you can read the difference in horsepower between the 600 Rotax and the 850 Rotax, but out on the snow, and from a seat-of-the pants feel, it's hard to tell; wow what a fun snowmobile the 600 Summit SP is; it accomplished every task I threw at it."
"At first I was guilty of limiting my exposure knowing I was on a 600. However, I quickly gained confidence in the 2019 600 Summit SP, and pushed harder with no disappointments; again, what a fun snowmobile.
"I conclude by saying, many mountain riders will find they'll be just fine on 600cc snowmobile, and this 600 Ski-Doo Summit will be one you all should take a long and strong look at."
In closing, the 2019 600 Ski-Doo Summit SP is not just moms, the beginners, the young sons or the wife's mountain snowmobile; though it surely could be. But, it is a mountain snowmobile that is worthy, in every aspect, as being "the" mountain sled for any seasoned deep-powder veteran.
This winter, if you see an all-black or an Octane blue and black Summit knocking down a mountain, it may very well be, a heavy metal playing 600.