2020 Ski-Doo Backcountry X-RS 154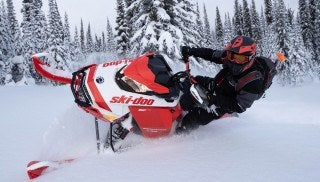 This beast is designed to handle off-trail terrain and intimidating trails
Fast Facts
MSRP: $14,799
Engine: 849cc liquid-cooled two-stroke twin
Power: 165hp
Track: 16x154x2.0" PowderMax
Ski Stance: 40.2"
From the company which arguably wrote the book on snowmobiles comes the 2020 Ski-Doo Backcountry X-RS, offered in 146- and 154-inch track lengths. The new longtrack 'Doo is built to allow people go further into the powder, thanks to a setup that enhances deep snow capability. Its cMotion rear suspension and crossover-style front suspension is touted by the company as a configuration that helps riders push their limits in the powder while still experiencing great on-trail performance.
Bombardier brags this engine is the most powerful two-stroke in the industry, pumping out 10 more horsepower than its predecessor. This means that while you might smell more like an old Skandic than your four-stroke buddies after a long ride, at least you're secure in the knowledge you likely can whip their butts in an ice drag.
Power and Performance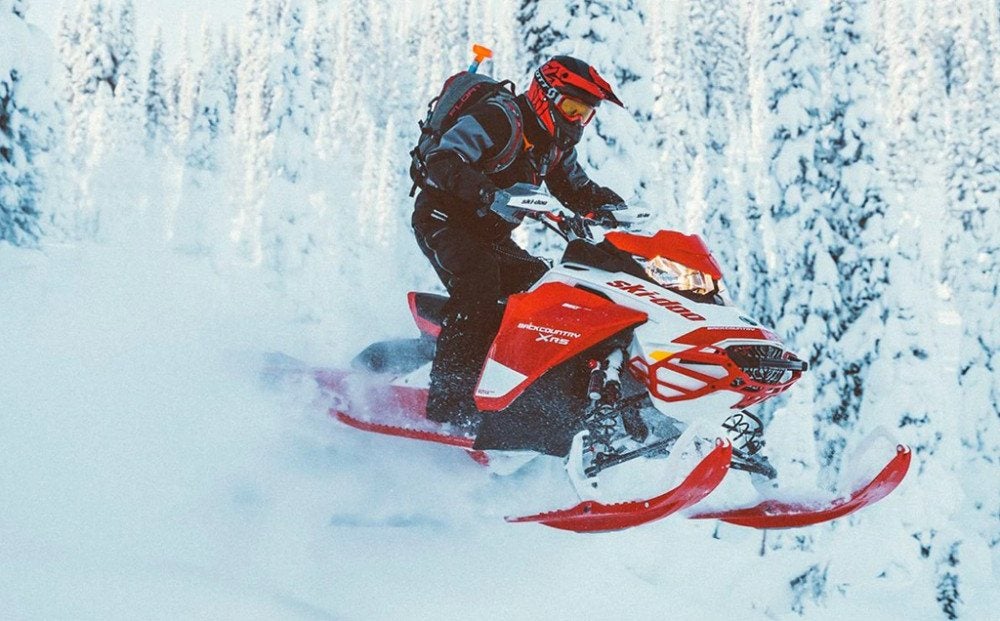 That new Rotax is marketed as an 850, with slightly oversquare pistons and a maximum engine speed of a screaming 7900 rpm. Note that the company recommends 91 octane go juice, so be sure to factor that into the budget when filling its 9.5-gallon tank. Unlike some other manufacturers, Ski-Doo loudly announces its engine power ratings, pegging this thing at 165 horses. The engineering bumf about the clutch makes this author's head spin, but suffice it to say it bites with the force and speed of an irritated crocodile.
The 2020 Ski-Doo Backcountry X-RS utilizes a unique optional way of firing up that Rotax, one which doesn't totally get riders off the hook and ensures they still get an arm work out first thing in the morning. After an initial pull-start, the engine charges an ultracapacitor. Pushing the handlebar SHOT button for subsequent starts uses energy stored in that ultracapacitor to turn the magneto into an electric motor. This rotates the flywheel and, with added Ski-Doo tech, starts the engine. The company claims it saves 20 pounds over a conventional electric start system, but your author can't help but thinking Ski-Doo missed an opportunity by calling it an ultracapacitor instead of a flux capacitor. Great Scott!
Fresh Suspension
Sitting on a REV chassis – which must have been the best spend of R&D at BRP since the invention of skis – the Backcountry's front suspension is of similar geometry and steering to the RAS 3 mountain front end. This helps explain why they market this sled at 50/50 riders. This is also why the 2020 Ski-Doo Backcountry X-RS has two ski positions to help dial in handling: 38.4-inch or 40.2-inch stances.
Several different tracks are available on the Backcountry X-RS, spanning either 146- or 154-inches. The latter is the focus of this post. The longer track is a 16-inch wide unit, offered in PowerMax form with 2- or 2.5-inch lugs. Ski-Doo asserts this 154-incher will fit hardcore 50/50 crossover riders quite well.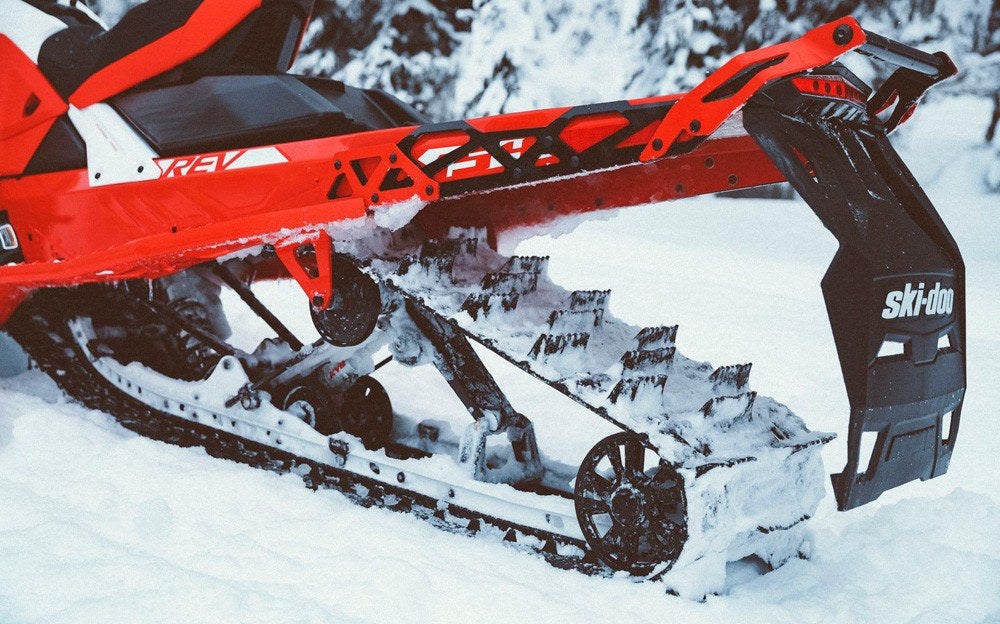 Front shocks are KYB Pro 36 units allowing for 8.7 inches of travel. KYB Pro 40s are installed in mid and rear locations, permitting that cMotion rear suspension a travel distance of 9.4 inches. That should make for good YouTube footage in the deep powder.
Comfort & Style
Offered in two color schemes, plain black or red & white, the 2020 Ski-Doo Backcountry X-RS will look instantly familiar to anyone who's stepped foot in a Ski-Doo showroom in the last few years. This is not to say it is outdated, just that the REV styling, now in its fourth generation, is aging very well. Total length of the longtrack X-RS is 130.4 inches while standing 46.5 inches wide and 48.4 inches tall. Its body work, which Ski-Doo shrewdly calls body armor, is treated with a wrap to resist scratches and trail pinstriping. Dry weight is less than 500 pounds.
The company also gave its gauge cluster a rethink, now installing an all-LCD 7.2-inch unit with a flatter viewing angle . This allows it to be readable while either standing or sitting, a nod to the hope that these machines will be used both on and off the trail. A tach is on the left, temp is on the right, and a speedometer is dead ahead.