2017 Yamaha Apex X-TX 1.75 Review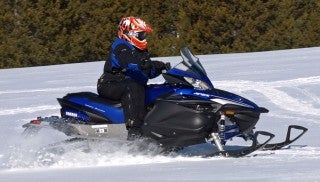 Yamaha's sophisticated and unique Apex isn't for everyone
You're knowledgeable about your coffee beans. You can taste the nuances amongst craft beers. You like your steaks red. You know the differences between Walker Evans and Fox air shocks. For you speed is a plus, but craftsmanship, durability and reliability count as well. You like the unique, but it needs a certain sophistication. You enjoy snowmobiling and want to ride a sled that won't be the same old something that everyone else has. You want a sled that can cover a weekend of quick miles, accelerate powerfully out of a corner, flash high speed snow dust contrails across a long lake and power down for a casual club ride with the family.
You want a Yamaha Apex because you appreciate its four-cylinders as being unique to the sport, but appreciate more its five valve head – three valve intake and two exhaust. You understand that this 998cc gem reflects modern Yamaha engineering and is high grade technology that was born from a top of the line R-1 motorcycle. You know that Yamaha engineers added a gear reduction element to reduce the high revving engine's output to suit its YVXC drive and driven clutch assemblies. This is a sled that sits uniquely in snowmobile history as the first and, to date. the only four-cylinder four-stroke production snowmobile ever produced.
The Genesis four is unique. When you grab the throttle and slam it to the handlebar, it emits a sound unlike anything in the sport. It is a banshee scream that tickles your eardrums, even muffled by a tuque and helmet. When Yamaha added EXUP, its proprietary computer controlled exhaust system, the Apex added more power from idle to full throttle. Like most everything else on this sled, Yamaha uses technology to get peak performance. Its onboard computer systems control the engine's electronic fuel injection intake, its EXUP controlled exhaust output and even its electric power steering. But the discerning Apex rider knows this already.
Of course, we can say all this, but the simple fact remains that the Apex, any version of it, while very technologically advanced, isn't all that new. The 2017 Yamaha Apex X-TX 1.75 model, whether early buy LE or standard in-season version, compares closely to the previous year's model. Yamaha's focus has turned to its Arctic Cat partnered Viper and new turbocharged Sidewinder models. They are the current "new" breed of Yamaha snowmobiles. They're lighter. They bring Arctic Cat handling and suspensions to old and new Yamaha buyers. And they're more popular than the core value Apex.
The Apex series must be about ready to leave the snow scene as its once top of the line 998cc four with 150-plus horsepower has been displaced by a newer 998cc powerplant – a four-stroke three-cylinder turbocharged one that can light up independent dynos with runs of 200-plus horsepower. The new engine sits comfortably in the Arctic Cat chassis, a place that can't accommodate Yamaha's four-cylinder. Unique and sophisticated though it may be, the Apex four is set to be a footnote in sled trivia.
Still, for now, the Apex series remains as the serious sled for very discerning owners who can appreciate the finer and subtler things in their lives. Because the Apex gained a reputation for being heavy over the skis, Yamaha addressed the objection with electronic power steering. This computer controlled system, like the powerplant, is a sophisticated design that lightens steering effort at slow speeds and returns more "normal" steering as speed increases. So, if you are riding sweep on a club ride through a winding forest trail, you get maximum steering power, but once you hit that long lake and ramp up to full throttle you'll go back to regular steering. And, yes, the Apex is heavy over the skis, but with EPS, you won't feel it through your arms and shoulders. EPS makes the Apex a lighter handling sled.
The EPS works the Yamaha-designed Tuner II skis flawlessly and even helps the standard Fox shocks absorb some of the trail shock. The Apex XTX 1.75 comes with KYB shocks, but if you ordered the special early buy LE version, you got Fox Float 3 shocks to control the sleds 8.3 inches of front suspension travel. We figure that since most of the Apex XTX 1.75 features are fundamentally the same between the two versions, the major US$700 cost differential has to be the Fox shocks. These are easily set by Apex LE riders who can switch from one of three levels of ride performance – soft, sport and high-performance.
An extra volume version of the Fox Float 3 shock is used on both of the Apex XTX 1.75 versions' SingleShot 146 rear suspension. This is the latest Yamaha-designed on- and off-trail setup and works with the 146-inch long Backcountry track with the 1.75-inch lug profile. If you want anything else in the Yamaha brand on/off trail high performance category, you have to move up to the turbocharged 180-plus horsepower Sidewinder XTX 141, which is based on Arctic Cat's powder series models. It'll cost you nearly US$1000 more.
What makes the Yamaha Apex appealing other than its sophisticated and nuanced character is its versatility as a smooth riding trail machine with the capabilities to venture off trail. The Apex XTX 1.75 should be at home in the high plains of places like Colorado or the Black Hills of South Dakota. It also will be comfortable in "lake effect" areas such as Michigan, Ontario and upstate New York. But it's not a serious deep snow player. We look at the Apex XTX 1.75 as a trail sled particularly well suited for backwoods fire roads and those end of the weekend trails with pushed out snow and gutted corners.
The Apex comes with an excellent handlebar and good riding position, though we find it a bit too low for our liking. The steering is positive. The exhaust note at idle coming out of the dual end-of-seat pipes resonates enthusiasm. And it just gets better with more throttle input.
The styling has started to look dated, but it still works to combat cold and provide above average onboard comfort. The dials and controls are mounted where you can get to them as needed, without any unnecessary searching. The reverse gear shift can be reluctant if not engaged just as the illustration and owner's manual says.
Overall, the Yamaha Apex series stands apart from the crowd. It has a unique and very sophisticated powertrain that offers a sound unlike anything on the snow. The Apex is not for everyone, but then again not everyone can tell the difference between French roast and Colombian blends. If you are a discerning snowmobiler, check out the Apex by Yamaha.
2017 Yamaha APEX X-TX 1.75 & LE Specs
Engine
Yamaha four-cylinder, four-stroke high-performance 998cc; bore/stroke of 74.0mm/58.0mm; liquid-cooled; Mikuni throttle body electronic fuel injection system; dry sump lubrication
Horsepower
150+
Drive
Yamaha YVXC drive clutch with Yamaha driven; magnesium chaincase and cover
Front Suspension
(XTX 1.75) Yamaha double A-arm with 36 KYB HPG shocks; (XTX 1.75 LE) Fox Float 3 shocks); up to 8.5-in of travel; Tuner II skis
Rear Suspension
Yamaha SingleShot 146 parallel slide rail; aluminum high-pressure Fox Float 3 XV shock; up to 13.8-inches of travel
Length
121.1 in
Height
47.6 in
Width
47.3 in
Ski Stance
42.5 in
Track
(XTX 1.75 and XTX 1.75 LE) 15 x 146 x 1.75 Camoplast Backcountry
Weight
NA
Brake
4-piston hydraulic brake system with ventilated disc
Fuel Capacity
9.2 US Gal
Features
Digital gauge; push button mechanical reverse; electric start; electric power-assist steering; EXUP exhaust; Yamaha Tuner skis; Yamaha performance damper (On XTX 1.75 LE); rear storage in seat; LED taillight; ergonomically curved handlebar
MSRP
US$14,849/C$17,099 (XTX 1.75), US$15,549 / C$17,899 (XTX 1.75 LE)