2020 Yamaha Sidewinder X-TX SE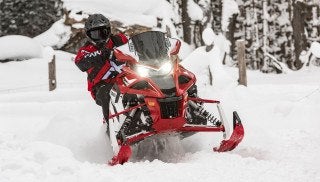 This high-performance snowmobile is a true 50/50 crossover
With more than 50 years of experience, the winter masters at Yamaha know how to make a snowmobile. Yamaha's model range stretches from kiddie sleds to monster mountain climbing machines. Today, we're landing somewhere in the middle with the 2020 Yamaha Sidewinder X-TX SE.
Fast Facts
MSRP: $16,399
Engine: 998cc turbocharged 4-stroke
Track: 15" x 146" x 2.0"
Ski Stance: 40"
Yamaha applies the SE suffix to the snowmobiles it thinks offers riders the best of their performance chops in a value-oriented package. In other words, they're targeted at people looking for a hybrid that allows fun on the trail with the ability to stray left into the bush when they so desire. This year, two Sidewinders and a Viper earn the SE designation, so let's see what one gets for their cash when turbocharging meets creature comforts.
Power and Performance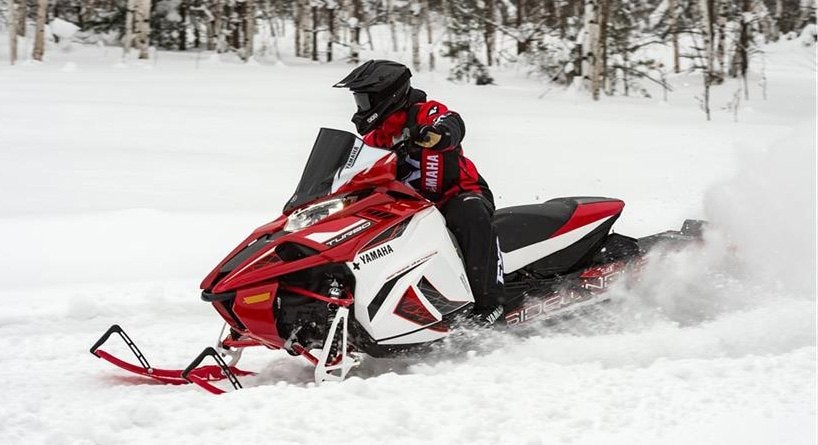 Turbo lag is a fact of life on any boosted engine. No matter what the manufacturer says – be it truck, side-by-side, or snowmobile – the very nature of a turbo lends itself to lag. Yamaha's done a good job mitigating it on this sled by developing an intake system that uses three separate throttle bodies positioned very close to the intake valves. This is in contrast to a single unit feeding long intake tubes. Yamaha claims this setup is not seen in any other production turbo on the planet.
That's a 998cc turbocharged 4-stroke triple underneath the wildly-colored hood of the 2020 Sidewinder X-TX SE, belting out power through its electronic fuel injection and nifty turbo configuration mentioned above. Those in the know peg the thing at roughly 200 horsepower, a psychotic amount of grunt for a sled. Electric start is standard, saving your arms from looking like Popeye after a spinach binge.
Suspension and Track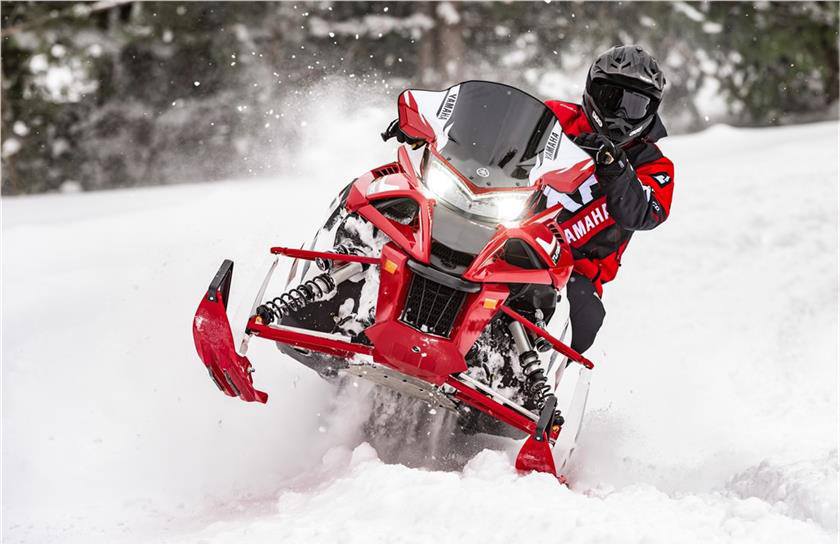 Yamaha says this Sidewinder X-TX SE is all about getting off-trail with its VersAttak 146 rear suspension and 2.0″ Camso track, new for 2020. Those deep lugs allow for a good bit of traction during off-trail play. Spanning 146", the track should give riders plenty of float and lift to keep them going but not so long that one will find themselves struggling to maneuver tight, challenging terrain.
Up front in the 2020 Yamaha Sidewinder X-TX SE, buyers will find a 40″ ski stance held up by wide Yamaha Mountain skis. The tunnel and steering system is based on the SR-M Mountain chassis and finished off with a light weight mountain seat and tapered foot boards. Appended to those skis are a set of Fox Zero QS3 shocks, a setup quickly currying favor across many snowmobile brands. It's easy to understand why – the high-pressure gas, coil spring shock features a piggyback chamber to deliver reduced fading and great control. A trio of easy-to-adjust compression damper settings permit quick and easy ride adjustments.
Comfort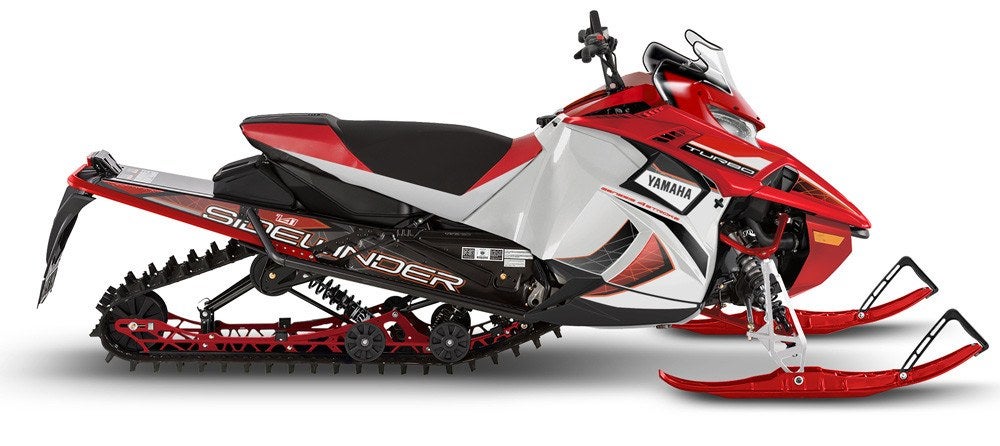 These hybrid machines are built for the rider who wants a single snowmobile capable of having fun off-trail but won't beat them up on the ride back to their truck. In this spirit, hand and thumb warmers are standard, as are an LED headlamp and a voluminous 33.6L fuel tank. A heated seat is available, but only as an accessory. Stock, it's a mountain-style chair with tall and narrow profile.
Handlebar controls on the 2020 Yamaha Sidewinder X-TX SE feature a nifty left hand switch cluster, allowing for on-the-go access to those multi-step hand and thumb warmers. Information available on the multi-function gauge pod ahead of the rider can be selected with a convenient toggle switch. Note well – the push button reverse gear switch is also located in the left hand cluster. On the opposite side of the bar, one will find a clean and ergonomically shaped throttle lever with a simple stand-alone emergency stop switch. An updated brake cylinder equipped with a new composite brake lever is said to provide great modulation for better feel when bringing this beast to a halt.