2020 Yamaha Viper L-TX GT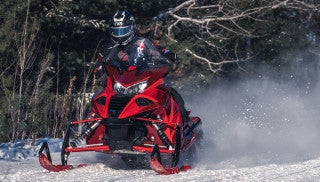 Yamaha's premium, high-mileage, high-performance snowmobile
Fast Facts
MSRP: $14,499
Engine: 1,049cc Triple
Track: 15x137x1.25" Ripsaw II
Ski Stance: 42"
Probably the biggest move for Yamaha and its snowmobile lineup for the 2020 model year was the creation of the GT line. The GT essentially replaces the DX line as Yamaha's premium performance family. The 2020 Yamaha Viper L-TX GT is an ideal example of this.
When you look at the GT line as a whole, you will find premium shocks, top notching handling, all the best creature comforts, good wind protection and more. The Yamaha Viper L-TX GT has all of this in spades and is the manufacturer's high-performance, long-distance, solo-rider snowmobile. It's got gobs of power and ample room to take an overnight bag along for the ride.
Power and Performance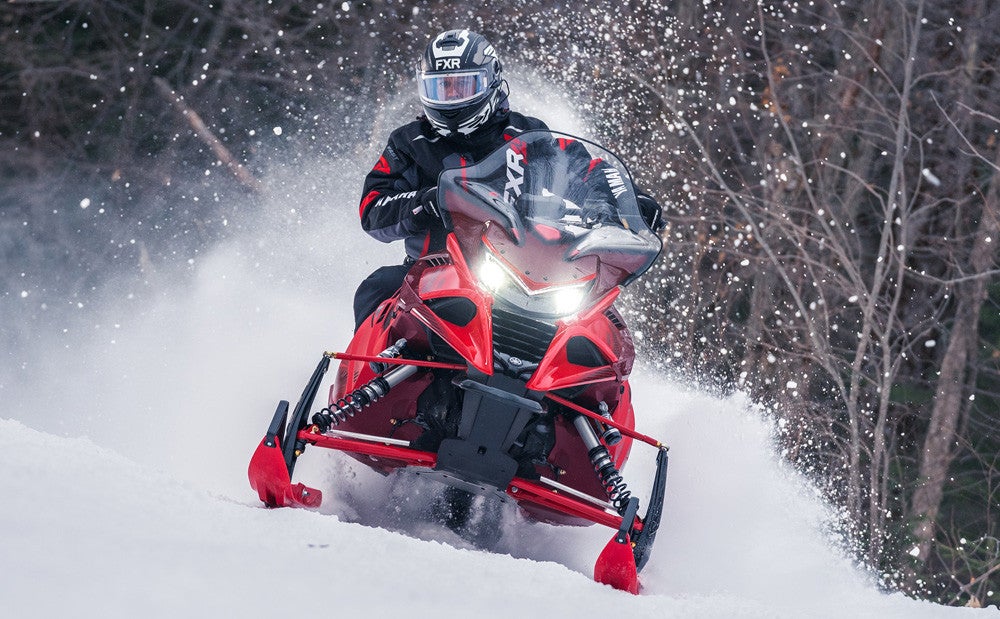 At the heart of the 2020 Yamaha Viper L-TX GT is Yamaha's proven 1,049cc three-cylinder engine, which has been updated with a new electronic control module (ECU) map that is designed to offer a boost in power.
"With a sophisticated closed-loop fuel injection system and 4-valves per cylinder, the 1049cc engine delivers class-leading horsepower, instant throttle response and a thick torque curve that jettisons you from corner to corner in a blink of an eye," says Yamaha. "All with great fuel economy and a reputation for bulletproof durability."
Yamaha uses a forward-facing design on the airbox and engine intake systems to ensure that plenty of clean, cool air is available to feed the engine for optimum power and throttle response.
Yamaha's YVXC driven and driven clutching system is designed to offer smooth engagement, crisp acceleration, and cool operating temperatures to help promote long belt life.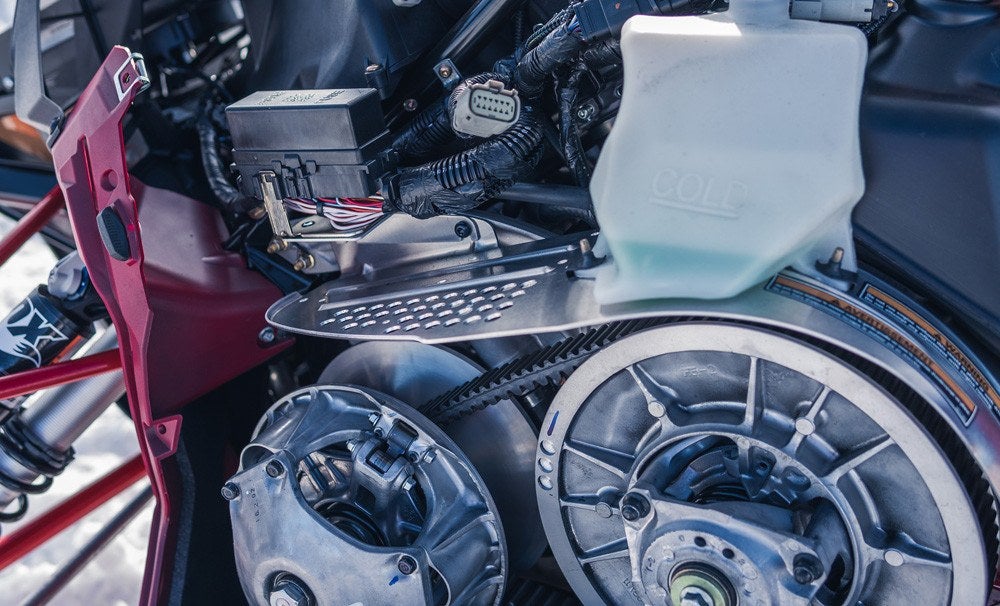 Putting all that power and performance to the ground is a Camso Ripsaw II track that is 15 inches wide, 137 inches long and features 1.25-inch lugs. According to Yamaha, this track "delivers incredible acceleration, braking control, and handling in a wide variety of conditions."
Bringing the sled to a stop is a dual-piston brake caliper, which applies braking force directly to the drive shaft and is mated to a lightweight rotor.
Updated Suspension
The 2020 Yamaha Viper L-TX GT features a revised suspension, thanks in large part to the new ARCS front suspension. This design includes taller, high-strength, forged alloy spindles and redesigned upper A-arms. Fox 1.5 QS3 high-pressure gas, coil over shocks with a piggyback chamber control 10 inches of front suspension travel.
"The geometry is further revised to optimize suspension function while increasing ground clearance," says Yamaha. "This results in greater bite with less chassis roll for more predictable and consistent handling."
Out back is the Dual Shock SR 137 long travel rear suspension, which relies on Fox 2.0 QS3 shocks to control 13.5 inches of travel. This is a coupled suspension design that utilizes what Yamaha calls a sliding front arm mount.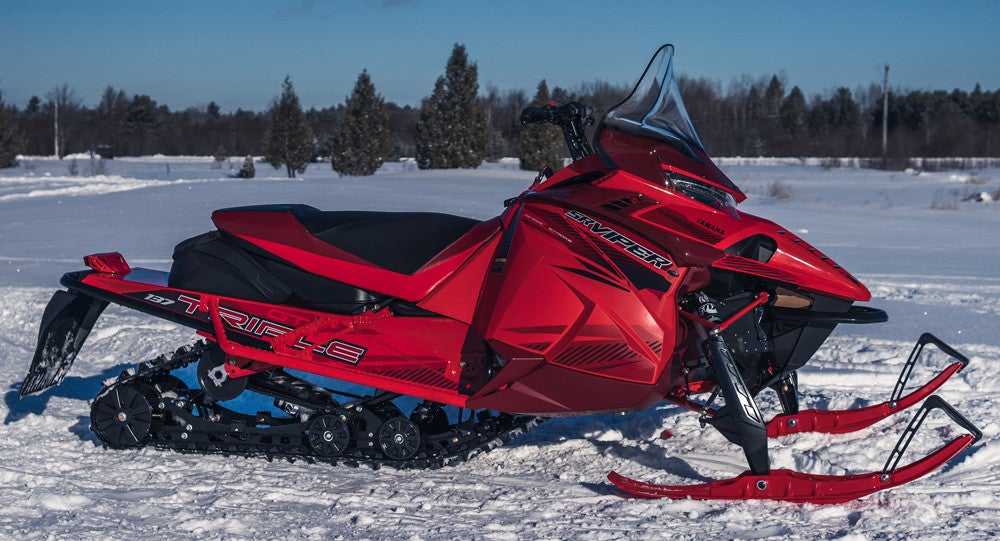 "With up to half-inch of movement at the front arms 'slot', the system allows the SR 137 to deliver controlled (reduced) ski-lift during acceleration while still retaining front arm bump compliance," says Yamaha.
Comfort
Being a premium snowmobile, the 2020 Yamaha Viper L-TX GT is rich with creature comforts. On the left handlebar switch gear you can access the multi-level hand and thumb warmer adjusters. Information on the multi-function gauge can be selected with a toggle switch, which is easily done with a gloved hand.  On the right handlbar switch gar you'll find the throttle lever, emergency stop switch, and new composition Hayes Stealth brake lever and brake cylinder.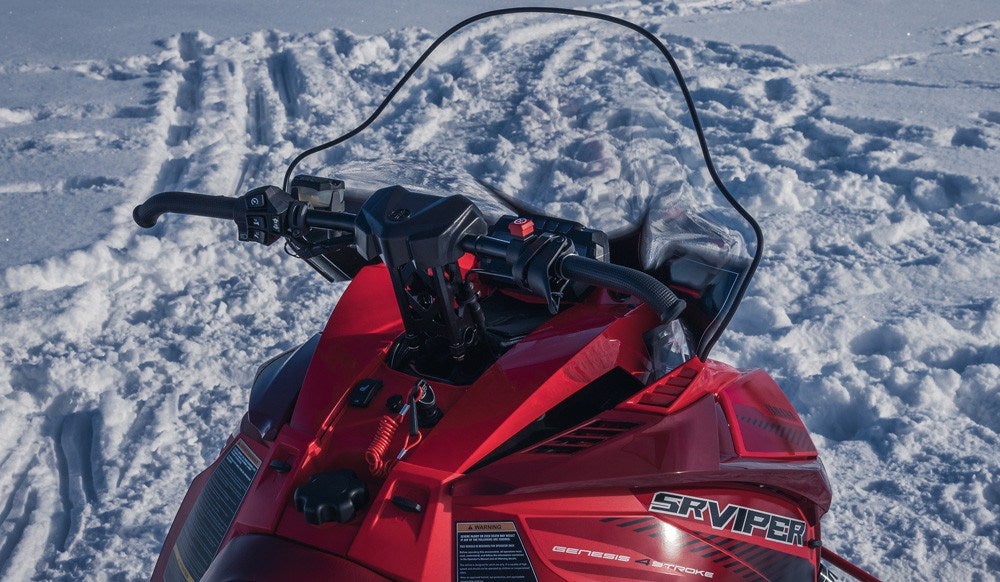 Other features include high-intensity LED headlight, LED tail/brake light assembly, tall wind deflector with a small lip at the top to deflect wind and snow up and over the rider at speed, and a plush and heated seat to keep you warm even when the mercury drops on those cold winter rides.