Then & Now: Yamaha's VK540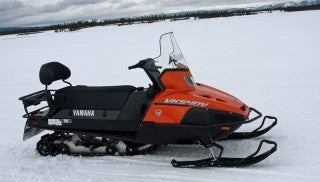 Reliving the 1980s and 1990s aboard the close to vintage 2017 VK 540
We don't have anything against Yamaha's 2017 VK540, but we have to admit it's very last century, despite its 2017 technology updating. The reason for its last century feel dates back to its 1988 origins when it made its first global appearance. To be sure, there are changes from that 1988 original to its 2017 reproduction to make it palatable in a greener economy.
This Yamaha product remains both modern and anachronistic, a clever feat pulled off with some engineering wizardry. For its first 24 model years, the VK 540 had a global home, but in model year 2012 it was dropped from Yamaha's North American portfolio.
With sluggish – daresay minimal – sales in the US and Canadian markets, the VK 540 survived in truly cold climes because it best fit the needs of Scandinavian and Russian snowmobilers. Simply put, the VK's two-stroke might be a hard pull in serious below zero temperatures, but the fact remains that it doesn't need a battery to turn over an electric starting motor in brutish cold. A four-stroke's failure to start in deep wilderness areas in frozen Russia permafrost was not an option. That made the VK 540 two-stroke a real-world winner over the more refined Yamaha VK Professional with its 1049cc four-stroke triple. For these snowmobilers the old ways were the best ways.
When we look at the modern VK in comparison to the first generations of the 1980s up to 2012, we see, essentially, a vintage sled with new life breathed into it. If you ever thought about owning a vintage sled but dismissed the thought because you like the idea of more modern technologies, maybe you'd consider this modernized vintage VK.
At one time, or shall we say, back in their day, most vintage sleds were considered modern and state of the art. The same for the original VK of the 1980s. Fortunately or unfortunately, the modern VK does a great job of mimicking the on-snow ride and handling of its predecessors. In a utility sled, that's not all bad.
In the late 1980s, Yamaha handled the utility market with smallish models to compete with Ski-Doo's Tundra. But the company's market research recognized a need for something bigger and more powerful in both Europe and North America. This research indicated strong potential for a sled that had lots of low end power with enough flotation and traction to carry or tow heavy loads in rugged, deep snow conditions. Underscoring consumer needs, Yamaha offered a unique asset in its recognized reputation for quality, durability and overall basic reliability.
Conceived for a serious utility market that could satisfy those core needs, Yamaha created the VK with a credo of 'simple, strong, dependable and functional." Established in the late 1980s, that basic philosophy carried forward with only slight refinements until now. After all, if a vintage model is capable and brings assets of a high/low with reverse gearbox and an articulated rear skid frame for reversing in loose snow without getting bogged down, why make unnecessary changes?
This modern vintage sled would be condemned by snowmobilers if it didn't serve a unique purpose. Can you image any other snowmobiling niche staying loyal to a sled model that barely changed in three decades of service? Mountain riders desert deep snow models annually for newer ones with more power and less weight and high performance trail riders abandon that niche of sleds over a shock package.
To last three decades the VK did make some concessions to comfort and utility. The second generation VK 540 added a longer stroke rear suspension for enhanced ride and created a "King-Queen" seat to suggest two-up touring capability. To enhance the styling, Yamaha added a round tube front bumper. The third generation saw the addition of a Pro Action even longer travel rear suspension. Still, the purpose of the VK remained as simple, tough utility for all-star reliability in getting out into the wild and back again.
As far as the snowmobile market was concerned, Yamaha's main thrust had always been North America. But that appeared to change about 2012 when the Russian economy was running strong and sled sales managed to outshine those of the US. This blip caused concern by all sled manufacturers who sought to get their brands into a leadership position. But it was a blip and when the Russian economy stagnated, sled sales were the first to suffer. The effects of that sales flash continue to be felt as snowmobile companies readjust product while keeping an eye on future resurgent market opportunities.
It was during this time that Yamaha made a bold decision to modernize its vintage VK, but not at the expense of losing its reliability edge for which the VK had become famous. In North America the VK fell out of favor even though there was a small need for it that couldn't be taken over by the new VK Professional four-stroke model. In markets like Russia, the VK's two-stroke was preferred. What to do? Yamaha, after all, had worked hard to become North America's "Four-Stroke Snowmobile" company and the VK540's two-stroke twin was an ecological nightmare – well, not totally, but it wasn't as clean burning and fuel efficient as Yamaha's Genesis four-strokes. By model year 2012, the VK no longer had a home in North America. But, according to Yamaha, it had become the best-selling snowmobile in Russia.
After Russia's sales demand softened, Yamaha decided to update the VK540 two-stroke to best meet North American "green" demands so it could be sold there. Along with that, Yamaha decided to make upgrades to the sled with the input of its Russian users. The feeling was that however the VK was improved to satisfy those customers, updates would make it more saleable to North American users, too. A newer suspension was incorporated into the design that also featured improved snow evacuation in the running boards and aerodynamic design changes to reduce snow build up. Overall rider ergonomics included raising the seat height and adding a taller handlebar.
Major effort was made with the two-stroke engine, including devising a way to heat the carburetor to prevent icing up, stalling and loss of performance. The end result was retention of the two-stroke, but with a gain of up to 25% better fuel consumption, plus improved throttle response and midrange performance. Yamaha claims that all this added up to meeting EPA standards.
As for the ride ability, handling and personality of the new VK540? Let's just say that this modern vintage VK remains true to the originals, but better overall. It certainly isn't going to prove much of a challenge to the Ski-Doo Expedition or even Yamaha's own VK Professional.
As for the past, this 2017 sled brings you home to the 1980s, helping you appreciate what the old days were like. And, we guess that's what market research indicated. Who are we to argue with Yamaha and the impact its VK540 had over the past three decades.
| | | |
| --- | --- | --- |
| | 2017 Yamaha VK 540 | 2001 Yamaha VK540 (Third Generation) |
| Engine | Yamaha 535cc, fan-cooled, 2-stroke twin; 73mm x 64mm bore/stroke; CD ignition; single TM33 carburetor (heated); piston reed valve; 2-into-1 exhaust | Yamaha Engine fan-cooled 535cc two-stroke twin; 73mmx68mm bore/stroke; Piston reed valve intake; Mikuni B38-34 butterfly carburetor; CD ignition |
| Horsepower | 55 (estimate) | 55 (guestimate) |
| Drive | Yamaha YXRC with 2-speed gearbox plus reverse | Yamaha YVXC drive and Hi/Lo range gearbox with reverse |
| Front Suspension | Telescopic strut gas cell shocks (TSS); 6.0-in maximum travel; wide utility ski | Hydraulic telescopic strut shock; 6-in travel; steel ski |
| Rear Suspension | Pro Comfort suspension with "flip-up" rails; gas cell shocks; 11.3-inches of travel | ProAction Plus easy adjust; gas shocks; 11.5-in travel |
| Length | NA | 122.8 in |
| Width | NA | 44.5 in |
| Height | NA | 53.1 in |
| Ski Stance | 37.8 in | 37.8 in |
| Track | 20 x 156 x 1.5 Camoplast Cobra | 20 x 156 x 1.0 rubber |
| Weight | N/A | 548 lbs |
| Brake | Mechanical disc | Mechanical disc brake |
| Features | Standard: electric start; under seat storage; "mountain" strap; hitch Optional: gear and storage bags | Standard: electric and pull start; two-up seat with backrest; console; underseat storage; tow hitch; heated hand and thumb warmers; steel front bumper |
| Fuel Capacity | 11.6 US Gal | 8.2 US Gal (Yamaha oil injection and regular grade gasoline) |
| MSRP | $9,299 | N/A |