2018 Polaris AXYS SKS 146 Review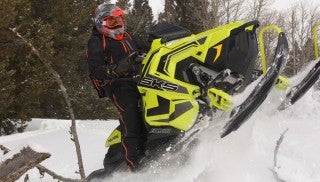 A deep-powder crossover that is trail and mountain designed
It's the latest and newest Snow King Special (SKS) from Polaris; the 2018 Polaris AXYS SKS 146 for model year 2018. Simply stated, we like this crossover.
Fast Facts
Engine: 795cc 2-stroke
Power: 160+ horsepower
Track: 15 x 146x 2.25 Peak
MSRP: US$13,599
A deep-powder crossover snowmobile is a snowmobile that backcountry riders, those that bang the steep-and-deep, really don't consider as their go-to toy. In Polaris' case, backcountry experts will purchase a Pro-RMK for their wants rather than Polaris' new 2018 SKS 146.
We found the SKS 146 as the right choice for more than crossover riding. There are two SKS models from Polaris, the 155, which is similar to the Pro-RMK 155, and this SKS, the 146, which is similar to the Switchback Assault 144. We draw our comparisons mostly to the Switchback Assault rather than the Pro-RMK-like SKS 155.
Since the Pro Ride Switchback Assault came to be (prior to the AXYS chassis), especially the Spring-buy Snowcheck Select edition with optional two-inch paddle track, we in Snowmobile.com's deep powder program have been of fan of this vehicle. When the Switchback Assault migrated to the AXYS chassis, we ordered a 2016 with Series 4.0 powder track and threw it into the deep end of the powder pool. We did find its limitations with its wide runningboards, short track and long trail-specific seat. However, we kicked it out of its design boundary and made it run proud with our Pro-RMK 800, Arctic Cat M8000 Limited and XM Ski-Doo Summit X.
The 2018 Spring-buy Snowcheck Select 2018 Polaris AXYS SKS 146 takes on Polaris' own AXYS Switchback Assault 800 and sets a higher bar. Now, we are not discounting the Switchback Assault, it is a superb crossover snowmobile, especially with Series 4 track, which makes the Switchback Assault a 50/50 crossover snowmobile. But the Spring-buy SKS is a 60/40 crossover snowmobile, 60% deep powder and 40% crossover trail snowmobile. Competitors to the 146 SKS are the XF Cross Country 800 and XF High Country 8000 from Arctic Cat, and the 146 Gen-4 Freeride and Summit X 850 from Ski-Doo.
AXYS SKS 146 vs. AXYS Switchback Assault
Here in table format, we give you a look at how the two compare; these are general items as Snowcheck Select models have additional options such as shock packages, windshield height and color.
| | |
| --- | --- |
| 2018 Polaris AXYS SKS 146 800 | 2018 Polaris AXYS Switchback Assault 800 |
| Track length: 146 | Track length: 144 |
| Track: 2.25" Peak only | Track options: 1.35" Cobra, 1.6" Cobra, or RMK Series 4 2.0" (Spring-buy only). |
| Rear Suspension: Uncoupled IGX 146 with tipped up rear rail | Rear Suspension: IGX 144 uncoupled |
| Runningboards: PowderTrac Hybrid | Runningboards: PowderTrac Hybrid or Pro-Ride Hybrid |
| Ski: Gripper | Ski: Pro Steer |
| Ski stance: Adjustable 39- 40- and 41-inches | Ski stance: 42.5 inches fixed |
| Seat: AXYS Performance | Seat: AXYS Performance |
| Windshield: 13" AXYS Matte Black Deep Snow | Windshield: 13" AXYS Matte Black Deep Snow |
| Handlebar Type: ProTaper with mountain strap; fixed 3.5″ riser; J-hooks | Handlebar Type: Aluminum ProTaper with 3.5" riser; J-hooks; no mountain strap |
Polaris targeted the fully-loaded Spring-buy Snowcheck Select SKS 146 for the crossover rider who has some deep-powder blood hound within. With its two-inch longer track than the Switchback Assault – 146 versus 144 – and deeper lugs than Switchback Assault's Series 4 powder track, Polaris is making its crossover line more niche- or customer-specific. The 2.25-inch Peak track is basically the Series 5 2.6-inch paddle track trimmed down to 2.25 inches, not physically trimmed, but molded from the Series 5, just with shorter lugs – the pattern and stiffness being the same.
Knowledge is Power
Just to ensure you have the requisite 2018 Polaris AXYS SKS 146 knowledge, this crossover is powered by Polaris' 800cc Cleanfire H.O. engine. The SKS is a chaincase driven vehicle, no belt drive here. The 2.25-inch Peak track is designed with optimal lug spacing to enhance deep powder playing, while being frozen-trail compliant with its stiff outer lugs. Estimated dry weight for the SKS 146 is 460 pounds, depending on shock package and other add-on options.
For its trail-purpose DNA, the SKS' crossover jackshaft, the shaft that receives input from the driven clutch and which transfers the force to the chaincase, sits in the tunnel (which Polaris calls the front close off). Also the 146 SKS' center-to-center distance between the drive and driven clutches is 10 and 5/8 inches, whereas, the center-to-center distance between the drive and driven clutches for the Pro-RMK is 11 and 1.2 inches. What does all this mean? With the lower mounted jackshaft and cinched in center-to-center distance, the SKS operator sits lower and closer to the motor for Polaris' driver-forward position. This makes the SKS a glued-to-the-trail crossover snowmobile.
With its wide runningboards, long seat and horizontal – laydown – steering, the SKS 146 is trail and crossover-designed more than RMK deep-powder designed, but it is all AXYS.
In our early evaluations, the 2018 SKS' crossover genes did not stop us from taking it back to its roots, the steep-and-deep, after all, it is all Pro-RMK up front; we are mountain men, that's what we do, and so, we ripped the trails around West Yellowstone, taking deep dives around four-foot high berms and waking up our senses while banging the moguls along the city's main transformer line. In the backcountry hollers, we focused on its 65% part, the deep powder DNA. Well, when we hopped off a Pro-RMK to spank a mountain on the SKS, the difference in ergonomics became apparent, the laydown handlebar post is obvious – we had to adjust to its swing when standing.
The SKS' wide runningboards are wonderful to roam around on when hitting the moguls. But, when throwing the gauntlet down on a sinister sidehill, the wide boards cause the SKS to panel out, that is prevent the track from biting into the hillside.
The SKS 146 may make the Switchback Assault with Series 4 paddle track obsolete. During the Spring-buy Snowcheck Select program, the number-crunching folks from Polaris told us very few Switchback Assaults were ordered with the Series 4 paddle track. Most purchasers opted for one of two Cobra tracks. Therefore, we gather the SKS 146 will be the extreme off-trail crossover while the Switchback Assault will be the extreme trail-minded crossover. The Switchback Assault may end up being the forgotten middle child, stuck between the many 800-powered Pro XC rear suspension-equipped Switchback models, Pro X, Pro S and more, and the SKS 146. We'll see how this plays out.
The Rider
Why would a Rocky Mountain rider or a flat land rider want a 2018 Polaris AXYS SKS 146?
The Rocky Mountain customer may choose the SKS 146 because he or she has reached the age where mobility has decreased and rapid trail cruising is the main focus, but if needed, the SKS has the available tools to hit the slopes when heart and mind desire. Next, the Rocky Mountain customer may choose the SKS as he or she are new to the sport and are trying to figure out which direction they will migrate to, trail only, steep-and-deep only or crossover.
The flat land driver may choose the SKS over the Switchback Assault with Series 4 powder track since the SWB Assault may not be sufficient for their trip to the West. The SKS will meet their needs for trail riding in North Dakota or Michigan for example, with one long trip per year to the Rockies, such as Cooke City, MT, Togwotee Mountain Lodge, Jackson WY, or Gray's River Lodge near Alpine, WY. The SKS too, with its 146 IGX rear suspension, will behave nicely on the trail when the moguls become choppy and plentiful; the longer suspension will smooth out the bumps as its float over several at a time.
As a confession, we've ordered a 2018 Polaris AXYS SKS 146 for next season and we will evaluate its role on long trail rides intermixed with quick hits in the backcountry. We will have some beginning riders take it for some long hauls, while too, examining how the female rider will take to it. Now let's be careful here, we are not saying the SKS 146 is a snowmobile for the beginner or female, it is not, we want to learn its diversity. As the mountain team for this publication is concerned, we desire to take the SKS' heritage, its new blended role as deep-powder crossover, and push its purpose.
Many years ago, "SKS" was Polaris' label for its mountain line. This gave way to RMK at which, SKS became Polaris' early crossover snowmobile in the early 2000s. Then SKS disappeared for while, to resurface in the AXYS chassis.  In 2016, we rode an AXYS Pro-SKS 155 and loved it. Here for 2018, another SKS comes to life. Given that, if you are wanting an extreme powder-hungry crossover snowmobile that is designed for some powder pushing as well as trail burning, then the 2018 Polaris AXYS SKS 146 may very well be the snowmobile you are seeking.