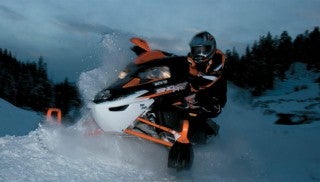 Lighter powder players and the most powerful Cat ever punctuate new model line
Arctic Cat's chief executive Chris Twomey feels, "We have the most complete line in the industry."
At Arctic Cat's 2009 product launch, he explained how the Arctic Cat snowmobile line has evolved as a result of what the company's engineers have been working on for the past few years. He also noted that racing plays an important role in the development of consumer snowmobiles.
"Terrain racing is a big part of our consumer development," said Twomey. "It's one of our ways to learn about our sleds in order to give customers a better product. What wins on Sunday will be found in our customers' sleds in future years."
As he has at previous meetings, Twomey insisted that snow drives snowmobile sales. He noted that when snow hit the key snowmobiling regions of North America in early December, industry sales climbed 10% by month's end.
"Sales in the midwest and east are back," he exclaimed. "If this is global warming, I'll take more of it."
Subtle and not subtle
Say what you want about the various snowmobile companies, but never say that Arctic Cat engineering doesn't take snowmobiling seriously. Look at what's new for 2009 with the Cat crew. There's a high-powered, turbo-charged sport sled. Then there's what may be the world's most powerful production touring sled ever to lay a lug on the snow. There are deep powder machines with more grip and less weight than you've seen from Cat in a while. And there's a 'feelgood' short tracker to make Arctic Cat loyalists forget the Firecat F7. All this doesn't even take into account some nifty new features such as the sport's first ever telescoping steering column, an all-new Power Claw track, electronic engine reversing, new tunnel designs, a new skid frame and the mandatory update in bold, new graphics.
If you take what Arctic Cat engineers did at face value, you'll miss a great deal of what's new. Scratch the surface and you'll see impressive bells and whistles—and, perhaps, a hint or two of what might be coming in the years ahead.
Mountain Cats
Arctic Cat takes a lot of pride in its mountain segment. This group hates playing second place to the competition—especially its up-the-road neighbor Polaris. First of all, for 2009 there is an overall weight reduction of 22 pounds which Cat spokesmen claim puts them "…in the game for the west."
The mountain Cats dropped an immediate 10 pounds by converting from mechanical reverse with its attendant gears and housing to an electronic Rotax-type electronic reverse, which Cat calls ACER (Arctic Cat Engine Reverse). The changes eliminate 49 parts (and their weight). Better news is that ACER retrofits select 2007 and 2008 models (check with your Cat dealer). ACER did require a new oil pump to provide lubrication when the engine spins backward. There is also a modification in the driven clutch cam to prevent the sheaves from opening during reverse operation. Like Ski-Doo and Polaris systems, the Cat's electronic reverse activates via push button.
Another 3.5 pounds came out of the skid frame. The 2009 M-Series skid features a dual wheel setup on the rear axle that is quite stylish and very light when compared with previous Arctic Cat designs. A single high-pressure gas shock works on the rear suspension arm while a single shock connects the front arm and frame. Suspension adjusts can be tweaked by via front limiter straps as well as revising shock settings. This lightweight skid frame with its 'honeycomb-cutout' rails showcases years of Cat experience in the west's mountain regions.
Spinning around this skid will be an all-new Power Claw track, which incorporates what Cat designers feel are the best features of the 'Attack 20,' Challenger and 'Finger' deep-snow track styles. The 15-inch wide Power Claw uses a 2.25-inch lug profile on your choice of either a 153-inch or 162-inch overall length.
The revamped M-Series aluminum tunnel was created to accommodate the new skid and Power Claw track. Expect better snow evacuation and refined style that was specifically engineered to get M-Series riders further back into the western wilds.
Keeping with Cat's innovative engineering history comes an industry-first—a telescoping steering column. Clever, yet simple. You really wonder why someone hadn't come up with this concept before.
While we had only a brief chance to touch and try the new system, it is impressive. You'll find up to 4 inches of movement in increments of three-eighths of an inch. This should be a real boon to powder players who can set one height for riding to the play areas and another height when highmarking or playing in powder. There is a leverage bar incorporated into the curved handlebar set. Arctic Cat designers 'get' mountain riding and it shows in the M-Series.
There will be a variety of models for the powder folks ranging from base models to Sno Pro or LE packages in displacements of 600, 800 and 1000cc liquid-cooled twins. Check with your local dealer for 'spring only' specials.
Z1 Turbo Power Cats
If you like 'omigosh' power, Cat delivers with a 177 horsepower turbocharged, 4stroke. Do not be intimidated by the power numbers. This is one refined power wagon. The numbers are: 177 hp at 7850 revs and 121 ft-lbs of torque delivered at 7300 rpm. When you consider that the turbo offers altitude compensation for boost pressure, let's just say what you get at sea level stays with you at virtually any elevation. There is no need to make any clutching change if you decide to run from sea level to a mountain pass at 10,000 feet.
Cat's new Z1 Turbo 4stroke twin uses about 9 pounds of boost from the exhaust gas set up of this turbo system. When you consider that Cat's T660 models handled more than twice the boost pressure of the Z1 Turbo, this sled seems almost mildly boosted by comparison. When we switched the power on, the sled idled smoothly and when we jammed the throttle flipper to the bar, response was decisive. You want to be sure your helmet is strapped on tightly when you hit the throttle hard. The Z1 Turbo moves out in a hurry.
Based on the Z1 4stroke twin, the new Z1 Turbo powerplant is quietly disconcerting. Our test rides of turbo-equipped 4strokes revealed a very smooth and rider-friendly drive train. There is none of the peaky feel you get with Cat's one-liter two-stroker. No, the turbo is exceptionally smooth—and very quick.
Part of that comes from the way Cat engineers have coupled the rear suspension. Even if you had never ridden a snowmobile before, you would instantly recognize how effective the suspension reacts. Hit the throttle full open and you feel the front try to lift but immediately hunker back down as the coupling kicks in to keep the skis firmly planted on the snow. When you brake into a corner, you feel a very controlled weight transfer rear to front. Cat got this very right.
During our test runs over a radar course, we discovered a quirk that has become too common with today's high performance machinery. At full throttle we shattered a drive belt. We do mean shattered as the belt disintegrated, flowing feathered debris out a side panel cooling duct. It looked like we had taken a run through lakeside reeds. That wasn't the issue, nor was the belt shattering on the prototype Cat. As a note, the driveline was off-kilter from the engine's torque, something that Cat engineers knew about and were already preparing to remedy with improved engine mounting. No, what stands out is how difficult drive belt replacement is becoming on many new snowmobiles. Cat is not alone in this.
In the not so old days, you could press in on the driven and release the belt. Now it seems as though you need special wrenches and sled-specific instructions to do what we think should be a fairly simple belt replacement. We watched as a Cat technician took nearly 30 minutes from start to finish to remove and replace the drive belt. He ended up removing the driven, which to Cat's credit was relatively simple, but needed brute force to put the new belt in place. Replacing a Polaris or Ski-Doo belt can be equally problematic as well—so, we're not singling out Cat. We just figure that something as everyday replaceable as a drive belt should not require such mechanical gymnastics. Fortunately drive belts are much more reliable than back in the day. But do you really want to mess with this complexity on the trail?
That aside, let's focus on the Z1 Turbo powerplant. Smooth, powerful and fast, the new 4stroke makes Cat's sexy, all-black version the new 'Knight Rider' of the trails. If you want to ride the ultimate 'stealth' Cat, get the Z1 Turbo Touring. Cat's Suzuki-built, intercooled turbo really lights a fire under that two-up model.
If turbo-power is too much, relax, Cat still offers the non-turbo Z1 powertrain in select sport and touring models. You can even get a 'Z' series Cat with electric heated seat.
PAGE 2F-Series
Arctic Cat introduced its Twin Spar chassis to less than overwhelming reviews. The design is very good, but maybe too good compared to Cat's previous design. Where the Firecat was low and seemed lean, the Twin Spar models raised the rider, added complexity in the handlebars and overall ergonomics. Maybe the change was too quick for the everyday Cat rider. There is no question that the Twin Spar F-Series was a departure.
2009 marks the continued evolution of Cat's new chassis style. You'll find small changes that should make the 2009 versions even more rider-friendly. The spindle angle moves forward by 1.5 degrees for improved trail-ability. The new honeycomb parallel slide rails cut out a little weight. The runningboards evolved with clearance that is now 30 mm higher and a decrease of 2.5 degrees in overall angle. The rear shock mount in the track suspension was moved back 63mm. These minor changes like the bolt-in rear heat exchanger are subtle, but real improvements in overall ride and livability.
As in past years, the F-Series came with a choice of engines—570cc fan-cooled to 1000cc liquid-cooled twins—and packages—standard to sports-oriented Sno Pro or personal luxury LXR.
As with the M-Series and Z-models, there will be special 'early order' versions available through your local Cat dealer. Check with him for special color and package options.
Crossfire specials
The Crossfire series is Cat's response to Polaris' Switchback and Ski-Doo's Renegade models. Where the competition has switched to the rider-forward format, Cat's extended track models retain the Firecat influence of low and lean.
You'll note that the Crossfire seems to be closer to the M-Series than the F-Series in feel and philosophy. Look for refinements in this segment as Cat replaces the 136-inch track with a new 141-inch track and commensurate skid frame. The new skid frame complements an aggressive off-trail Cobra track with 1.25-inch lug profile. Sharing some M-Series thinking grants you the benefit of the new telescoping steering column. That's a definite plus.
You'll also find that the 2009 Crossfire loses nearly 10-pounds with the use of Cat's electronic engine reverse system.
When looking at the 2009 Arctic Cat Crossfire model mix, it seems obvious that both Cat's engineering and marketing types were annoyed with reviewers decrying the loss of the Firecat F7. How else do you explain the new Crossfire 'R'?
Cat marketing materials refer to the 'purpose' of the R as satisfying, "…the Arctic Cat Firecat customer that is accustomed to having maximum top speed and acceleration." Cat spokesmen make the claim that the R offers improved handling, stability and ergonomics beyond the last of the Firecat models.
Designed around the Crossfire—which retains some Firecat traits anyway, the new Crossfire R features a 128-inch track length under an aluminum tunnel that is 6-inches shorter than a 2008 Crossfire. The end result is a sled that is designed to replicate the F7 experience with most of the Crossfire's 2009 pieces.
That F7 experience was quickness and speed. Cat officials claim that in their own speed tests, the R was quicker and faster through the quarter-mile than selected previous Cat models. The quarter-mile speeds for the 800cc R were greater than 100 mph with the 1000cc R version more than 4 mph faster. Both R models turned quarter-mile times less than 13 seconds.
Again, there are luxury, Sno Pro and base versions of these models with a choice of engine options and Spring only packages.
Touring Cats
The big news for the touring segment will be the all-powerful Z1 Turbo Touring. This is for the rider who wants two-up convenience combined with luxury and performance. The Turbo Touring may well be the fastest, most powerful two-up snowmobile to ever appear on a groomed trail! It has excellent performance. Keep in mind that the performance is very controlled. Now add in heated seating and excellent all-around ergonomics and you have a gem of a touring machine.
For Spring ordering, Cat offers a 'limited' edition of its turbo-powered touring sled. If you thought last year's Touring Cats were well equipped, check out the 2009 models. We could see many Ontario and Quebec couples being very content with the TZ1 Turbo Touring.
Look for a variety of touring sleds with engine sizes ranging from the 570cc fan-cooled engine through the non-turbo 4stroke all the way up to the 177-hp Z1 turbo engine package. There are some color and graphic enhancements for 2009, but this segment is very similar to what was offered this season.
While not exactly a touring model, Cat has totally redone its top of the line utility model, making it quite respectable for multiple applications. The new-for-2009 Bearcat is truly a 'sport-utility snowmobile. It features Cat's Twin Spar chassis for enhanced rider-friendliness. Look for this new Bearcat to offer the Z1 4stroke engine package in addition to a 570cc fan-cooled power option. There will be models in either 20-inch wide x 156-inch long or 15-inch wide x 144-in long tracks. To help these utility models slog through ungroomed areas, Cat outfits them with an articulating rear suspension and 8-inch wide skis, which are 14 percent wider than the previous off-trail skis.
Youth Cats
Of course, Cat addresses the youngest Cat riders with its Sno Pro 120 youth snowmobile. This season there will be two models—in Cat's lime green and black as well as a pink and black version.
We were not kidding when we said you'll need to take a close-up look at the 2009 Arctic Cats. Go beyond color and graphics because some of the real change is a bit subtle and evolved. Some, like the turbo-charged 4stroke is as subtle as a locomotive. If you can score a ride on the Z1 Turbo, do it. We don't think there will be that many of these on the trail next season as it sees destined to be a limited build due to what we expect will be a premium price. The Z1 Turbo lets you know that Arctic Cat engineering takes snowmobiling and snowmobile performance just as seriously as it did back in the 1960s when the Thief River Falls, Minn. company took us from bogie wheels to slide rails.
Related Reading: