2015 Arctic Cat ProClimb M8000 HCR Review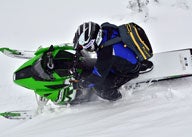 Arctic Cat's Hill Climb Racer is Everyman's Hill Climb Racer
Arctic Cat has a history of tinkering with its Hill Climb Racer (HCR) and the 2015 model year is no exception.
The 2013 800 HCR and 2013 M8000 Sno Pro 153 Limited, were enough different to warrant their own graphics, but for the most part, the two were twins, except for the hard-compound track on the HCR.
In 2014, the HCR inherited a fixed steering post – not telescopic like the Sno Pro and Limited – and a 42- to 43-inch wide ski stance, further giving it its own marquee. Of course the 2014 HCR spun its own hard compound 2.6-inch PowerClaw track made for competition hillclimbing. There's a wide ski stance that is set to help the race-bred sled to navigate around gates up the hillclimb course. It is harder and wider than the Sno Pro and Limited.
For 2015, the HCR's ski-stance cinched up by two-inches to 40 to 41 inches. This brings the HCR 8000 more in-line with Polaris' 800 RMK Assault 155 and Ski-Doo's 800 RS XM Free Ride 154. This change came from complaints from Arctic Cat's competitive hillclimbers who quipped that the HCR was hard to sidehill when taking on steep ascents.
The other change is the hyfax and rails received track anti-stab caps on each respective nose. There have been times when the M8000 and HCR 8000, when driven into a short hard wall made of ice and snow, found that its hyfax would pierce the PowerClaw track, which in turn stopped all momentum.
COMPARISON: Read our review of the 2014 Arctic Cat M8000 Sno Pro and Limited + Video
The HCR 8000 is built on Arctic Cat's ProClimb chassis, the same chassis used on all the M8000 Sno Pro and Limited powder pushers and the XF High Country 8000 Sno Pro.
Powering the HCR 8000 is the 8000-series twin cylinder Suzuki motor with a displacement of 794cc. This motor uses a battery-less electronic fuel-injection (EFI) system with 46mm dual throttle bodies that helps the two-stroke mill knock out approximately 163 horsepower. The motor has a lightweight crankshaft, electronic exhaust valves known as APV for Arctic Power Valves, exhaust pipe temperature system, and lightweight non-mechanical reverse system – that's Cat's electronic push button reverse. Electric start is not in the HCR's build sheet as this is a trimmed down race sled where a high power-to-weight ratio is needed.
Its drive clutch is the Arctic rpm-sensing six post and it's paired with the 10.75-inch diameter Arctic roller cam driven. These clutches, with the crossover jackshaft, chaincase and the radial master hydraulic with a drilled lightweight disc brake, make up the Arctic Drive System (ADS). We have heard from M8000 Sno Pro and HCRs owners alike that the driven clutch on these snowmobiles will eat the drive belt when about 400 miles have been logged; especially in deep sticky snow when climbing a mountain on warm days builds high under hood heat.
We have not experienced this on our test M8000s, but for those who have, especially more than once, these M8000 and HCR 8000 owners have moved on to a non-OEM driven clutch, such as, for example, a Team Tied.
The front suspension is the robust Arctic Race Suspension (ARS) with FOX Float EVOL 3 shocks. Its ski is the ProCross, which is suitable for competitive hillclimbing; for powder play, not so adept. Vertical travel for the front suspension is nine inches.
Arctic Cat did not outfit the HCR with its telescopic handlebar post; rather its post is a fixed vertical-post unit with a standard 5.5-inch high riser block. However, Cat offers differing height riser blocks as an option through its parts and accessory catalog.
Seat and cockpit is identical to the M8000 Sno Pro, which includes the runningboards. The HCR's tunnel is painted, which prevents snow from flash freezing to the tunnel. A front-mounted heat exchanger is standard fare, which is a single unit that is approximately four pounds lighter than the full-length heat exchanger found on the standard M8. Both the Sno Pro and Sno Pro Limited also use this same-type cooling system, which reduces snow and ice buildup on the tunnel. We can verify that this system works as advertised.
COMPARISON: Read our review of the 2014 Polaris 800 RMK Assault
A short, lightweight racing seat is right-sized for leg swings. Its instrument gauge is both digital and analog with an altimeter. This tell-all pod also has an odometer, engine hour meter, reverse indicator, engine warning lights and two trip meters.
Rear suspension is Cat's M with a tri-hub rear axle system. The rear skid has an Arctic Cat internal floating piston (IFP) shock on the front arm and a FOX Float 3 shock on the rear arm. Vertical travel measures 15.5 inches.
Gripping and ripping the snow is Cat's 2.6-inch PowerClaw track with a stiff 85 durometer. Conversely, the PowerClaw track on the M8000 Sno Pro and Limited is the softer 80 durometer. Regardless of M8000 model, track pitch is three inches. Track pattern is curved forward, which packs the snow before shoving it out under the chassis as thrust. To keep the 153-inch long, 15-inch wide PowerClaw track with 2.6-inch paddles and the rear skid's hyfax cool, the HCR uses ice-scratchers.
The 800-powered HCR comes in one track length only, 153. If you want a longer HCR, you'll need to move to the M9000, which is powered by the 9000 C-TEC4 1056cc turbocharged four-stroke two-cylinder that has a track length of 162.
The M8000 HCR for 2015 is an aggressive snowmobile. However, its stiff shocks, wide ski-stance and non-adjustable handlebars make it a little bit of a challenge to ride in steep-and-deep conditions where the slopes are infested with Douglas Fir or Lodge Pole pine trees. However, and as noted earlier, the 2015 HCR 8000 became more steep-and-deep powder compliant with its narrowed-up ski-stance.
We found the HCR's fixed handlebar post to be set at a height that's perfect for most riders, but M Cat owners, who are accustomed to telescopic height, may miss the adjustments.
While the normally stiff front and rear shocks can be softened up, that will make the HCR careen into a sidehill and around tree and ravine. We advise that you work with the Fox Float EVOL shocks to acquire the correct soft setting. This will take some time, but riders can achieve a soft setting that will not compromise trail mogul running.
COMPARISON: Read our review of the 2014 Ski-Doo Freeride + Video
The HCR has some drawbacks. Its blunt nose and hardedge side panels, in the right deep-powder conditions, will keep the it from sailing smooth and clean through the powder.
If Arctic Cat told our mountain snowmobile test crew it can only ride the 2015 HCR 8000 all season long over an M8000 Sno Pro or Limited, we would not complain as we like how the motor performs and we like the handlebar height. However, we would miss the narrow ski stance and softer-compound track. So with many 8000-series Ms to choose from in Arctic Cat's lineup, we give four reasons why you should consider the HCR 8000 over the Sno Pro or Limited:
1) You don't want to be just another Arctic Cat M8000 Sno Pro or Limited rider.
2) Your hardcore inked-up backcountry freestyle pals ride RMK Assaults and XM RS Freerides and you want to be different; not riding the biggest selling snowmobile is important to you.
3) You dream of competing in the Rocky Mountain Snowmobile Hillclimb Association (RMSHA).
4) You like the reliability from Suzuki's motor.
The HCR is a mountain snowmobile that likes to be pushed around in a rough and tough manner. Can you follow a Sno Pro and Limited? Absolutely, thanks in part to the narrowed-up ski stance and 2.6-inch tall track. If you choose an HCR 8000, which is a good choice, set your sights beyond tree running and powder snorkeling. Instead, think about competing in a hillclimb circuit or taking your cornice drops to a deeper drop.
2015 Arctic Cat M8000 HCR 153 Specs
Engine
Arctic/Suzuki 794cc, two-stroke, liquid-cooled, twin; 46mm throttle body injector electronic fuel injection
Horsepower
155+
Drive
Arctic 6 post rpm-sensing drive with 10.75-in Arctic roller cam driven
Front Suspension
Arctic Race Suspension (ARS) twin A-arm suspension; Fox Float 3 Evol shocks; 9.0-inches of travel
Rear Suspension
Arctic "M" parallel rail slide with Tri-Hub rear axle assembly; Arctic internal floating piston shock on front arm and Fox Float 3 shock; up to 15.5-inches of travel
Length
131.0 in
Width
46.0 in
Ski Stance
Adjustable from 40-41 in
Track
15 x 153 x 2.60 PowerClaw
Weight
NA
Brake
Radial master cylinder hydraulic with lightweight rotor on driveshaft
Fuel Capacity
11.7 US Gal
Features
Standard: digital/analog tach & speedometer; Electric gas gauge; clock; reverse; push button reverse; dual halogen headlight
Optional: key start; storage bags; rack; tank pads; optional windshield sizes
MSRP
US $13,399