2015 Arctic Cat Snowmobile Lineup Preview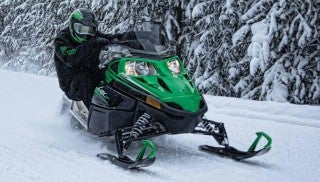 Cat brings back Lynx and Pantera for 2015
At a preview of the 2015 snowmobile line in St. Cloud, Minn., Arctic Cat Vice President and marketing guru, Brad Darling claimed, "The snowmobile industry [sales] is up double digits and Arctic Cat is up double the industry." Based on what the Cat showed off at its sneak peek, the company intends to continue growing market share.
As expected there will be more Arctic Cat models featuring the Cat designed and built 6000 Series C-TEC2 engine with dual-stage injection. Last year Cat's 600cc direct injection two-stroke answer to Ski-Doo's ETEC engines made a modest appearance, headlining the return of the El Tigre name to the Cat lineup. For the 2015 model year, there will be four ZR-based trail performance sleds:
• The ZR 6000 El Tigre continued from 2014, but with updates • The ZR 6000 LXR featuring a "comfort" suspension setup, plus electric start and mid-height windscreen • The sport-tuned ZR 6000 Sno Pro designed for the hard-charger and outfitted with aggressively tuned Fox Float 3 shocks and a pro-active 2-inch diameter shock for the Slide-Action suspension's rear arm • ZR 6000 Limited, feature-loaded with the Sno Pro suspension tuning plus nice-to-have rear storage bag, goggle holder, curved brake lever and tunnel flares
But, wait, there's more. Cat's 600cc two-stroke powers another four models built on the stretch chassis and utilizing the bite of longer tracks. The XF 6000 in LXR, Limited and Sno Pro versions features a 137-inch Rip Saw II track with 1.25-inch lug height for versatile on- or off-trail riding. Riders who spend a greater percentage of their riding time off trail will probably opt for the new-for-2015 XF 6000 CrossTour with a longer 141-inch Cobra track and its taller 1.352-inch lugs. This versatile new Cat can track long distances on or off trail and will be adept in the boonies thanks to the utility of its rear rack, the powder ergonomics that come from the Mountain handlebar and wider powder-specific "Mountain" skis. In 2015, Arctic Cat has off-trail handled in the 125-horsepower category, plus adds a new level of performance to the popular CrossTour series.
Again, though, wait there's still more. There are two 6000 versions with Cat's ProClimb deep powder chassis: the M6000 and M6000 Sno Pro, both spinning a 153-inch track. The base M6000 comes standard with PowerClaw design that sports a 2.25-inch lug profile. The more aggressive Sno Pro model gives you a traction-grabbing 2.6-inch lug height. Both offer provide Cat's unique telescoping mountain handlebar set and an adjustable ski stance, which can grow from 38 to 39 inches.
New to the Cat powder line for 2015, these 125 hp two-stroke equipped models are "M" models in every sense as they have the short, lightweight mountain seat, weight-saving single front heat exchanger, customizable Fox air shocks, six-inch wide mountain ski and M-rear suspension.
This pair of 125 hp M sleds may not reach the highs of the 2015 M models equipped with either the Suzuki-built 794cc two-stroke or the torque-endowed, turbocharged 9000 series 1056cc four-stroke, but they are purpose-built for serious deep snow or backcountry players. It'll take that power to spin the optional 162-inch track standard with the M8000 and M9000 models, including the Arctic Cat version of a mountain racer replica, the M9000 HCR. These high country racer models are directly related to Team Arctic's hillclimb racers, just as the RR models bring terrain-racing technology to the trails.
With the expansion of the Series 6000 drivetrain, you might expect a similar proliferation of sleds with the Yamaha-built 7000 Series C-TEC4 four-stroke triple. You'd be correct.
The Arctic Cat/Yamaha partnership has been, noted Cat's Darling, "a great true partnership… that offers a really good four-stroke momentum for us." Executives from both Arctic Cat and Yamaha acknowledge that the relationship is positive for each company. Yamaha gains insight into how to react more quickly to the market as Arctic Cat gains from Yamaha's focus on fit and finish.
You'll find the Yamaha power system in a new-for -2015 M 7000 Sno Pro 153. This 135 hp class backcountry snowmobile will come with the 2.6-inch lug PowerClaw track, Fox Float 3 air shocks, a vertical (but not telescoping) steering bar, adjustable ski stance, electric start, pushbutton reverse, plus the mountain seat and six-inch wide skis.
Yamaha power will also propel a series of ZR 7000 models in the same LXR, Sno Pro, Limited and El Tigre designations as in the ZR 6000 family of sleds. In addition there is a racer-quality version, the ZR 7000 RR (race replica) complete with Team Arctic styling and Fox Float Evol reservoir shocks to control the tall spindle front race suspension.
Where the RR series enjoyed an almost solitary position in Cat's past, you'll notice that Arctic Cat is committing to the RR as its premium top-of-the-line high performance series. Whether it's the 6000 RR or the 177 hp ZR 9000 RR, all of these go-fastest models come standard with premium performance shocks – Fox Float Evol – and such things as race-inspired hydraulic braking systems, the racer version of the Slide-Action rear suspension and 129-inch Rip Saw track.
As with the other ZR and select XF models, you will find a version with a horsepower level to suit your level of derring-do from the direct-injection125 hp twin all the way up to the turbocharged ZR 9000 RR.
Cat continues defining its many niches and there is a continuation of the CrossTour plus the more backcountry orientation found with the Cross Country series, which offers a 141-inch Cobra track fitted with 1.6-inch grippers. The adjustable ski stance stretches from 42 to 43 inches and works with Cat's laydown style steering. You'll find these models offering power from 125 hp all the way up to 177 hp. If you want more in a boondocking sled, move over to the High Country, which adds a vertical steering post, narrower 40-41-inch ski stance and a PowerClaw track with 2.25-inch lugs.
The El Tigre name rejoined the Cat lineup in 2014. For model year 2015, welcome the return of the Pantera, also simply known as the "Catillac" of cruisers. The new-for-2015 Pantera and its more deluxe littermate, the Pantera 7000 Limited, come with a totally new platform, the ProTour chassis. This is not a stretched ProClimb. It is a new aluminum construction that can handle a 146-inch length Quiet Track and stretch out enough to accommodate two (possibly three) riders, plus gear and an auxiliary 4.3-gallon fuel tank that plumbs into the main 10.7-gallon tank. If you are into long hauls, the Pantera Limited can offer a 15-gallon capacity.
Powered by the Yamaha-built, Cat-tuned four-stroke triple, the Pantera looks to set a new standard in two-up (or more) trail cruising. Expect warmth from the heated seat, wind deflection from a tall and wide windshield, twin-bulb illumination of night-shrouded trails, plus ample storage options. This is a serious trail runner and worthy carrier of the proud Pantera name.
But, you'll also see the return of another famous Arctic Cat model name, as "Lynx" nomenclature will be added to Cat's fan-cooled 550cc Twin Spar chassis designs. Both the single passenger and two-up Lynx LT are designated as value-priced models heading into 2015.
With minimal tweaks and new graphics, you'll find the Bearcat lineup of utility models, including Arctic Cat's unique Bearcat 5000 XT GS, which has been designed for trail grooming and maintenance.
Arctic Cat's Darling smiled as he explained how the strong winter of 2014 has helped spur the snowmobile industry and especially how having snow arrive prior to Christmas really aided Arctic Cat dealers. He expects that the year will show a double-digit increase in unit sales, with strong sales in the United States, good Canadian sales, but possibly flat international sales. While he feels that the return of winter to the traditional snowmobile-active states and provinces of North America will be very good for Arctic Cat, it will be beneficial to all snowmobile manufacturers overall. He's just hoping that future winters will be as good.